Goldman Sachs recently downgraded drug-maker Johnson & Johnson's (NYSE:JNJ) rating from "Buy" to "Neutral" based on concerns that Xarelto will fail to beat market expectations and that the company's Medical Devices and Diagnostics segment will face market challenges. Although the setback in Xarelto makes me less bullish about the stock, I believe that the drug will eventually be approved by the FDA for atrial prevention. An FDA advisory committee recently approved the drug for this use, but only the FDA makes a binding decision. Should the drug be approved, I am also optimistic about its contribution to the bottom line. The drug has already been successful in VTRE prevention, which I find will be doubly beneficial in the sense of providing a halo effect for AF treatment. At the same time, the product introduction of Eliquis will limit growth. I expect that the drug will provide around $211M worth of net sales in 2012.
Analysts currently rate the stock between a "hold" and a "buy" and anticipate EPS growing by 4.4% to $4.97 in 2011 and then by 6.4% and 8.1% the next two years. With a dividend yield of 3.7%, I find that Johnson & Johnson nevertheless offers reduced risk from economic volatility. Its consumer segment offers brand name products that will maintain continued appeal even throughout a deepened recession: LISTERINE, TYLENOL, ZYRTEC, PEPCID, MORTIN, and several more. The stock trades currently in line with industry peers at 14.7x and 11.7x past and forward earnings, respectively. The stock has a beta of 0.63 and should be attractive to risk-averse investors looking for a brand name with large upside.
My main concern with the holding company, however, is that I do not find it well-diversified both in terms of products and markets. Many of the health care firm's breakthroughs--like Nucynta and Zytiga--are dependent on sales in the European Union, which I forecast having a stagnant economy. Moreover, the locations of the company's manufacturing operations result in unnecessarily high development costs.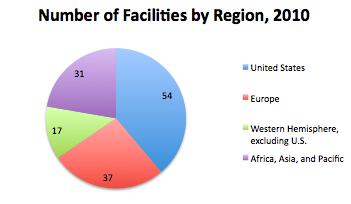 Johnson & Johnson also faces intense competition from Pfizer (NYSE:PFE), Abbott Laboratories (NYSE:ABT), Bristol Myers (NYSE:BMY), Novartis AG (NYSE:NVS), and many more in terms of improving pharmaceutical pipeline. The company's sales will also become increasingly dependent on new products--rising from 5% of total revenue in 2009 to likely more than 20% in 2014--thus making the firm more vulnerable to economic volatility. Although health products, as a general rule, are price inelastic, Johnson & Johnson's consumer segment products are exposed to intense competition from other brands. The company recently recalled 200K syringes for Eprex drug, which treats anemia, on the grounds of having low potency. Issues like this will mitigate sales for other products, especially those that have many competitor substitutes.
I forecast revenue growing by 7.3% to $66.1B for the year and then by 3.3% the next. I expect the change in costs to improve at the same, decreasing from 5.9% growth to only 1.2% growth the following year. Management is also rightly committed to expanding R&D given the increased demand for new products. Accordingly, R&D as a percent of revenue will likely rise from 11.2% currently to 11.7% in 2015. This figure, nevertheless, is still well below peer levels of around 17.5%.
In conclusion, while I believe that Johnson & Johnson has a strong brand name and protection from feared volatility, I am hesitant about the company's pipeline strength. Instead of increasing expenditures on a few key drugs, management would benefit the company by speeding up development and diversifying resources over more products. With high manufacturing costs, not enough R&D, and slowed production due to oversight, Johnson & Johnson may very well experience eroding market share. Consequentially, I rate the company a "hold".

Disclosure: I have no positions in any stocks mentioned, and no plans to initiate any positions within the next 72 hours.