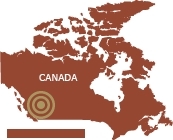 New Gold Inc (NYSEMKT:NGD) announced a major gold discovery at its Blackwater Property mine in Canada. NGD acquired this property when it purchased Richfield Ventures in mid-2011. Canadian mining specialists believe that the Blackwater region may contain Canada's largest undiscovered precious metal deposits.

NGD began an aggressive drilling program in 2H2011 which is double in size to Richfield's previous exploration efforts: NGD has a target of 50,000 meters for the second half of 2011 vs Richfield's previous target of 30,000 meters for the whole year. And NGD's efforts have been met with tremendous success.

New Gold's share of indicated resources increased by a whopping 3.8 million ounces, from 1 million ounces to 4.8 million ounces! (Inferred resources doubled from 1 million ounces in 1Q2011 to 2 million ounces 3Q2011 thanks to the)


Blackwater Deposit - September 2011 Resource Estimates by Property at 0.4 g/t Au Cut-off grade
Property
Indicated
Inferred
Tonnes
000's
Grade
Total
Contained
Gold (Moz)
New Gold
share
(Moz)
Tonnes
000's
Grade
Total
Contained
Gold (Moz)
New Gold
share
(Moz)
Gold
(g/t)
Silver
(g/t)
Gold
(g/t)
Silver
(g/t)
Dave and Jarrit (100% New Gold)
87,226
1.12
6.0
3.13
3.13
9,533
1.13
6.5
0.35
0.35
Davidson (75% New Gold/ 25% Silver Quest)
77,929
0.89
4.1
2.22
1.66
29,226
0.88
4.2
0.82
0.61
Total Blackwater
165,155
1.01
5.1
5.35
4.79
38,759
0.94
4.8
1.17
0.96

Even more encouraging, is that management is confident that this is only the tip of the iceberg, with a large section of the property remaining unexplored. I compared NGD's performance vis-a-vis the ETFs--such as SPDR Gold Shares (GLD) or iShares Gold Trust (IAU)--in a previous article. We should add an additional benefit to owning NGD vs an ETF: potential for significant new discoveries. NGD's management is proving that they can deliver on multiple fronts.

Tale of the Tape
For those unfamiliar with the company, NGD is an intermediate gold producer with three producing assets in Mexico, the United States and Australia, plus three fully-funded projects in Canada and Chile which will significantly boost its production output in the coming years.


Financials:
Annual
Quarterly
2010-12
2009-12
2008-12
2011-06
2010-06
Income Statement
Revenues
530
324
218
172
112

Operating Income
142
-141
-181
72
24

Net Income
177
-194
-103
79
59

Earnings Per Share
0.45
-0.64
-0.69
0.16
0.15
Shares Outstanding
395
306
148
429

400
By the Numbers:

8.5M OZ of Gold Reserves
14.9M OZ Measured and Indicated (M&I) Resources
400K OZ 2011E Production
Decreased cash costs by 32% between 2008 and 2010
Increased production by 64% between 2008 and 2010
Management:
New Gold is run by CEO Randall Oliphant who was previously the CEO of Barrick Gold (NYSE:ABX), the world's largest gold producer. He is one of the most experienced operators in the mining industry.

Legendary investor Pierre Lassonde sits on the board and is a major shareholder. For those unfamiliar with Pierre Lassonde, he was previously the CEO of Newmont Mining (NYSE:NEM), the world's second largest gold company. Prior to that he was one of the founders of the original Franco-Nevada Corp (NYSE:FNV), and has a 20 year track record of generating positive returns for shareholders. He was also previous head of The World Gold Council. If there's one person who knows about the gold industry it's Pierre Lassonde.

Catalysts:
The company has some terrific margins which will serve as future catalysts for creating long-term shareholder value:
Net Profit Margin: 45.8%
Operating Margin: 41.8%
Return on Assets: 12%
Return on Equity: 17%
By any measure, this is a tightly run company with multiple growth catalysts including shrinking operating costs, increasing margins, and several production assets that will be coming online soon. This is a solid company and a great buy, especially after the brutal sell-off we saw in precious metals during the 09/19-23 trading week.

Disclosure: I am long NGD.