Rovi Corporation (NASDAQ:ROVI) was founded in 1983 as Macrovision Corporation. Its co-founder John O. Ryan was the inventor of analog copy-protection (ACP) technology for video, which along with derivative versions were extensively used in commercial VHS videos, including by major Hollywood releases. The content protection technologies were extended to be used by other consumer electronic (CE) devices such as DVD players, cable and satellite set-top boxes, digital video recorders, and personal media players.
While Macrovision's products were well received and adopted by content owners, consumer reaction was decidedly mixed, especially in the earlier incarnations – the imperfect technology caused problems during normal use. A thorny problem consumers faced in particular was with DVD recorders refusing to record old home movies, as the recorders took the unstable signal from old home videos to be Macrovision signals. These problems spurred the popularity of devices disabling Macrovision copy protection.
Besides, many considered creating a personal backup copy of a commercial DVD as fair-use until the issue was truly muddied in the Digital Millennium Copyright Act of 1996. Macrovision's technology denied consumers the right to make backup copies, which made them a much-disliked company among certain consumer groups. Protected DVDs became vulnerable to illegal copies with the market's introduction of software that disabled copy protection when building copies and DVD players with "secret" menus (several Apex & GE models) allowing users to disable Macrovision technology. Further, the proliferation of P2P networks allowed users to copy content including copy-protected commercial content, albeit illegally. The problem aggravated so much that around 2005 Macrovision addressed the problem themselves by introducing Hawkeye – where the P2P servers are bombarded with fake files crippling the system.
In the years 2000 –'05, in an attempt to diversify from its digital rights management (DRM) roots into licensing software, the company acquired the following best-of-breed businesses:
a) Globetrotter ('00) - FLEXlm software,
b) InstallShield ('04),
c) InstallAnywhere ('05).
However, in its endeavor to don the role of a digital media technology solutions provider from early 2008, Macromedia parted with these and many other assets. The divestitures include software and games businesses (Apr '08), eMeta (Nov '08), TV Guide Magazine (Dec '08), TVG Network (Jan '09), and TV Guide network and TV Guide online (Feb '09). The following series of acquisitions were also made as part of its quest to be a major player in the digital media technology space:
a) Mediabolic, Inc (Jan '07 - $43 million): Allowed the ability to offer products that let consumers share music, video, and other content between home-entertainment devices and PCs.
b) All Media Guide (Nov '07 – the reported $82M price tag was never confirmed): With this purchase the company obtained the LASSO fingerprinting solution, which permitted linking actual music tracks to information about them (metadata) and a huge continuously updated database of metadata about commercial music and video content.
c) Gemstar-TV Guide and BD+ DRM technology from Cryptography Research, Inc (Dec '07 - $2.8B): Provided the company with Interactive Program Guide (IPG) technology, video recorder scheduling code (VCR Plus and other brands), published TV Guide magazine, distributed TV Guide Network and TVG Network, tvguide.com, and related services.
d) Assets of Muze, Inc (Apr '09 - $16.5M): This provided Macrovision with media information, metadata, and digital preview samples that businesses can use to support the sale of entertainment products.
e) Sonic Solutions (Dec '10 - $720M): This supplied Rovi Corporation (company name changed in July '09) with technologies such as RoxioNow (CinemaNow), the technology behind Blockbuster on Demand.
f) SideReel (Mar '11): The site offered the ability to search for television shows, track them, and watch complete episodes online.
ROVI's current Digital Media Services product stack is targeted at the following areas:
a) Cable, satellite, mobile, Telco, and pay TV service providers: Rovi's solutions provide IPGs, connected services supported with advertising and recommendations, entertainment metadata, and IP licensing.
b) Consumer Electronics manufacturers: Solutions that provide exhaustive IPGs not limited to a particular cable or satellite service, DivX, DLNA (Digital Living Network Alliance) standards based connectivity, connected services, content protection, media recognition, entertainment metadata, and IP licensing.
c) Portals and eTailers such as search engines, web retailers, and other entertainment sites: entertainment metadata integration and RoxioNow.
d) Studios that produce commercial video content: DVD Rip protection, Advanced Blu-ray copy protection, and Analog copy protection.
Business Issues:
ROVI has a large compilation of Intellectual Property (IP) assets – 5,000 patents and patent applications worldwide covering areas such as Digital Content Guidance Features, Digital Recording including embedded DVR and Network DVR, Online Guidance and Video Search, Cross-Platform Functionality, Interactive Advertising, and Content Protection. The patents shield Rovi's own technology solutions against copycat products, and at the same time provides opportunity for patent royalties.
Presently the company realizes royalties from its IPG related patent portfolio by entering into license agreements that provide a licensee with a release for past infringement, as well as the right to ship an unlimited number of units for a flat fee. As sizable resources are allocated to nurturing one of the industries largest patent portfolios, it is imperative for the business to focus on realizing measurable benefits from the technologies involved. A common strategy used by competitors to avoid licensing patented technology is to device solutions that design around the claims in the concerned patent. The defense against such a strategy is to broaden the scope of existing patents so that such design-arounds becomes difficult. ROVI claims its guidance patents are more broadly applicable as they are generally platform agnostic. While this is a viable strategy, significant resources are required on a continuous basis to keep the patent portfolio updated. A similar scenario applies to the company's Entertainment Metadata business, where metadata on more than 3 million programs, 2 million music album releases, and 500,000 movie titles are maintained. For compelling content, the metadata needs to be continuously maintained and updated. It takes over 300 people to maintain the data set, and there is opportunity to expand the metadata portfolio as well. The process is resource intensive though.
Rovi's agreements with media service providers (cable TV, satellite TV, etc) generally include IPGs, Detailed Guide Data, associated licenses to use the technology, and an optional Ad sharing interface. The business model involves the service providers paying a monthly subscription fee along with Ad revenue sharing, if selected. This is an attractive model for ROVI as profitability is directly linked to the number of service providers using Rovi's services – the incremental costs for Rovi is little.
Rovi enjoys good market-share in the U.S. and Canadian territories. However, market penetration is very low for the rest of the world as indicated below (Source: Rovi Investor Presentation – August 2011):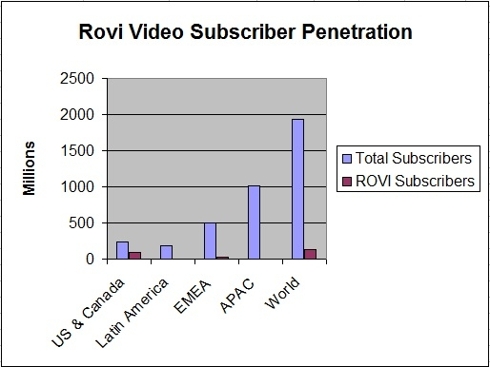 Opportunity looms large for Rovi to expand globally in the media service provider services space, and it is imperative that the company turn aggressive on international expansion as:
The addressable international market size is 10-times that of the U.S. and Canadian market size, and
International growth rates are more than double the U.S. and Canadian growth rates.
Moreover, prospects are good for the U.S. and Canadian business to upgrade from a patent license only model to that of a product license model. The value proposition for service providers is pretty compelling given that they do not have to spend resources developing a non-core asset.
The largest business unit for ROVI is the Consumer Electronics segment at around 40%, followed closely by the Service Provider sector at around 37%. Consumer Software and Other division contribute the rest (23%). The projected growth rates for these units for the upcoming year are as follows:
Service Provider - 19%,
Consumer Electronics - 13%, and
Consumer Software and Other - 2%.
The overall projected revenue growth rate of 11% seems reasonable as the Service Provider division should be able to bear the bulk of the load, given the digital upgrade cycle and the vast international potential. However the growth projection of 20-25% (CAGR) in the years following 2011 will be difficult to realize unless better growth rates in the Consumer Electronics segment can be achieved.
Finances:
The table below summarizes ROVI's financial position:
| | | | |
| --- | --- | --- | --- |
| Year | 2008 | 2009 | 2010 |
| Revenue | 327.44M | 480.45M | 541.49M |
| Net Income | (114.06)M | (52.95)M | 212.88M |
| Shares Outstanding | 85.36M | 100.86M | 109.18M |
| Earnings per Share (Normalized – one-time items removed) | (1.32) | (0.52) | 1.94 |
| YOY Earnings Growth | NA | NA | NA |
| YOY Revenue Growth | 46.73% | 25.91% | 12.70% |
| Net Profit Margin | NA | NA | 39.31% |
Rovi Corporation's financials does not clearly indicate how the business is performing as a consequence of all the acquisitions and divestitures in the last three years. The first six months of 2011 point out that YOY - the Service Provider business grew by 12%, CE Manufacturers 41%, and Consumer Software and Other businesses 123% respectively. The latter two growth rates are steep because numbers from the Sonic Solutions acquisition are also factored in. The 12% growth YOY for the first six months of 2011 for the Service Provider business is below the projected 19% growth rate for this business, per the company's 05/2011 investor presentation – the trend is still good as the growth rate was just 8% for the first three months YOY. The CE business unit's growth of about 8% YOY (without the Sonic Solutions acquisition numbers) compares favorably to the projected 2% growth rate. However the Consumer Software and Other Revenue business was flat, which is well below the projected rate of 13% for 2011.
Fair Value Estimates:
The spreadsheet below shows fair value estimates for Rovi Corporation (click for an understanding of the models used on this spreadsheet):
Click to enlarge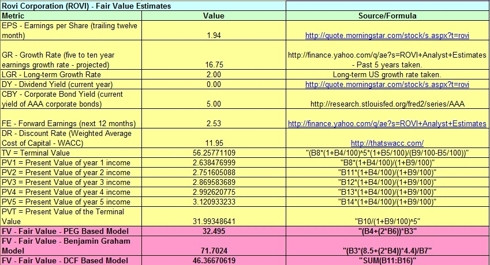 The PEG based model shows a fair value of $32.50, about 30% below the current market price of $43.09. Management projections indicate ROVI growing earnings at a 11% clip for 2011 and accelerating to a 20-25% CAGR after 2011. Our analysis showed these projections are difficult to attain. (The PEG calculation used a more conservative figure of 16.75%, the average of the projected growth-rate of 11% for 2011 and the mid-point of the projected CAGR of 20-25% after 2011.) For growth rates between 11% and 25%, the valuation based on the PEG model varies from $21.34 to $48.50.
The Benjamin Graham model indicates a fair value of $71.70, about 60% above the current market price of $43.09. The model required a 7-10 year growth rate which we took as 16.75% (as used in the PEG calculation). Even with a much lesser 7-10 year earnings growth rate (10%), the valuation comes to $48.65 which is still above the current market price.
The DCF based model shows a valuation of $46.37, which is slightly above the current market price of $43.09. The key variables in the calculation are the discount rate and long-term growth rate. The weighted average cost of capital is 11.95, which is well above average. Using a lower discount rate number (e.g. 9%) will give higher valuations for ROVI ($67.59). The U.S. long-term growth of 2% was chosen as the long-term growth rate for ROVI, a very conservative number. Using a higher number for that figure will result in a higher fair value estimate.
Quantitative Rating:
The spreadsheet below shows our quantitative rating summary of Rovi Corporation (click for an understanding of the ratings on this spreadsheet):
Click to enlarge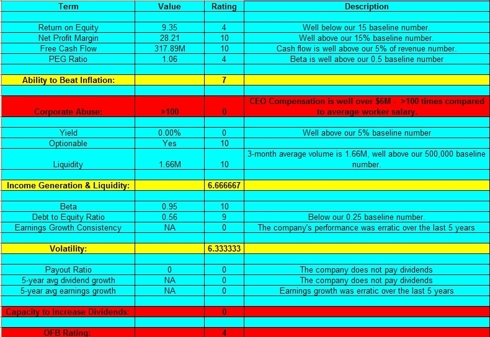 ROVI scores 7/10 on its ability to beat inflation: Return on equity, and free cash flow are perfect. Net profit margin is healthy. PEG ratio (5-year projected) is at 1.06, which is high compared to our baseline 0.5 number.

Corporate Abuse rating is 0/10 as the company's executive compensation is egregious: The CEO made over $6M which is well over 100 times the average worker.

Income generation and liquidity measure is average at 6.67/10: ROVI does not pay dividends. The stock is optionable and very liquid with an average volume of 1.66M in the last three months.

Volatility ranking is average at 6.33/10: ROVI has manageable debt, beta is outstanding, and earnings growth has been erratic over the last 5 years.
Capacity to increase dividends scored a dismal 0/10: ROVI doesn't pay dividends, thus blanking out the payout ratio and 5-year average dividend growth rate measures. The 5-year average earnings growth number is also 0 because the company had negative earnings and erratic figures for earnings for the last 5 years.
The overall quantitative rating or the 'OFB Factor' came in at 4/10, which is below average.

Summary:
ROVI has an enterprise value of $5.46B and a forward PE of about 13.90. Our fair value estimates showed higher numbers compared to the current stock price. The assumptions call for the company to grow earnings in the mid-teens in the coming years.
The company is aiming to transform its business to a high-growth one by acquiring a group of related technologies. If that strategy pans out and the company can grow anywhere close to the projected CAGR, the stock price will increase. But for that, management will need to execute on the projections in the coming years.
ROVI is trading around 35% down from its 52-week high of $69.50 reached earlier this year. Our quantitative rating came in below average at 4/10. The company's financial performance has been erratic, although this can be attributed to its attempt in transforming itself into a high-growth business. It also acquired a number of companies in the past 5 years including a couple of enormous ones. It is unclear how well the company will be able to consolidate the technologies involved and present integrated solutions that are compelling in the marketplace.
Given these unknowns, we recommend a wait-and-see approach on Rovi Coroporation (ROVI) shares.

Disclosure: I have no positions in any stocks mentioned, and no plans to initiate any positions within the next 72 hours.