One particularly notable surprise came out of the Fed's statement on Wednesday.
While the announcement of Operation Twist was widely anticipated, the one unexpectedly added wrinkle was the fact that the U.S. Federal Reserve would reinvest the principal payments from its holdings of Agency Debt and Agency Mortgage Backed Securities (MBS) back into Agency MBS. This marked an important shift in Fed policy, as these principal payments had previously been reinvested back into U.S. Treasuries. This was a positive development for an asset class that was already looking interesting for a variety of reasons.
Since the beginning of the financial crisis, the Agency MBS market has posted consistently solid results. With brief exceptions along the way, Agency MBS as measured by the iShares Barclays MBS Fixed Rate Bond ETF (NYSEARCA:MBB) has steadily risen with consistent support from its 50-day and 150-day moving average all along the way. After emerging virtually unscathed from the financial crisis – it only declined by -3.8% in the weeks following the Lehman bankruptcy – it has since gained +24%. And despite this steady rise, this bond category is appealing as an investment going forward for several reasons. Click on charts to enlarge: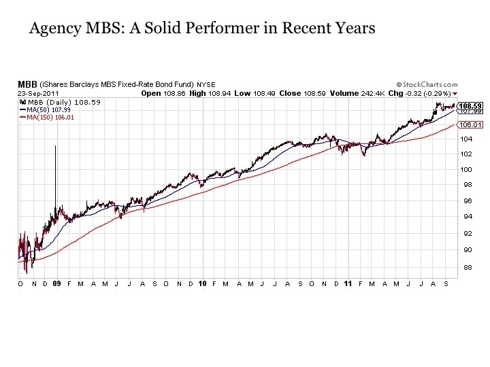 1. U.S. Government Backed
First, the U.S. government explicitly backs the issuance associated with Ginnie Mae available in this category. And although not officially government supported, the issuance tied to Fannie Mae and Freddie Mac are also effectively backed by the U.S. government given that both institutions are in conservatorship.
2. Attractive Yield
The effective duration of the iShares Barclays MBS Fixed Rate Bond ETF (MBB) is 1.39 years. This is even shorter than the effective duration of the iShares 1-3 Year Treasury Bond ETF (NYSEARCA:SHY) at 1.78 years. However, the yield on the MBB is currently 3.3% versus the yield on the SHY at 0.8%. Thus, the MBB provides a +2.5% yield advantage at a shorter duration while still enjoying effective U.S. government backing. Moreover, the yield on the MBB is comparable to the yield on the iShares 20+ Year Treasury Bond ETF (NYSEARCA:TLT), which has an effective duration at 17.12.
3. Protection Against Economic Weakness
Just like U.S. Treasuries, the Agency MBS market provides portfolio protection against a weakening global economy, the potential for a double-dip recession and the threat of contagion resulting from the European debt crisis.
4. At Trough Levels Relative to Treasuries
The MBS market currently represents an attractive investment relative to U.S. Treasuries. While U.S. Treasuries have rallied sharply since April 2011, the MBS market has not participated to the same degree. As a result, MBS is now trading at its lowest levels relative to Treasuries since the end of 2008. Thus, a relative catch up in Agency MBS versus U.S. Treasuries is long overdue.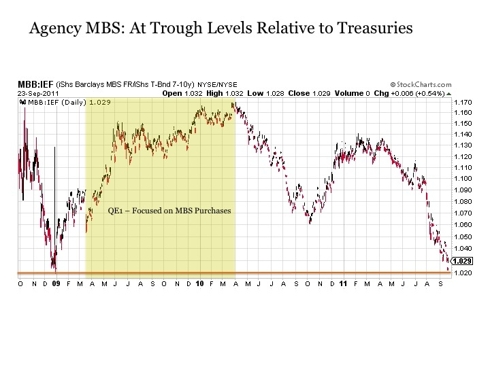 5. Fed Resumes Buying Agency MBS
The fact that the U.S. Federal Reserve announced it would once again be buying Agency MBS provides an added tailwind. Such purchases have not occurred since QE1, when the Fed stepped in and purchased $1.6 trillion in Agency Debt and Agency MBS. During that time climbed steadily higher and outperformed U.S. Treasury debt by a wide margin.
All of these factors are supportive of establishing a position in Agency MBS as a high quality, attractively yielding complement to an overall portfolio.
Disclosure: I am long MBB, IEF, TLT. I was long MBB from December 2008 to March 2010. I reestablished long positions in MBB on Friday 9/23/11.
Disclaimer: This post is for information purposes only. There are risks involved with investing including loss of principal. Gerring Wealth Management (GWM) makes no explicit or implicit guarantee with respect to performance or the outcome of any investment or projections made by GWM. There is no guarantee that the goals of the strategies discussed by GWM will be met.