Outlook: President Harry Truman was quoted as saying, "Give me a one-handed economist! All my economists say, 'On the one hand and the other'".
This quote carries even greater significance today. In a recent Wall Street Journal survey, one out of three economists polled see the possibility of the U.S. slipping into a recession over the next 12 months. This is the highest odds since the recovery began in mid-2009.
Degenerating into Politics: With the potential of the European troika "punting on Greece" and President Obama under siege by the Republicans with regards to the passage of meaningful economic policy, there is little for which to be thankful from an economic policy standpoint. It's every man for himself.
Additionally, the Fed's "Operation Twist" will have the impact of narrowing the yield curve and choking off bank's earnings during a time in which banks are also under siege by regulators, litigants and the markets.
Fashion Notwithstanding: While it is fashionable to be a contrarian, to which "I tip my hat", the fact pattern doesn't inspire anything greater than trading opportunities in the interim.
CEF Weekly Review: On average, the 13 closed-end fund (CEF) types registered a share price decrease of 2.9% for the week ending 9/23/11. The high-low spread (percentage price change difference between the highest and lowest fund types) registered this week was unusually high at +8.7%. On an aggregate unweighted basis, the weekly average price change for the 600 plus CEFs in the GrowthIncome database was down 2.0%.
The PowerShares CEF Income Composite (NYSEARCA:PCEF), an ETF that invests in taxable income CEFs, decreased a more significant 4.0% for the week. In a fear induced stupor, investors pummeled S&P 500 taking it down 5.6% for the week and testing its recent August's lows. The S&P 500 extended its loss YTD to 9.6%.
Trading Volume: The average daily volume for the S&P 500 (GSPC) was 5.1 billion shares, up 4.4% from the previous week. Volume touched 6.7 billion shares on Thursday as the S&P 500 sank 3.2%. Volume has ratcheted both up in August and September as volatility has spiked. We've seen the S&P 500 average monthly volume escalate sequentially from a low of 3.2 billion in February this year. (See, "Uptick, Downtick" below.)
(Click here for YTD CEF Performance. See "Research" Menu; "CEF Weekly Information" tab.)
The Eqcome CEF Fear Index advanced for the week on the downside. The average CEF unweighted price decreased 2.0% while the average related NAV decreased 1.5%. The VIX, which had been hovering below the 40 high-anxiety levels for several weeks, finally broke through that psychological barrier by spiking 33.2% to finish the week at 41.25. This pattern is similar to that of August's market lows.
CEF Weekly Fund Type Performance: The CEF fund type performance reflected elements of investors' confusion, uncertainty and fear this week. All CEF fund types experienced average share price declines with the exceptions of SingleStMuniFnds and NatlMuniBndFnds which were both up a meager 0.7%. As previously mentioned, the difference in weekly price change for the various CEF fund types was significant at 8.7%.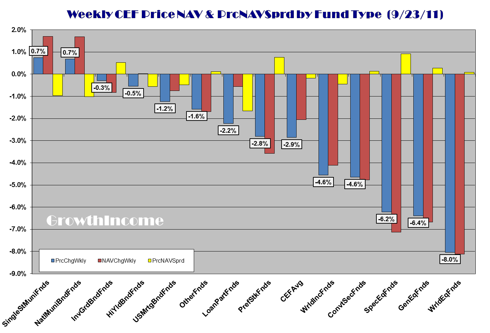 Of note, while both muni categories experienced average price advances, NAVs rose even more creating a negative PrcNAVSprd—which is typically viewed as favorable.
Of course the three equity fund types experienced significant price declines with WrldEqFnds plunging 8.0%. Curiously, given the Euro debt crisis, WrldIncFnds fared better, down 4.6%. With the dollar rising, offshore investments are shouldering an additional valuation burden.
Positive PrcNAVSprds were recorded for PrefStkFnds and SpecEqFnds, i.e. share prices either exceeded or declined less than underlying NAV. This typically happens when investors rush into or out-of a sector based on macro factors. This would seem to have respectively been the case for the two aforementioned CEF fund types with investors rushing into PrefStkFnds and rushing out of SpecEqFnds. (Albeit, the NAV can lag in certain fund types given the difficulty and timing of valuing the underlying assets.)
Economic & Earnings Outlook: (Click here for next week's economic calendar; click here for earnings' announcements and estimates.)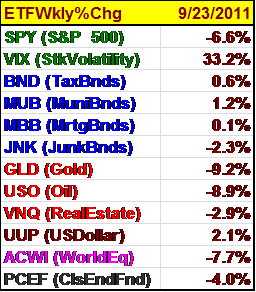 ETFs: For a more detailed EFT performance by sectors, click here—see, "Research" Menu; "ETF Weekly Information" tab.)
Insider Trading: Most of the recent insider trading was "wash transactions" whereby an agent—in most cases Merrill Lynch—buys and sells the same number shares possibly in response to a corporate action, etc.
One of the more meaningful transactions was in Alliance Bernstein Income Fund (NYSE:ACG). One of its directors, Marshall C. Turner, purchased in the aggregate of 29,980 shares at an average cost of $8.05 per share.
(Click here for a hyperlink to the Joe Eqcome's CEF Weekly Insider Report—see, "Research" Menu; "CEF Weekly Information" tab.)
CEF Distribution Announcements This Week: The following is a link to a table of CEF distribution announcements this week as well as the previous week's with yet expired ex-dividend dates. The list is not intended to be inclusive. (Click here for Joe Eqcome's Weekly CEF Distribution Announcements—see, "Research" Menu; "CEF Weekly Information" tab.)
---
[*] All things being equal, price and NAV should move in tandem. A price movement greater than the NAV generates a positive PrcNAVSprd and may be interpreted as negative on a near-term basis and indicate that the stock is overvalued relative to its NAV which in theory is the stock's intrinsic value. The opposite would be true for a negative PrcNAVSprd.
Disclosure: I am long PCEF, ADX. I own a diversified portfolio of CEFs and ETFs and am long stocks in the CEFBig10™, CEFMuni10™ and CEFDisc10™.) The first is a balanced equity-income portfolio (CEFBig10™), the second a tax-exempt income portfolio (CEFMuni10™) and the third a portfolio whose objective is capital gains with a secondary objective of current income (CEFDisc10™).