The China HSBC preliminary PMI for Sept. of 49.4 disappointed the markets Thursday, Sept. 22, 2011. Virtually all commodities sold off hard on the news, especially after all of the weak and troubling data out of the EU and the US lately. Many commodities and commodity stocks went down 5% to 10% and more in one day. This was after they were already down considerably on the troubled EU and US economies.This makes sense as a gut reaction. However, it makes less sense as a carefully considered thought. China is still supposed to grow at a rate of 8.3% to 9% for 2011. Some may still think 9.5%. If this is a recession, I wish the US had one like this.
The WASDE report from Sept. 12, 2011 predicts overall season average commodity prices significantly higher than last month. Wheat is projected at $7.35-$8.35 per bushel up from last month's $7.00-$8.20 per bushel. Coarse grains are projected at $6.50-$7.50 per bushel, up $0.30 per bushel from last month. The all rice season average farm price is up $0.80 per cwt on each end of the range at $14.00-$15.00 per cwt. The US season average soybean price is projected at $12.65-$14.65 per bushel, up $0.15 per bushel on both ends of the range from last month. I could go on. The US populace is still going to eat heartily. The Chinese, Indians, and the 43 other quickly growing Asian economies growing at more than 7%+ are still going to demand more food. This means that the farmers will demand more fertilizer, so they can produce more for the next season. It means fertilizer prices are likely to go up, even with a slow down. Of course, the journey upward may be a bit slower now.
These stocks have sold off far too much. The possibly small difference in their future earnings has been exaggerated with their recent moves downward. Even the major players: Agrium Inc. (NYSE:AGU), Potash Corp. of Saskatchewan (NYSE:POT), Mosaic Company (NYSE:MOS), and CF Industries Holdings Inc. (NYSE:CF) sold off 15%-20% in the last week alone. Also, they had been selling off on weak US and EU news before that. They are bargains again now. I would expect them to bounce soon. Doug Kass, the man who correctly called the Mar. 2009 bottom, is calling another one based mostly on valuation. He claims even using discounted valuations for the S&P500 stocks, they are still cheaper than in Mar. 2009. This makes them buys. On top of that, the emotional reaction to the China "flash" PMI was almost certainly overdone. A bounce would be the normal expectation. Excessive fear might be the only thing that could stop that from happening. Still if you think long term, these stocks are buys. People still need to eat.
The fundamental financial data in the table below may help to make this clearer. The data are from TDameritrade and Yahoo Finance.
Stock

AGU

CF

MOS

POT

Price

$72.57

$146.89

$60.11

$46.90

1 yr Analysts' Target price

$105.99

$189.15

$84.46

$68.59

Predicted % Gain

46%

29%

41%

46%

PE

10.55

10.40

10.70

17.09

FPE

7.83

7.45

N/A

10.61

Avg. Analysts' Opinion

2.3

2.3

2.2

2.1

Miss Or Beat Amount For Last Quarter

+$0.34

+$0.92

N/A

+$0.10

FY2012 EPS Estimate

$9.27

$19.71

$5.53

$4.42

FY2012 EPS Estimate 90 days ago

$7.96

$13.87

$5.53

$3.93

EPS % Growth Estimate for 2011

95.70%

178.00%

N/A

83.30%

EPS % Growth Estimate for 2012

2.30%

-7.10%

N/A

18.20%

5 yr. EPS Growth Estimate per annum

8.15%

12.00%

8.00%

10.00%

Market Cap

$11.47B

$10.54B

$26.84B

$40.14B

Enterprise Value

$13.15B

$10.80B

$23.77B

$44.14B

Beta

1.63

0.93

1.33

1.09

Total Cash per share (mrq)

$6.12

$18.94

$8.75

$0.48

Price/Book

1.87

2.16

2.31

5.11

Price/Cash Flow

8.38

6.72

9.05

13.81

Short Interest as a % of Float

0.55%

4.08%

2.46%

1.07%

Total Debt/Total Capital (mrq)

30.25%

23.28%

6.67%

38.03%

Quick Ratio (mrq)

1.27

1.65

2.81

0.70

Interest Coverage (mrq)

1,013.0

52.90

--

--

Return on Equity (ttm)

20.31%

23.56%

--

33.60%

EPS Growth (mrq)

39.46%

338.06%

64.01%

82.36%

EPS Growth (ttm)

94.62%

331.09%

204.12%

75.65%

Revenue Growth (mrq)

39.88%

37.76%

53.76%

61.80%

Revenue Growth (ttm)

41.21%

86.76%

47.03%

48.00%

Annual Dividend Rate

$0.11

(0.10%)

$1.60

(1.00%)

$0.20

(0.30%)

$0.28

(0.60%)

Gross Profit Margin (ttm)

26.85%

39.88%

31.41%

45.98%

Operating Profit Margin (ttm)

11.61%

38.03%

26.81%

43.60%

Net Profit Margin (ttm)

8.38%

22.11%

25.34%

30.61%
These stocks are all solid. They should all perform well in the long term. If the overall market does not continue to collapse dramatically, they should rebound nicely. They may anyway. After the myriad natural disasters this year and last year, the grain inventories are much lower than normal. Farmers will have to have a great year next year just to get those grain inventories to still be significantly lower than normal. On top of that Potash supply is low itself. This all means there is supply and demand pressure for the price of fertilizers to go up. It means oversold fertilizer stocks should rise soon.
Let's look at the charts of these stocks to get a technical view of the situation.
The two year chart of AGU is below: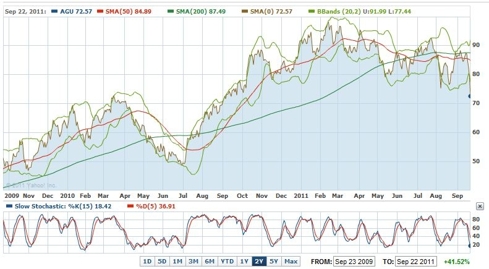 The two year chart of CF is below: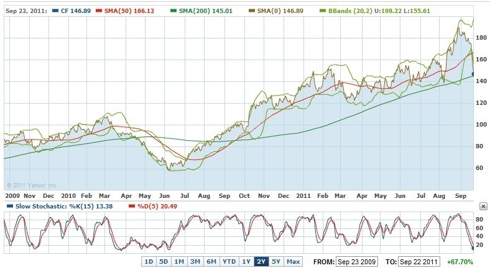 The two year chart of MOS is below: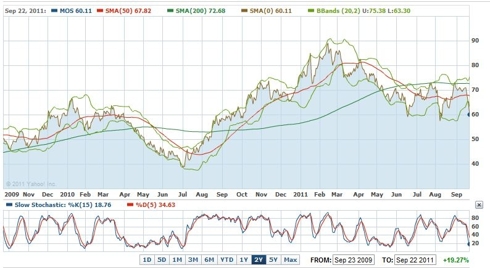 The two year chart of POT is below: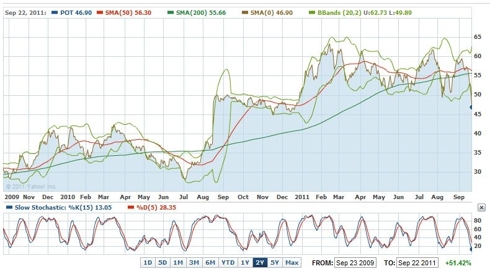 The above charts show that all of these stocks are oversold based on their Slow Stochastic sub charts. They are all far below their lower Bollinger Band (oversold). All except CF are far below their 200-day SMA. They are due to bounce up. All have uptrending charts. There is no good reason to believe this trend should be broken. The economic news is not bad enough to make people not eat. The big move down Thursday Sept. 22, 2011 had all the earmarks of a blow off bottom -- capitulation. This is often the signal for stocks to start an up move. These stars of yesterday will most likely be stars of tomorrow. They are part of a secular growth story that can be bought even in trying times. Under the current market conditions, it is probably wise to leg into these, but they are all buys.
Good Luck Trading
Disclosure: I have no positions in any stocks mentioned, but may initiate a long position in AGU, MOS, CF, POT over the next 72 hours.