Equity markets had a rough week this past week with SPY (SPDR S&P 500 ETF) closing the week down 6.77%. Last week we had 15 stocks to watch, which was on the heels of an outstanding week for equity markets.
This week we only have 2 stocks 2 ETFs, and 1 closed-end ETF on the watch list. The list is comprised of stocks which traded at a 52 week high on Friday on strong volume and is generated using Finviz. It is a useful tool for finding future potential investment or trading opportunities.
The list of five is below. It is worth noting that Goodrich (NYSE:GR) has agreed to be bought out by United Technologies (NYSE:UTX), so at this point it should considered more of a "special situation" than a momentum candidate:
| | | | |
| --- | --- | --- | --- |
| Ticker | Company | 9/23 Update | Industry |
| AFB | AllianceBernstein National Municipal Income Fund, Inc | Here | Closed-End Fund - Debt |
| BOM | PowerShares DB Base Metals Dble Shrt ETN | Here | Exchange Traded Fund |
| GR | Goodrich Corp. | Here | Aerospace/Defense Products & Services |
| ITM | Market Vectors Intermediate Muni ETF | Here | Exchange Traded Fund |
| MXWL | Maxwell Technologies Inc. | Here | Diversified Electronics |
Maxwell Technologies (NASDAQ:MXWL) develops, manufactures, and markets energy storage and power delivery products, and microelectronic products. It currently has no earnings but is projected to have a forward P/E of 33.24. It has little debt and has shown earnings and sales growth the past year. Its EPS growth this year is 75.36% and 33.71% the past 5 years. Sales have grown 21.82% annually the past 5 years. The company is projected to grow EPS at 27% the next 5 years.
The company has a high short ratio of 15.88 and short float of 12.92%, so the move to a 52 week high could be based in part on a short squeeze, where shorts are forced to buy the stock to cover their short position. From the first to second quarter of this year AlphaClone states that funds increased their holdings from 5.8 million to 6.4 million shares and funds in their database currently hold 31.1% of the company.
The stock does not look overly extended on a daily chart; however, as you will see on the second (monthly) chart there is still some overhead resistance to the stock moving dramatically higher: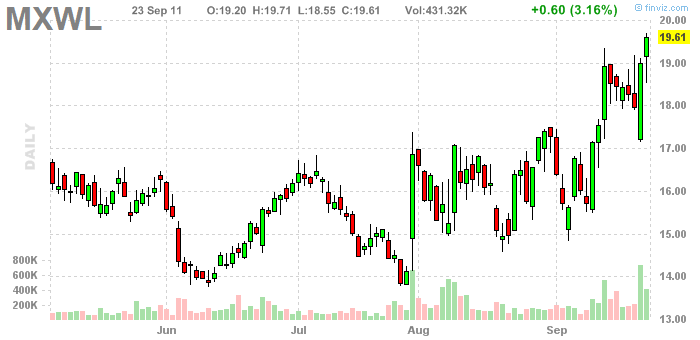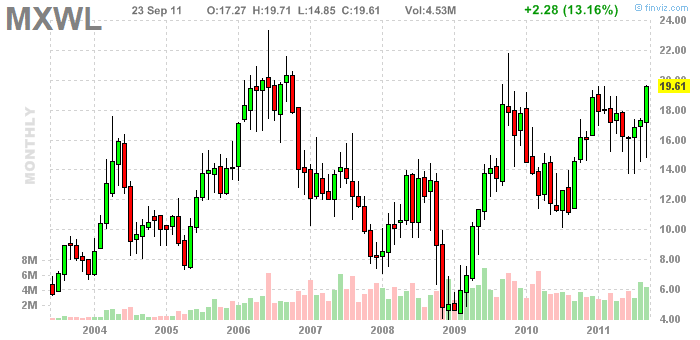 The bottom line is that using a 52 week high screen when the market is struggling can be a frustrating endeavor, but could lead to a few select ideas. This is a difficult market for investors to find stability as the market has been anything but stable since July. Stocks bucking the technical trend, especially those stocks with strong balance sheets, could be worth a long-term look on a short-term pullback but risk management and preservation of capital should always remain priority number one.
Disclaimer: No current positions in stocks mentioned. Please note that Scott's Investments is not a financial adviser. Please consult your own investment adviser and do your own due diligence before making any investment decisions. Please read the full disclaimer at the bottom of Scott's Investments.