Overview
This article takes a look at housing statistics and concludes that there is some positive news beneath all the gloom. Specifically, the artificial spike in home ownership of the mid 2000s is mostly behind us. The remaining correction could be completed in another 18 months or so. In addition, thousands of smart and industrious investors are rehabilitating homes and putting them back into service, either by selling them to families or by renting them out. This process creates economic activity and sets the stage for a return to a healthier market.
It is hard to say when this phenomenon will lead to increased demand for new homes built by the likes of KB Home (NYSE:KBH), DR Horton (NYSE:DHI), Pulte (NYSE:PHM), Toll Brothers (NYSE:TOL) and Lennar (NYSE:LEN). The number of foreclosures still to come dwarfs the production of the nation's home builders, even when that production is at normal levels. However, the cleaning out of the bank-controlled inventory is a positive for builders in that they cannot see real demand emerge until the foreclosure mess has been mopped up.
The Home Ownership Rate is Returning to Normal
According to the U.S. Census Bureau, the American home ownership rate peaked in 2004 at more than 69%, about 5% above the 63-65% range where it hovered during most of the 1965-1995 time period. To access the relevant Census publication, please click here.
Given 112.5 million occupied units, the peak home ownership level was about 5.6 million home owners that probably should have never been homeowners. These buyers only qualified for loans because of lax lending standards and unsustainable Federal policies that tried to artificially extend homeownership to almost everyone who wanted to buy. The housing market cannot stabilize until the homeownership rate stabilizes—probably around the 64% historical level.
The good news is that in the second quarter of 2011, the homeownership rate had dropped to about 66% (see chart below). One might estimate that we have another 2% drop to go before the homeownership rate returns to "normal." That is about 2.25 million more units that need to transition from owner-occupied to non-owner-occupied. Given that the rate has dropped about 3% in the past six years, one might guess that we have another four years of pain before the rate reaches 64%.
However, a closer look shows that the drop in homeownership has accelerated, dropping 1.0% in the past three quarters. At this pace, the remaining 2% drop could take place in about one-and-a-half years. While painful, the adjustment that is under way sets the stage for stabilization of the housing market.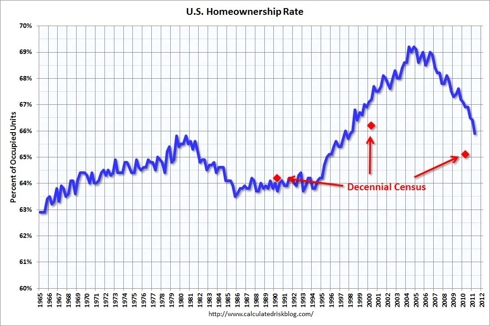 A Giant Investment Market Hidden in the Statistics
The National Association of Realtors provides another lens through which to view the housing market. For the raw data used in the following paragraphs, please refer to the Realtor press release.
In July 2011, existing home sales closed at a seasonally adjusted rate of 4.67 million (annual rate). Distressed sales—foreclosures and short sales—accounted for 29% of transactions, or a seasonally adjusted rate of 1.35 million. All-cash purchases were also 29% of all transactions. Meanwhile, investors accounted for 18% of transactions, or about 841,000 sales. The average selling price of all U.S. homes was $174,000.
If we take the 841,000 annual rate of investor purchases times the $174,000 average sale price, we get about $146 billion—a rough estimate of the pace of investment in U.S. homes by non occupant investors. This estimate may be high, since investors frequently purchase distressed homes, which tend to sell for lower prices. However, as an estimate it is useful.
Investors are Buying "Scratch and Dent" Homes
Investors are usually buying homes from banks after those homes have been through a foreclosure. The homes often feature deferred maintenance after being neglected as their prior owners stopped taking care of the homes during the foreclosure process, and sometimes damaged the homes intentionally out of frustration.
Investors typically rehabilitate the homes after buying them. A common rehab budget is $10,000 to $20,000. This range corresponds to $8.4 billion - $16.8 billion per year of spending by investors to rehabilitate homes—a valuable shot in the arm for the economy, providing work for construction workers who make up one of the hardest hit segments of the economy.
Two Common Investment Programs
Investors typically follow one of two programs when buying a home from a bank: (1) "fix-and-flip"; and (2) "fix-and-rent".
In the fix-and-flip model, the investor aims to resell the house once it is fixed up, earning a profit of $30,000 or more on a total investment that may be $100,000 to $200,000 (these numbers are based on the author's experience as a bridge lender to investors in Southern California).
In the fix-and-rent model, the investors build up a portfolio of rental homes, aiming to earn a 7-10% return on cost after accounting for operating expenses such as property taxes, insurance, repairs and maintenance.
Summary
The health or sickness of the U.S. housing market has a disproportionate effect on the economy. We live in a mature Western economy whose long term growth rate is in the very low single digits. For several years, realtors, mortgage brokers and home builders have seen their numbers culled and their incomes chopped down.
However, there is another group of workers and investors – some of whom I have the pleasure of knowing because I am one of their lenders -- for whom the past few years have been the best of times. These entrepreneurs are making money while taking minimal risk, buying homes from banks and putting them back into use. Their hard work is paying off for them and it will pay off for the economy at large.
Disclosure: I have no positions in any stocks mentioned, and no plans to initiate any positions within the next 72 hours.