The iShares Silver Trust ETF (NYSEARCA:SLV) took quite a hit this week, down nearly 24% since September 19th closing. Making its gold counterpart SPDR Gold Trust ETF (NYSEARCA:GLD), 10% downward move seem tame in comparison.
While it's hard to quantify a "fair value" for either gold or silver, the ratio of prices between the price of the two commodities can be instructive. The below chart shows the ratio of price per share of SLV to GLD since the beginning of 2007 (note these are ratios of the cost of one share of each ETF, not ratios of one ounce of each metal). This week's outsized correction in silver has brought prices almost exactly in line with the average of that ratio since January 2007.
click on images to enlarge
Before diving into silver (or the silver gold pairs trade) note that silver, which has much more exposure to industrial production, could fall significantly further relative to gold. In October 2008, the last time we had rampant concern of economic slowdown/recession, the ratio dropped nearly 35% below current levels, implying a downside price on SLV of $18.82, or $11.10 below Friday's close.
Another gold ETF pairs trade is the Market Vectors Junior Gold Miners ETF (NYSEARCA:GDXJ) vs. GLD. The history of GDXJ goes back a bit less than 2 years, but the week's almost 19% decline in GDXJ has brought the ratio of the two to an all-time low, setting up an interesting reversion trade.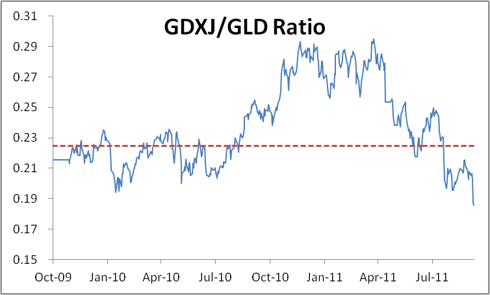 Disclosure: I have no positions in any stocks mentioned, and no plans to initiate any positions within the next 72 hours.