With the stock up more than 91% since the start of 2010, Apple Inc.'s (NASDAQ:AAPL) seemingly endless meteoric rise has stunned investors. Nevertheless, analysts currently rate the company a "strong buy" and have high expectations for EPS growth: 81.8% to $27.55 in 2011 and then 17.9% and 13.9% growth for the next two years. At the same time, the technology-maker has a beta of 1.3 while facing considerable macroeconomic concerns, particularly in the area where Europe is concerned (making up 28.7% of 2010 revenues). In an effort to reduce risk and increase upside, Apple has been further diversifying globally and has just recently opened a store in Hong Kong, in addition to patenting storefront designs in Shanghai amidst worries of con artists.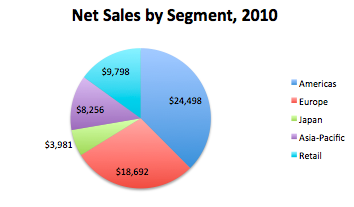 Given investors' bullishness for a company exposed to tremendous risk and intense competition, a weighty question naturally follows: namely, will the Apple craze ever end?
The market has currently been holding down the stock below its potential due to there being a new CEO that doesn't bear the name "Jobs." Investors view the former CEO-turned-Chairman as synonymous to the company's brand, extolling his technology genius. While Steve Jobs is arguably one of the greatest business managers of modern times, in my opinion the show will go on without him. Consumers, which drive growth, really are not interested if the latest gizmo came under leadership from Jobs or from Cook. They are interested in purchasing cool products that have a sense of artistic youth.
You can just visualize right now the latest product coming out of development. Investors and consumers will almost assuredly exclaim the design's new "innovative touch," its "built-for-the-user layout," and its "revolutionary impact" on technology. Truth is, is Apple's iPad not just a really large iPod Touch? This product contributed 7.6% to the top-line in 2010 and is expected to grow in the year ahead. Should I not view the iPad 3 as cynically as I view "updates" and "new editions" to college textbooks? While I do not want to ruin the parade, I frankly believe that investors and consumers have been bit by the Apple bug. Should the craze end sometime soon, wasteful capital expenditures and development in emerging markets will drag down free cash flow. Without being too negative, I still forecast FCF growing as follows: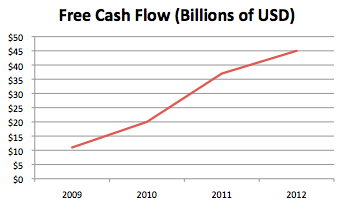 *Note: For simplification purposes, the line graph has replaced the fluctuations between the years as a connecting line.
Apple has a strong portfolio products that I believe can be marketed without high development costs in terms of "upgrades." Perhaps shocking to most investors is that the innovative company spends below average R&D, when measured as a percent of revenue, than most of its peers. I believe that this is the right strategy for management to take, since consumer demand for something new from Apple will be high regardless whether or not the upgrades are objectively worthwhile (at least for now). Accordingly, I expect sales from iPad 3 and the iPhone 5 to be high and beneficial. Competitors like Microsoft (NASDAQ:MSFT), Dell (DELL), Hewlett-Packard (NYSE:HPQ), and Cisco (NASDAQ:CSCO) are losing their "cool." While Microsoft is seeking to unlock value through cloud integration, if history is any guide, the integration will likely not be as smooth as Apple's.
According to my estimates, current enterprise value is to trade at roughly 1.1x 2013 earnings. This will be mostly driven by both cost reductions due to economies of scale and increased revenue from the iPhone and iPad product lines. iPad faces few strong competitor substitutes with tablet introductions being a bust for those who have attempted to displace Apple's lead. I believe that Sony's new table product will additionally fail to perform in the market.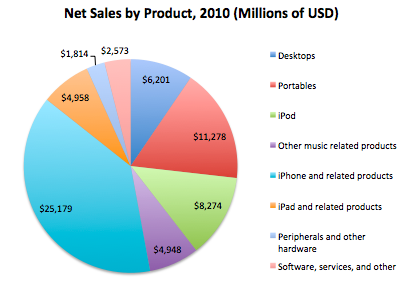 While many an impatient investor have started calling on Apple to start paying out dividends or buying back shares, I feel that it should maintain its cash holdings (currently worth 7.6% of market value) in order to reduce risk and expand globally. At the same time, it is true that future free cash flow will outpace needs for cash expenditures. I anticipate cash, if left unused, to grow to roughly $118B by 2012's end. Worldwide IT spending will increase in growth rate from roughly 5.6% in 2011 to roughly 7% in 2013, necessarily demanding that the company follow suit to make products compatible.
I am also bullish on long-term sales from Macintosh computers, more so than I am for the company's iOS mobile operating system. With the younger generation becoming hooked into Apple products, long-term prospects for this product are bright. In the more short-term, I anticipate that Mac will outperform the market with 21% growth until 2013. Apple's market share in the mobile area has declined largely due to the Android.
In conclusion, I believe that the next five years for Apple will be promising, if a bit driven by market exuberance. The company currently trades at 16x and 12.5x past and forward earnings, respectively, which I believe is fair given the company's current fundamentals. Given market psychology, however, I believe a release of a new product will be strongly beneficial in growing the company for at least the short-term.
Disclosure: I have no positions in any stocks mentioned, and no plans to initiate any positions within the next 72 hours.