Philip Morris International Inc. (NYSE:PM), through its subsidiaries, manufactures and sells cigarettes and other tobacco products. Its portfolio of international and local brands includes Marlboro, Merit, Parliament, Virginia Slims, L&M, Chesterfield, Bond Street, Lark, Muratti, Next, Philip Morris, and Red & White.
Philip Morris was a spin-off from Altria (NYSE:MO). Philip Morris is its international brand and only operates outside of the United States. This is one of the reasons why I like Philip Morris more than other tobacco companies.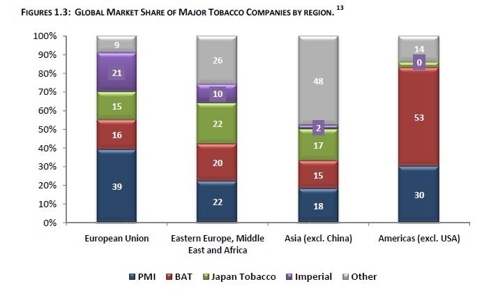 As you can see Philip Morris has large market share in Asia, although it's not the biggest it still is a major player. A major concern for many here is that it has large market share in Europe, a region dealing with a major credit crisis. I do not think this is a major issue though. both because of cultural reasons and regional reasons. Europeans are not likely to stop smoking anytime soon even amidst a credit crisis. Cigarettes are part of their everyday lives and are looked at as a necessity. The stronger European nations such as France, Germany, Belgium, and Netherlands, are the heaviest smokers, not the debt-laden countries such as Greece. Also keep in mind England accounts for the largest chunk of the market and is not even part of the EU.
The reason I do not want exposure to the U.S. tobacco market is not because of the flat sales growth, but rather the massive government regulation taking place.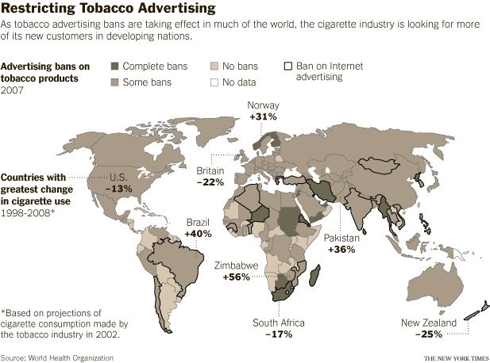 Companies like Reynolds America (NYSE:RAI) , Altria (MO), and Lorillard (NYSE:LO) have been under attack for the past few years.
Reynolds American was an avid opponent of the FDA bill. The bill, which was passed by both the House and Senate, will now allow the FDA to regulate tobacco companies. Reynolds has made it very clear on past conference calls that the FDA tends to be extremely strict and that could hurt its bottom line.
Lorillard saw a huge haircut when a FDA panel recommended banning all menthol cigarettes. Fears have receded as talks have stopped. However, even if this was possible it would be a huge blow to shareholders and would mean a massive decline in the stock.
This is why Philip Morris is a much stronger company, as it does not have too much exposure to these heavily regulated markets. Not to mention, sales of cigarettes in the U.S. are declining.
Philip Morris saw a strong decline due to the market downturn. This has opened up an opportunity. The dividend now stands at 4.7%, which was increased by 20%. The forward P/E of the stock is 12.25 and you get a great play on the emerging markets.


Disclosure: I have no positions in any stocks mentioned, and no plans to initiate any positions within the next 72 hours.