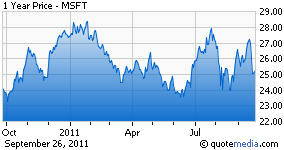 Microsoft (NASDAQ:MSFT) unveiled a beta release of Windows 8, with decidedly strong success. In the first 12 hours after being made available, 500,000 early adaptors downloaded the developer preview. Other than the minor confusion that the system's touch screen interface is in fact optional, the reaction from readers was mostly positive on tech gadget review sites.
After the Windows 8 launch, investors pushed shares higher, to $27.21. More recently, the company raised dividends by 25%, disappointing investors who speculated the company would increase the distribution beyond its long-term growth rate. With shares closing at $25.04, Microsoft yields 3.20%. By comparison, the 30-year U.S. Treasury yields 3.81% (NYSEARCA:TLT) and the 10-year Treasury yields 2.77%. Treated as a non-growing fixed income holding, Microsoft is clearly trading at a discount.
At the most simplistic level, Microsoft should trade at $28.88 to yield a 2.77% annual distribution, ignoring future dividend increases and a further lowering of interest rates.
With the macroeconomic sentiment negative, it is understandable why the company would be sold off along with other stocks. Microsoft would sell fewer operating systems as consumers hold back in upgrading the computer, as would Windows Phone 7 sales. Yet, bearish investors are ignoring the strength of the dual strength of the product refresh cycle with Microsoft. The company seems unlikely to exceed any expectations, as PC sales are already forecast to be nearly flat.
Microsoft is a buy at a current P/E of 9.32. Its market capitalization is $209.96B compared to $374.82B with Apple Inc. Apple is unlikely to stumble in the execution of any of its product launches, but Apple shareholders could hedge on such an event by starting a long position in Microsoft shares.
The reasons to buy Microsoft comes from the appealing enhancements in Windows 8. These enhancements differentiate Windows 8 from iOS and even Windows 7 or XP in some cases:
HyperV virtualization software comes pre-loaded on Windows 8 [still, VMWare (NYSE:VMW)] will not be threatened).
Multi-touch support enabled for Internet Explorer 10.
SkyDrive storage support is integrated into all cloud-based apps.
Metro-style refreshed for Mail, Photos, Calendar and People apps via Windows Live ID.
User ID Cloud Integration: "Settings roam" allows for preferences to synchronize across a user's Windows 8 devices.
Windows 8 can even run on a Netbook

(Atom with 1GB of RAM).
Devices with Windows 8 will have an NFC chip that supports "tap-to-share", allowing content to be sent from one device to another.

Photo-based login system.

Anti-virus software shipped with Windows 8.

Integration with Xbox and Media Centre.
Windows 8 will ship in 2012, and is the release that will reboot shares to the upside. The coincidental release of the desktop operating system alongside Nokia Windows Phone 7 will be positive for Microsoft shareholders.
When Windows 7 was first released, shares peaked at $30.96 but have fallen since. Even as a buy and sell trade, Microsoft offers up to a 23% return if it reaches that peak again in 2012.
As a side-benefit to traders, Microsoft's refresh for Windows Phone 7 ("Mango") is scheduled to be released on September 27. Further, Nokia (NYSE:NOK) WP7 is officially scheduled for Q1/2012, but may be released before the end of 2011. Riding on Nokia's reputation for quality handsets, an earlier release will also help reboot Microsoft shares.
Disclosure: I am long MSFT.