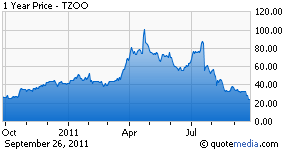 Travelzoo (NASDAQ:TZOO) has been seeding a daily deals business over the past year (think Groupon (NASDAQ:GRPN)). This business saw satisfactory success (consumer acceptance) but lacked scale. Based largely on excitement surrounding this business, the stock reached a high of $103.80 intraday in April of this year, only to crater down to $24 today. Last quarter's results disappointed investors as the business didn't grow as much as expected and costs to seed this business exceeded expectations.
Historically, this business didn't have the scale or the human resources to offer deals as often as Groupon or Living Social. Average Travelzoo deals were often bigger (think average price of $60 vs. $10 or so for Groupon) and more exciting. This derives from Travelzoo's heritage of offering discounted complete travel packages. However, deals only appeared in different locations on an intermittent basis. In other words, New York or Portland or Philadelphia would see a deal one week and no other deal would be available to local subscribers in that city for another two weeks. There was no consistency to the offerings as the backlog of deals wasn't there to have a steady offering of deals. Consumers likely didn't pay much attention to Travelzoo deals because they came around infrequently.
To remedy this situation, salespeople had to be added to generate interest among local businesses to list with Travelzoo's deals platform. In adding those people, costs accelerated last quarter, while deal flow didn't pick up yet. The following charts shows the ramp-up in employees at Travelzoo and the corresponding impact on revenue per employee. (source)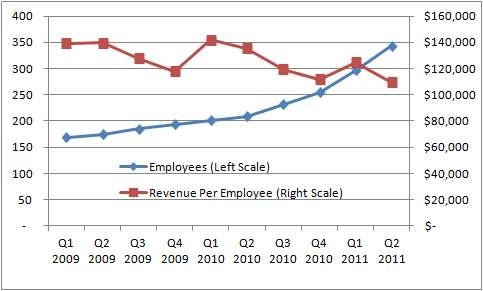 In a huge development for the company, and a big catalyst for the stock, the number of open deals has rocketed in the last week or so. The employees hired are becoming productive and getting deal listings. Deal flow has exploded for Travelzoo which means it is much more likely to achieve scale, grow strongly and generate significant profits in this division (too late to show up in Q3 2011 but a great indicator for next year). The following is a graph showing info I have collected on deals from Travelzoo's website. It specifically shows the number of deals that are currently active, or ones that can be currently purchased (ie, not closed yet).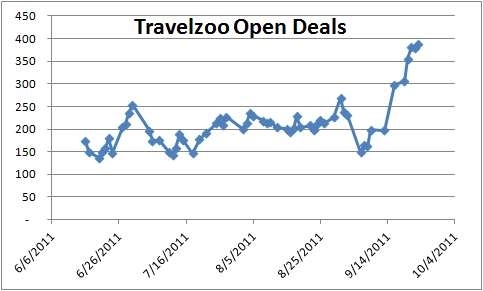 (All information is believed to be accurate but no warranties are made as to the veracity of the data.)

The number of deals open largely correlates to the number of new deals being offered, and not to deals being open longer. This means financial results for Travelzoo should show significant improvement in Q4 2011 and beyond.
Disclosure: I am long TZOO.