Copper exchange traded funds have plunged on worries Europe's debt turmoil will further weaken the economy and slow global growth.
The iPath Dow Jones-UBS Copper Subindex Total Return ETN (NYSEArca: JJC) fell about 16% last week. [Copper ETFs Fall on Slowdown Fears]
Copper prices eased to a 14-month low on Monday. Metals with industrial applications such as silver and copper have underperformed gold, which investors are using to protect themselves from currency debasement.
The sell-off in copper is troubling for stock bulls because the metal is seen as a leading indicator for the global economy.
CME Group has raised margin requirements to trade copper, gold and silver.
Copper is "adjusting to the bleaker economic outlook," said William Adams, head of research at Basemetals.com, in a Bloomberg report. "This debt crisis is likely to be more damaging than the 2008 crisis so we should be braced for a weak market for some time."
First Trust ISE Global Copper Index Fund (NASDAQ:CU) and Global X Copper Miners ETF (NYSEARCA:COPX) track copper miner stocks.
iPath Dow Jones-UBS Copper Subindex Total Return ETN (JJC)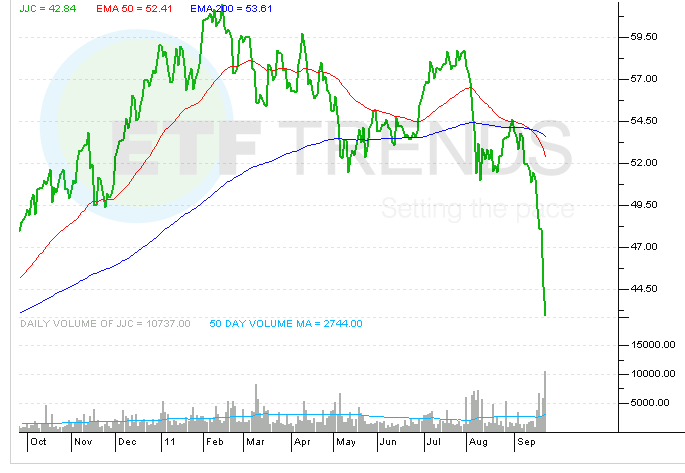 Disclosure: None