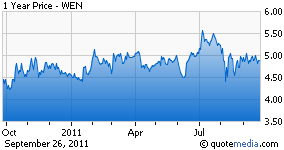 The restaurant chain Wendy's (NYSE:WEN) has struggled to create value of the last few years with its 6,600 stores. Since the start of 2008, the company's stock has fallen by 44.3% while its competitors have appreciated: Tim Hortons (THI) up 25%; Yum! Brands (NYSE:YUM) up 34.3%; and McDonald's (NYSE:MCD)up 45.5%. This is a tremendous value creation gap that could be closed.
Activist hedge fund manager Trian Partners has been a shareholder for a few years now and currently owns 19.34%. This fund has a history of turning around food companies and will be a tremendous asset as the brand name company attempts to close its discount to intrinsic value.
Towards that end, management is planning to unveil a new premium burger line, called "Dave's Hot 'N Juicy Cheeseburgers". It will feature a delicious toasted bun and a larger patty. While advertising the new line will likely stimulate interest in Wendy's and help it grow market share, product introduction is nevertheless not something new to restaurants, so I would limit expectations. The timing for launch could also be poor given consumers' lower willingness to buy. I am rather more bullish about the company expanding its breakfast meal, which currently is offered in a little less than 5% of stores. That number will likely grow to more than 15% by the end of 2011. I anticipate breakfast meals to positively and substantially impact lunch and dinner sales above market expectations.
Wendy's also has made the right decision to sell Arby's recently and to use that cash to expand and buyback shares. Following the sale of Arby's, management has repurchased approximately 24M shares and I expect it to increase its buyback program to around $174M by the end of 2011. In this current time period of economic stagnation, I find the shares undervalued and that this is, accordingly, an optimal strategy.
Management is also rightly slashing selling, general and administrative expenses (SG&A), which has become far too excessive. Measured as a percent of revenue, SG&A exceeds peer levels. Wendy's figure is at 12.2%; McDonald's, 9.7%; Yum!, 12.2%; Tim Hortons, 5.8%. At the same time, I find myself in disagreement with the company's strategy to remodel stores, which will have the effect of increasing capital expenditures to around $170M. Instead of remodeling stores, I believe that the firm would be much better off increasing openings and penetrating the market in the process. Consumers are looking for a nearby fast food option, not a classy dine out. McDonald's currently has almost 5 times the numbers of stores as Wendy's does and has created a stronger brand name through this strategy. McDonald's also has far greater international exposure in the emerging markets, while its competitor is more concentrated in the United States and Canada. As of the beginning of this year, Wendy's had less than 5% of restaurants located outside North America.
With that said, I am optimistic that management will increase international exposure. The market may not be expecting this, which will result in high risk-adjusted returns due to concerns about domestic economy sales and volatile commodity prices.
Consensus estimates for EPS are that it will grow by 7.1% to $0.15 in 2011 and then by 60% and 29.2% in the next two years. Analysts currently rate Wendy's around a "hold", while I am slightly more bullish. In particular, lower SG&A, new product introductions, and global expansion will help to close the restaurant chain's value gap.
Disclosure: I have no positions in any stocks mentioned, and no plans to initiate any positions within the next 72 hours.