Gentex Corporation (NASDAQ:GNTX) develops and manufactures products for the automotive, aerospace, and commercial fire protection industries. The company's key products are auto-dimming rear-view mirrors equipped with electronic features. Gentex has a proven track record of innovation, which has led to impressive revenue growth and stock price appreciation. Recently, the company's valuation multiples have been declining. In my opinion, the market is not adequately pricing the strong future growth that Gentex will continue to maintain, given its technological prowess and favorable market conditions. Furthermore, in the short term, Gentex could also be a takeover target, and shareholders can expect to see significant upside should an acquisition materialize. In this article, I will touch on Gentex's valuation and will elaborate why Gentex could be an attractive takeover target, especially for a strategic buyer such as Magna International Inc. (MGA).
1) Strong market position and sustained competitive advantage
Gentex is the market leader in auto-dimming rear view mirrors and commands an 88% share of the automotive market for these mirrors. The company complements its rear-view mirror product offering with electronic solutions, including electronic sensors, safety devices, and HomeLink. The company has developed expertise in production of these products, and is the lowest cost supplier of these mirrors. Given Gentex's technological prowess, innovative capabilities, and low cost production, I believe that the company has a sustained competitive advantage in the manufacture of these products.
2) Innovative culture provides growth potential
Gentex is engineering and innovation focused, and it spends over 6% of its annual revenues on engineering, research, and development. This allocation is considerably higher compared to its competitors. For example, Magna's corporate constitution requires that a minimum of 7% of pre-tax profits be allocated to R&D. This continued investment in R&D offers the potential to grow Gentex's product portfolio.
3) Stable and increasing cash flows
Gentex has a history of strong and growing cash flows, as can be seen on the graph below. Despite the cyclical nature of the automotive industry, it is interesting to note that even during the financial crisis, the company's cash flows were relatively unscathed compared to other automotive component manufacturers.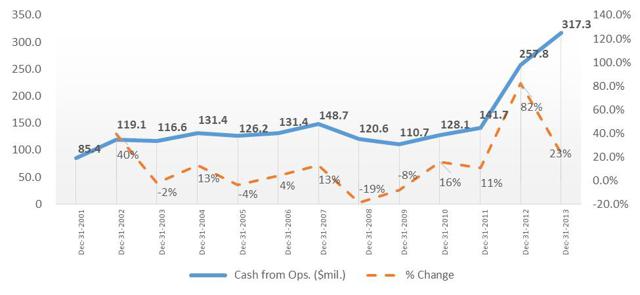 4) Favorable industry trends
Several macro trends are coming together to support strong growth for Gentex's products. First, rising middle-class incomes in growth markets, such as India and China, are increasing the demand for premium cars. These cars are typically equipped with auto-dimming mirrors. Second, consumers are becoming increasingly safety conscious. This emphasis on safety is expected to drive up the demand for safety sensors and other such high margin electronic products that Gentex manufactures. Third, new technology typically starts with the high-end market and gradually becomes mainstream. Such was the case with car air conditioners and ABS sensors. In my opinion, we can expect to see the same with safety sensors and auto-dimming mirrors. Last, the recent slump in oil prices is expected to give a boost to car sales. All of these trends will lend support to Gentex's already strong growth trajectory, shown in the graph below.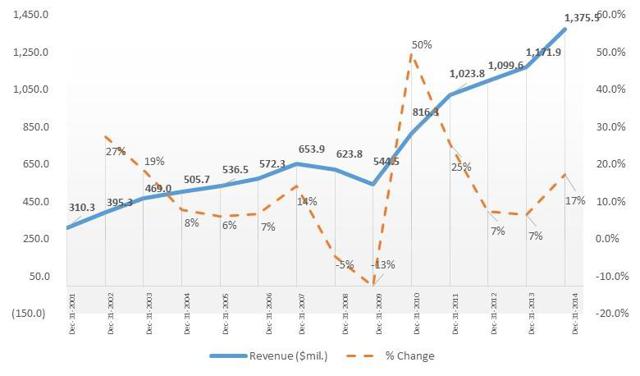 5) Attractive valuation, solid balance sheet, and capital structure opportunities
a. EV/EBITDA: Beginning in 2001, Gentex's stock has traded at an average EV/EBITDA multiple of 13.45x on a trailing basis, and currently trades at an EV/EBITDA of around 10.0x. Therefore, the stock is currently valued a 35% discount compared to its historical average. Although Gentex's TEV/NTM EBITDA multiple of 9.1x is somewhat high compared to the average 2013 buyout EBITDA multiple of 9.2x (Source: American Appraisal), it is in line with the expected 2015 EBITDA buy-out multiple of 11.3x (Source: American Appraisal).

b. Too much cash and an inefficient capital structure: In my opinion, Gentex's management has been too conservative with its use of debt. The company has historically not taken on any debt, and the debt that Gentex currently maintains was raised in connection with the acquisition of HomeLink. The company can generate value for its shareholders by taking on modest amounts of debt and using the proceeds from this debt issuance to buy-back shares. The company's strong cash flows shown in an earlier graph demonstrate that Gentex is capable of supporting a more leveraged capital structure. In addition to the lack of leverage, the company also has a sizeable cash balance of $433 million. All these features make the company an attractive takeover target to an acquirer who can add value through capital structure changes. This analysis is shown below: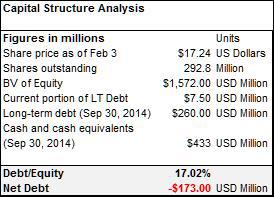 An acquisition by Magna Mirrors may benefit both companies:
Although a number of auto suppliers and private equity firms may be interested in Gentex, Magna can realize the highest synergies by acquiring Gentex.
1) Expand Magna's customer base: Magna supplies close to 50% of its products to the Detroit 3 automakers (18% GM, 15% Fiat/Chrysler, and 13% Ford), and is consequently levered to their fortunes. Gentex, on the other hand, derives more than 75% of its revenue from non-Detroit carmakers; this fact will help Magna diversify its revenue base.
2) Expand Magna's geographic regions: Asia makes up about 20% of Gentex's revenue base and around 4% of Magna's. Gentex's product portfolio will support Magna strategy of aggressive expansion into the fast-growing Asian markets.
3) Complement each other's capabilities and technology: As discussed previously, Gentex spends heavily in engineering, research, and development. Magna, on the other hand, has expertise in manufacturing and distribution. A union of the two companies will lead to knowledge sharing that can lead to development of new products.
4) Synergies and better margins: Production of auto-dimming mirrors, as well as car electronics, are both high margin businesses. The acquisition of Gentex will, therefore, improve Magna's overall margins. Furthermore, post-acquisition, Magna will have a virtual monopoly on the supply of automotive rear-view mirrors, and its pricing power will improve as a result. On the cost side, there are several synergies that can further improve Gentex's already strong margins. Magna can utilize its own extensive distribution network and eliminate redundant sales, engineering, and distribution functions at Gentex. Other synergies exist in the use of design, engineering, and manufacturing resources.
5) De-risking of Gentex's business: A majority of Gentex's revenue is derived from automotive auto-dimming mirrors (and other functionality that goes with the mirror). If technology rapidly changes, or a credible competitor emerges, Gentex's business could seriously suffer. A union with Magna can diversify this risk of being too concentrated in one product.
Can Magna acquire Gentex?
Given the revenue and cost synergies, strategically, Magna could benefit by acquiring Gentex. The question remains whether Magna has the financial ability to make this acquisition. Analysis presented in the table below shows that given Magna's conservative balance sheet, it can certainly make this acquisition. Magna has a healthy cash balance and little leverage; the company maintains a negative net debt and a debt to equity ratio of 11.9%.
Given Gentex's strong growth rates, I assumed a 12.0x EV/EBITDA multiple, resulting in an implied acquisition price of $6.85 Billion using 2015 EBITDA estimates (Source: CapitalIQ). If we assume that Magna funds the acquisition with $700 mn in cash, and the rest by issuing debt, Magna will have a post-acquisition debt to equity ratio of 74%. At 74%, although Magna's capital structure is more leveraged compared to its peers, Magna's strong cash flows can certainly support this level of debt. Furthermore, this level of debt is in-line with its equally sized American competitors, as shown in the table below.

Even though Magna can financially acquire Gentex, as shown in the analysis above, the fundamental question is whether the valuation is right. A price tag of $6.3 billion is certainly not cheap, especially given the fact that Magna is not a complete stranger to this technology. Instead of acquiring Gentex, Magna may instead choose to develop its own expertise in auto-dimming mirrors.
Conclusion
In my opinion, Magna will not actively pursue a Gentex acquisition unless the valuation multiples decline further, or unless another buyer makes a bid for Gentex. Magna will instead develop and perfect its own auto-dimming mirror technology in-house.
In the absence of an impending takeover, Gentex is still a very solid business and the valuation is relatively attractive. I anticipate strong growth for the company and its products, and consequently, I recommend this stock as a buy for investors with a long-term investing horizon.