Normally, I'm not a big believer in conspiracy theories, but recent events really have me scratching my head.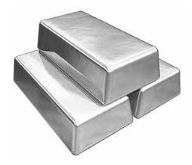 Last week, equity markets sold off and, as has often been the case in recent years, futures traders sold winning positions in precious metals to cover margin calls as a result of losses elsewhere. There's nothing new about that.
But, on Friday, with the plummeting gold price already down more than $200 from its early-September high and with the price of silver in a virtual free fall as traders suddenly realize that, at times like this, it's much more of an industrial metal than a monetary one, CME Group decided announce a new round of margin rate hikes - some 21 percent for gold and 16 percent for silver.
This was followed by a similar move by the Shanghai metals exchange on Monday morning amid word that officials are about to quadruple the capacity of the EFSF (European Financial Stability Fund) from about 440 billion euros to over 2 trillion euros.
Now, maybe it's just me, but it's easy to think that the timing of those margin rate hikes was more than just a coincidence.
But, not to despair.
As precious metals continue their dive lower, likely to the delight of policy makers and economists around the world (whose belief that paper money will always be superior to the barbarous relics has been temporarily restored), lower prices offer good buying opportunity for gold and silver investors who can look past the last few days and the weeks ahead to a longer time horizon that is likely to favor purchases at these levels, particularly for silver.
The events of the last year or so have put a new floor under the price of silver and, while I don't know exactly where that floor is, my guess is that we're not far above it now.
Allegations of market manipulation over the years came to a head last year and the impact of silver short positions, long thought to have kept the silver price depressed, have slowly faded.
Moreover, metal demand in Asia continues at a record pace and reports of investors lining up at coin shops to buy - not sell - gold and silver in recent days argues that physical demand in the West has not been deterred by recent price declines.
Pawn shops can't keep gold and silver in stock for more than a few hours in one of the more dramatic transfers of wealth from the poor to, in many cases, the "less poor", and, now, more and more ordinary people realize that futures market pricing has presented them with an opportunity to trade in their paper money for a much more durable form of money.
I bought my first silver for under $5 an ounce early in the last decade and was a seller in the spring after prices began to tumble from the $50 mark.
I'm a buyer again.

Disclosure: I am long SLV.