According to this news last week, Sears Holdings (SHLD) has apparently made a major move on the long hoped for leasing of their under utilized real estate assets. According to the real estate website, it now has numerous leasing options available for retailers at 3,768 locations. Or nearly all existing stores.
The real estate options include the following:
Store-in-Store Leasing: Establish presence within Sears Holdings Corporation (SHC) store.
Outlots: Outlots to build new retail locations.
Demised space: Establish an independent presence adjacent to an SHC store
In-Line Leasing: Establish an independent presence adjacent to an SHC store
License business: Provide specialized product/service from a location inside an SHC store, fully integrated into operating platform
Specialty Marketing Opportunities: Strategic partnership to creatively reuse non-traditional space
The leasing news follows the recent news about the other move to begin externalizing brands such as Craftsman tools at Costco (NASDAQ:COST). Read my article, Sears Holdings Externalizing Brands Could be Major Catalyst For Stock. Reports about a marketing chief job opening suggests that SHLD is also moving towards selling Kenmore appliances at Costco as well.
The best way to sum up these moves is that the real estate has more value than the merchandise in the store. And the brands have more value at other stores.
This movement in opening up roughly all retail locations to sublease options is what investors have speculated about and wanted to see happen for a long time. The theory has always been that Chairman Eddie Lampert would spend several years using the Sears and Kmart stores to generate cash flow in order to buy back tons of stock. This would slowly shrink the float and allure shorts betting against the company because they don't understand the assets because they are focusing on the declining retail operations. Then as the float disappears, he would finally monetize the real estate and externalize the brands, sending shorts scrambling as the real value of the assets come to light and very few shares will be left in the public float to cover.
It appears this plan was unleashed in earnest a few weeks ago.
With SHLD leasing space at its stores that average 133,000 square feet, it no longer has to fear cannibalizing the brands when selling them outside the Sears walls. In fact, it could ultimately be the only place it sells valuable brands such as Kenmore, Craftsman, and Diehard. A Sears store needs to justify its existence if Craftsman tools can be sold at Ace Hardware down the street and Kenmore appliances at Costco around the block. Especially if leasing that space to a grocery store will be more profitable.
Remember SHLD only has a $5.6B market cap while Simon Property Group (NYSE:SPG), a leading property leaser, is worth $33B. SPG has a lot less real estate than SHLD controls.
In my earlier article, I showed how brands similar to ones owned by SHLD were worth over $19B. That's a combined value of $52B if SHLD was able to build a successful REIT and grow the brands. This value might seem lofty for now, but SHLD has other untapped potential including brands not even analyzed, like Lands End.
SHLD is also heavily investing in being a dominant internet retailer. Ultimately SHLD can use the existing distribution centers to become an Amazon.com (NASDAQ:AMZN), but with brick and mortor stores. It wouldn't surprise me if SHLD could keep revenues flat while leasing 20-30% of their space. Talk about a huge improvement to operating margins.
Remember the outstanding float is limited as Lampert controls some 65M shares via his RBS partnership and Bruce Berkowitz's Fairholme Funds own another 15M shares. Count up other institutional holders and the public float is miniscule to even possibly negative. If Eddie makes any progress at turning the real estate and brands into major growth centers while also reducing costs from having less space, watch out as SHLD might rocket.
Good chart from Bespoke back in January on the shrinking share count: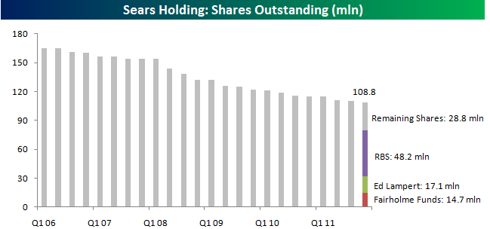 Signed leases per WSJ article:
Forever 21 - 15% of space in Costa Mesa, CA
Western Athletic Clubs - 69K SF in Cupertino, CA
Gonzalez Grocery Store - 41K SF in San Diego, CA
Edwin Watts Golf Shops - 21K SF total in 7 stores
Whole Foods - in Wilmington, NC
Disclosure: I am long SHLD.