Semiconductor exchange traded funds were trailing the market Monday as the 50-day moving average acted as resistance for the sector ETFs.
"As the broader market trades higher and financials take the lead, technology is underperforming today," said ETF manager BlackRock in a note Monday.
Within technology, semiconductors are "viewed as a leadership group" so investors should keep an eye on the sector ETFs "to gauge potential direction of the broader tech sector."
ETFs include iShares PHLX SOX Semiconductor Sector (NASDAQ:SOXX), Semiconductor HOLDRS (NYSEARCA:SMH) and SPDR S&P Semiconductor (NYSEARCA:XSD).
The funds have been pushed below their 50-day moving average, a key technical indicator. All three ETFs were negative on Monday although the Dow gained more than 100 points.
"Semiconductor firms are more cyclical than other kinds of tech companies," Morningstar writes in a profile of SPDR S&P Semiconductor. "The sector continually faces high research-and-development expenses and capital costs for manufacturing facilities, short product cycles, and cyclical end-user demand."
The fund is down 16.8% year to date, compared with an 8.3% decline for the S&P 500.
iShares PHLX SOX Semiconductor Sector ETF (SOXX)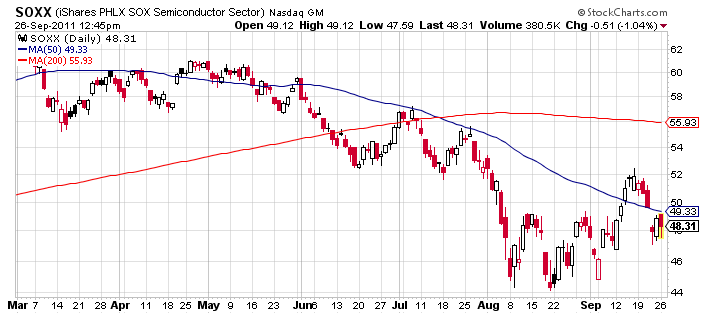 Disclosure: None