The title of this post deliberately mocks some of the advertisements I've seen in cyber-space. Without revealing how, there are many ads out there that promise the ability to buy gold at some large discount. Sounds like a scam, right? Well, today I'll reveal the secret.

Many gold mining companies have ownership rights to millions of in-the-ground ounces of proven and probable gold. A shareholder in one of these companies indirectly owns a portion of this gold, after adjusting for any corporate liabilities.

The first chart below shows the cost, based on market capitalization, to acquire each ounce of proven and probable in-the-ground gold reserves held by Goldcorp Inc. (NYSE:GG), Eldorado Gold Corp. (NYSE:EGO), Yamana Gold, Inc. (NYSE:AUY), IAMGOLD Corp. (NYSE:IAG), Randgold Resources Ltd. (NASDAQ:GOLD) and Kinross Gold Corporation (NYSE:KGC).

Note: these companies have negligible long-term debt (if any). If these companies had long-term debt, the calculation would need to be adjusted.

Based on market cap per ounce of reserves, one can acquire indirect ownership rights to an in-the-ground ounce of company gold reserves for as low as $277. This is precisely how those ads make such claims.

As a consumer you may be ticked off...but as an investor you are probably intrigued. After all, buying something valued at $1640 for $277 sounds like a great bargain.

I believe mining companies see the same value. Why would a gold miner spend millions of dollars exploring, fighting environmental issues and building a mine when millions of in-the-ground ounces can be bought at a steep discount to the spot price? Consequently, I see more M&A action in the gold mining space. Hopefully, gold miners don't dilute their share price by issuing too much paper to make these acquisitions, because M&A activity can be quite beneficial to shareholders.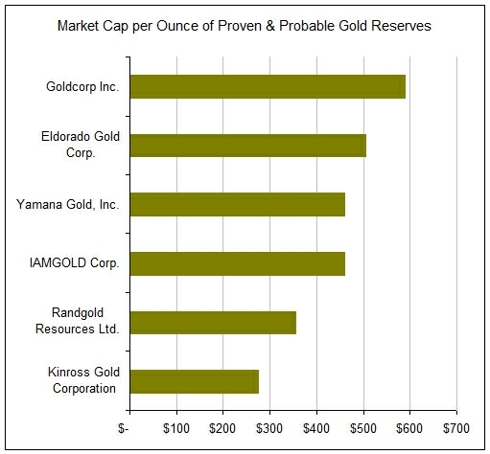 Market cap per ounce doesn't consider the unique extraction costs or various risks (geopolitical, environmental, etc.) of each mining company, but it does provide a useful starting point for evaluation. That said, (according to Mineweb) in 2007 the average extraction cost was about $317/oz, so in the chart below I have combined market cap and estimated extraction cost per ounce.

Even including these extraction estimates, the highest cost per ounce ranges from just under $600 to about $900. Again, these are 'back of the envelope' calculations (so they may be different in reality) but it appears as if one can generally buy one of these companies for its market cap and pay the extraction cost to end up with above-ground gold to sell to the market at a sizable profit.

This is yet another piece of the puzzle that shows that gold miners may be undervalued relative to gold bullion.





Disclosure: I have no positions in any stocks mentioned, and no plans to initiate any positions within the next 72 hours.

Additional disclosure: Sources: Mineweb, Finviz, company websites. This is not advice. While Plan B Economics makes every effort to provide high quality information, the information is not guaranteed to be accurate and should not be relied on. Investing involves risk and you could lose all your money. Consult a professional advisor before making any investing decisions.