Silver has plunged these past short weeks. No news there. But when I suggest you consider buying silver for 75 cents on the dollar, I am not referring merely to buying it when it is cheap. I suggest instead that you buy it at a discount - by writing put options.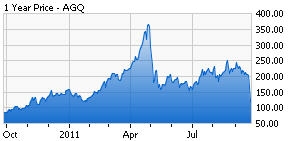 Our most recent such transaction was to sell the ProShares Ultra Silver (NYSEARCA:AGQ) 80s of January 2013 for $25.50. Regular readers will recall my recent explanation of how a "buy/write" works using this same ETF. We still have that position. But this approach is quite different.
When we write (sell) a put option, we give the buyer of that put the right to "put it to us" for the duration of the contract. In this case, that would be for the next 16 months until January 2013. Since we received $25.50 per share, or $2,550 per (100-share) option contract, if it is put to us we will have to pay $8000, or $80 per share, for the ETF. But since we received $25.50, that means we will only pay a net price, after allowing for our premium income received, of $54.50 to own ProShares Ultra Silver. The last time it traded at that level was in March 2010, 18 months ago. And the world has changed just a bit since then.
The question you are asking, if you agree with our decision to enter into this transaction for ourselves and our clients, is: "Do I trust that the continued use of silver as a precious metal and in industrial usage will steadily rise over the coming years, or do I trust my government to bring inflation under control and conduct themselves like adults, obviating the allure of any and every precious metal?"
You'll notice I said "coming years" rather than "the next 16 months." Unlike the put option buyer, who owns a wasting asset, the put option seller has one of two rather serendipitous events to look forward to. Either the shares will be put to us or they will not. If they are not, well, we pocket $2,550 for every 100-share option contract we enter into. And if it is put to us, we own shares of AGQ at a price at least some of us are very OK owning it!
If I like the prospects for silver, and the worst that can happen is that I am forced to own an ETF currently selling for $114 for $54.50, then why wouldn't I (effectively) "buy" the ETF this way rather than as an outright purchase, whether at $80 hypothetically or $114 as of the close on September 26. (Yes, I know, if you think of it as being happy to purchase it today, that's better than 50 cents on the dollar, not 75 cents.)
My only caveat is that silver itself can be quite volatile and this ETF doubles that volatility. But for those of us who like to write options, whether covered calls or puts, volatility is our friend - it increases the premiums buyers are willing to pay as the stars in their eyes make them forget the essential truth of options that makes them so profitable to the writer: they are a wasting asset that expires all too soon for the buyer, but often just right for the seller!
Disclosure: We, and/or those clients for whom it is appropriate, have written the $80 AGQ January 2013 puts. Bring it on! I am long AGQ.
The Fine Print: As Registered Investment Advisors, we see it as our responsibility to advise the following: we do not know your personal financial situation, so the information contained in this communiqué represents the opinions of the staff of Stanford Wealth Management, and should not be construed as personalized investment advice.
Past performance is no guarantee of future results, rather an obvious statement but clearly too often unheeded judging by the number of investors who buy the current #1 mutual fund only to watch it plummet next month.
We encourage you to do your own research on individual issues we recommend for your analysis to see if they might be of value in your own investing. We take our responsibility to proffer intelligent commentary seriously, but it should not be assumed that investing in any securities we are investing in will always be profitable. We do our best to get it right, and we "eat our own cooking," but we could be wrong, hence our full disclosure as to whether we own or are buying the investments we write about.