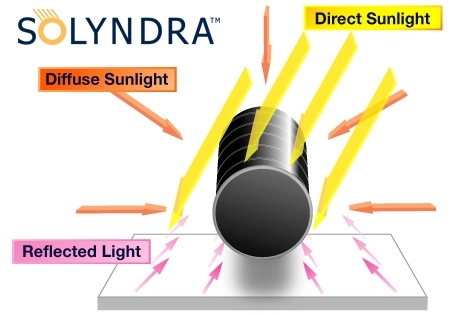 Solyndra was using thin film CIGS technology and a new circular panel design. The idea was that it had both intellectual property and the ability to drop costs by 40%. It did.
Solyndra hoped to produce energy at $3/watt, including capital costs. A year ago, when panel prices were at $5/watt, that was a breakthrough. But Chinese oversupply this year sent prices plunging to near $1/watt, and Solyndra went bankrupt.
Some people are trying to spin this as bad news. It is not. It is good news. The simple fact is that production efficiency and market competition have cut the cost of producing solar energy.
How is that bad news? The "problem" is that Chinese companies like Jinko Solar JKS, Yingli Green Energy YGE, Trina Solar TSL and JA Solar JASO produced more panels than their own market could absorb and so "dumped" a ton of them on the U.S. market, killing some suppliers that were using technologies, like CIGS, that could not scale as fast. Our Lucas Krupinski has an excellent analysis of all this.
This is not news to tech analysts. It's one reason our big tech companies hold so much cash. It's only a "scandal" if you're looking to make up a scandal. The solution is to do what some smart energy companies have been doing – make a switch from solar thermal to solar electric, and pick up some bargains. Lower costs now mean big profits later.
It's true that Solyndra, and other CIGS outfits like privately-held Stion (recipient of millions in aid from Republican Haley Barbour) and First Solar FSLR, are hurt by the glut. But utility companies buying panels, or installing capacity like Chevron CVX, are picking up some bargains, switching from solar thermal to solar photovoltaic.
If we can stop the witch hunting a moment and focus on the problem at hand. We delivered the aid to the wrong party. We needed it at the front-end – in research – and at the back end – in purchasing. Instead we got it in the middle – in production. That's how we got oil and gas going a century ago, with .5% of the total federal budget going to oil and gas subsidies, five times the level of current renewable aid.
But solar is not oil. The model for aid should be what we did with the Internet. Fund the research in the name of national security, then buy capacity at the back-end so people in the space are focused less on the money than the mission.
Scaling ideas like this, the production of hydrogen from waste water using biology rather than electricity, is where our money should be going. Assure Penn State a market for its hydrogen through military contracts and you have a win.
Companies like Pacific Gas & Electric PCG, NextEra Energy NEE, and Public Service Energy Group PEG are buying capacity at attractive prices. If you want to play solar energy right now these utilities are a safe way to play it.
Beyond that, it's all venture capital. Deep knowledge, a wide selection of early-stage bets, and patience is going to make some folks big, big money in the next five years here. But that's only a game for professionals and those willing to risk all their capital through a managed fund.
Disclosure: I have no positions in any stocks mentioned, and no plans to initiate any positions within the next 72 hours.