REITs offer an impressive variety of options for income-focused as well as total return geared investors. If you wanted to diversify to all corners of the real estate market, you could end up owning over a dozen different REITs that invest in everything from apartments to timberlands.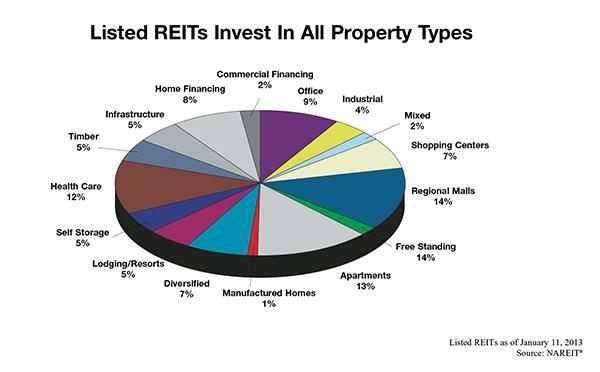 Of course most investors who maintain exposure to the space will only own a handful that mesh well with portfolio objectives. In a recent article I identified 5 REITs that might fit the core of a more conservative income portfolio. Today, we are going to get a bit more aggressive, seeking purely elevated income from a diversified portfolio of six trusts with well above average yields.
Owned together and with my recommended weighting, this group yields around 9.5 percent.
1) Starwood Property Trust (NYSE:STWD) - 25% weight - commercial/residential lending
Currently yielding upwards of 8%, Starwood is the largest publicly traded non-bank real estate finance company. Between its core operations and its LNR special servicings division, the company's portfolio exceeds $7 billion in carrying value.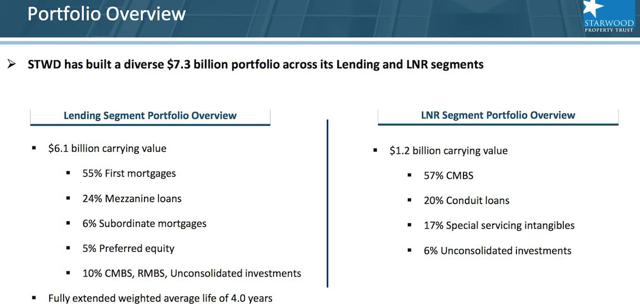 The Portfolio is diversified both by both geography and industry: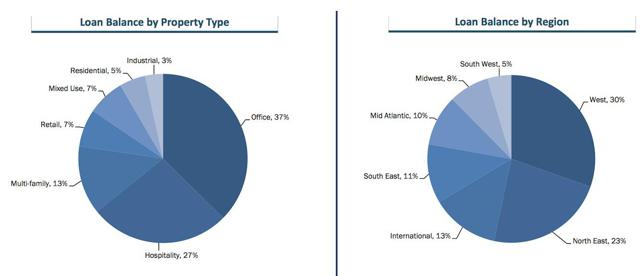 Starwood maintains a conservative LTV (loan-to-value) in the low 60s.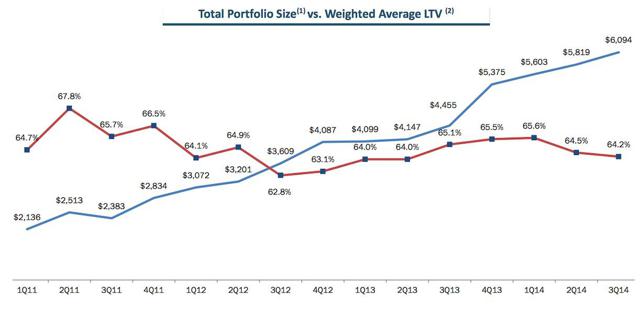 The company also stands to benefit from a rising rate environment:

With Starwood's scale and mistake-free track record, this is core stock upon which to build the foundation of a high-yield REIT portfolio.
2) NorthStar Realty Finance (NRF) - 20% weight - diversified lender/owner
Currently yielding about 8 and a quarter percent, NorthStar, once known mainly as a commercial real estate lender, has revamped its business to mainly direct real estate ownership.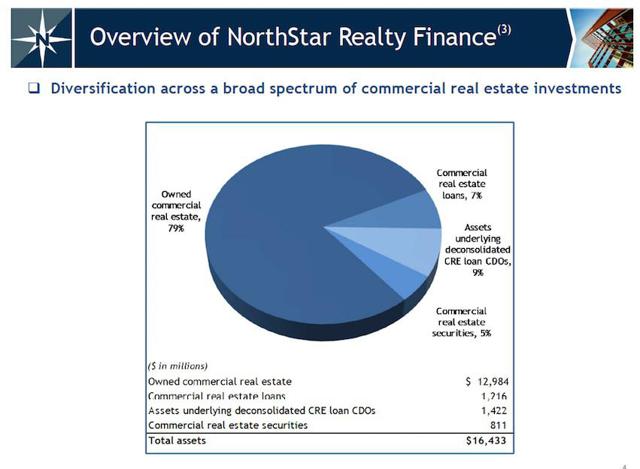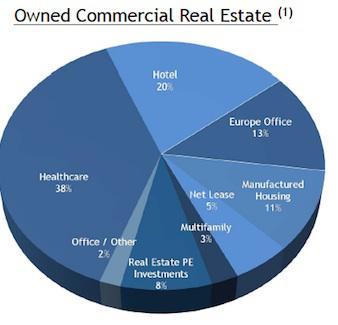 The company has been unlocking embedded shareholder value by spinning off assets to shareholders. Last year, the company spun off its management arm, NorthStar Asset Management (NSAM), and within the past week announced that a recently purchased pool of mostly Class A European office properties would similarly be spun off.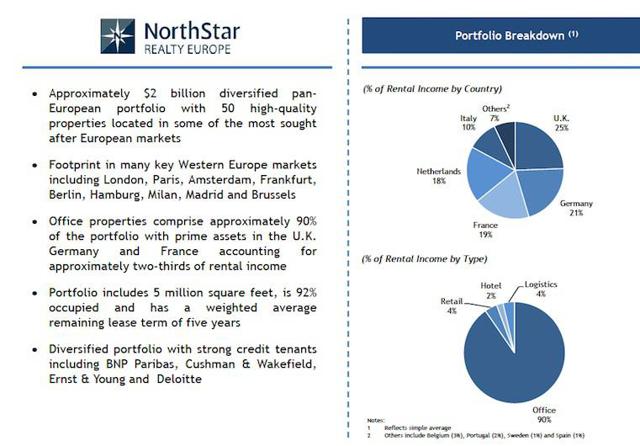 There is the opportunity for probably four more spin-offs over time given the diversity of NorthStar's assets. As the market gains understanding of what the company is doing, and assuming it continues to be successful in spinning out divisions, this could be a massive total return story.
3) Gladstone Commercial (NASDAQ:GOOD) - 15% weight - non-rated net lease
With a market cap of only $370 million, Gladstone Commercial is one of the smallest NNN REITs on the market. The company yields better than 8% at latest trades and has a Rodney Dangerfield perception amongst the investment community.
Leasing to mostly unrated or non-investment grade entities mostly big box industrial and office space, it is doing deals at higher than average cap rates.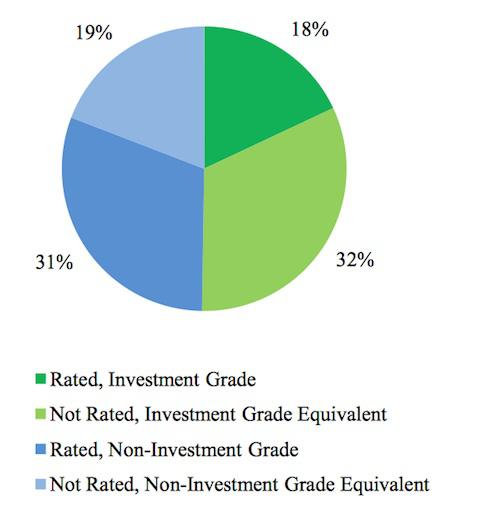 The portfolio is reasonably well diversified with no single tenant making up more than 6% of revenue and no industry in excess of 18% of total rent.
While there may not be a lot of equity upside here, given the stock has treaded water for many years now, investors are likely to continue to receive the current distribution. The Gladstone underwriters seem to be doing a good job to this point with the somewhat non-household name clientele. Still, there is a reason the yield sits where it does.
4) Senior Housing Properties (NYSE:SNH) - 15% weight - externally managed healthcare property ownership
Contrary to its name, only about half of SNH's 430 property portfolio is senior housing related. Medical office buildings, aka MOBs, make up 40% of the business, while wellness centers and skilled nursing facilities represent 3% of the business, each.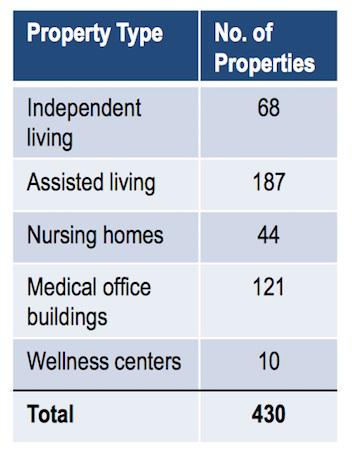 This is another REIT that fetches a higher yield due to a sketchy view of management and forward growth prospects. SNH is externally managed by RMR, Reit Management and Research. In addition to SNH, RMR also manages Government Properties Trust (NYSE:GOV), Hospitality Properties Trust (NYSE:HPT), and Select Income REIT (NYSE:SIR).
The healthcare space, in general, has positive secular forces working in its favor, with a growing and aging demographic requiring more and more facilities in each of the healthcare niches.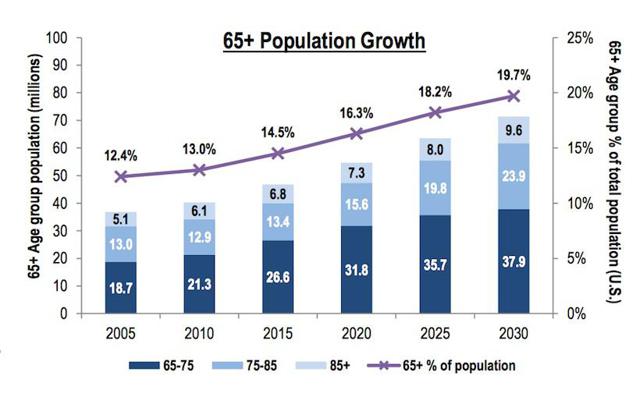 With a yield of roughly 7%, there appears, like Gladstone, a fairly benign growth outlook here. Yet the dividend is covered and there's no reason to believe, with about an 85% payout, that it will be cut anytime soon.
Thus while I'd like to give a healthcare specific play a bigger weighting in this portfolio, my confidence in this management group is low. Still, for the higher yielding crowd not necessarily seeking capital upside, this stock's low valuation and payout are attractive, which keeps it a worthwhile holding in a high-yield portfolio.
5) Independence Realty Trust (NYSEMKT:IRT) - 15% weight - apartment dwelling ownership
IRT owns typically garden style apartment communities mostly located in the Sun Belt and Midwest United States. The company is growing quickly and now owns 30 properties as of the end of 2014, a year in which it acquired 20 properties alone.
Home ownership percentage, which peaked about a decade ago, has been on a steady decline, which is a positive data point for Independence and other landlords. Tighter apartment supply is leading to more robust rent price control.

Like the three preceding REITs, IRT is also externally managed. IRT's manager, RAIT Financial (RAS), owns nearly 25% of its shares.
While the stock yields 7 and three quarter percentage at current pricing, on a full 2014 run rate, the company paid out more in dividends (72 cents a share) than core funds from operations (68 cents).
This will be a key year for the company as it digests the acquisition activity in 2014 and attempts to improve CFFO. Still, secular apartment winds are at its back, so I would have confidence in the company's ability to adequately cover the dividend - and then some - by the end of the year.
6) ETRACS Monthly Pay 2xLeveraged Mortgage REIT ETN (NYSEARCA:MORL) - 10% weight - diversified, mostly residential lending
While I'm generally not fond of the levered mREIT business model and find this type of security virtually impossible to analyze on an ongoing basis, there's reason to believe that a low and steady interest rate environment would be a beneficial environment for them to collectively operate in. Thus I find the basket approach and 40 basis point tracking fee of this security quite appropriate for investment in this space.
When you buy MORL, you are perhaps buying one of the riskiest investment products on the market. First it is an ETN, which means that it does not own the underlying securities and is merely tracked and guaranteed by the underwriter, in this case UBS. Second it is 2X leveraged, which means that there is double the existing leverage of the underlying mREITs. If an mREIT alone is utilizing 6.5x leverage on a portfolio, which may be common today, MORL ratchets it up to a whopping 13x.
If rates remain steady, I suspect your capital is fairly secure. However, if rates ramp quickly or become highly volatile, this is about the last place you'll want to be. Consider this a wild card, mad money option that may not be appropriate for even the more aggressive of investors.
The ETN is based on the Market Vectors Global Mortgage REITs Index, and provides 90% weighted coverage of the investable mortgage REIT universe.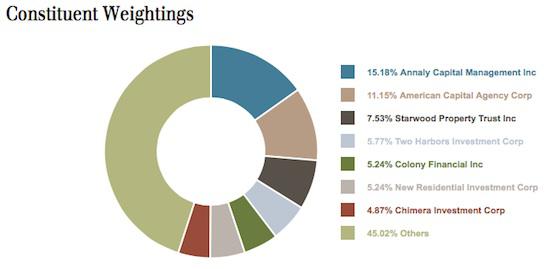 This is about the only place where you can achieve a 2% monthly (currently annualized) yield on your investment, so you are richly rewarded for the risk you are taking. Still, I would suspect that your capital could be quickly wiped out here if an unfavorable interest rate or economic environment were to develop.
MORL has only been around a little over two years, so it was created post the financial crisis. During the taper tantrum, when yield on the 10-Year Treasury pushed from 1.5% to 3%, MORL lost basically half of its value. If your stomach isn't strong enough for this kind of risk, or if you think there is meaningful risk in rates rising again, take the 10% allocation I suggested and push it elsewhere.
Conclusion
While the market is generally telling you something when you look at a high-yield security, I think if you are willing to take somewhat of a basket approach, temper your expectations, and manage your risk by prioritizing your positions, you can still be successful.
I'd be lying if I told you any of these were consummate sleep well at night stocks. Still, for investors in need of above average cash flow, I think these are some reasonably good options with mostly secure payouts and some capital upside in store.
Disclosure: The author is long MORL,NRF,NSAM,STWD.
The author wrote this article themselves, and it expresses their own opinions. The author is not receiving compensation for it (other than from Seeking Alpha). The author has no business relationship with any company whose stock is mentioned in this article.
Additional disclosure: Disclaimer: The above should not be considered or construed as individualized or specific investment advice. Do your own research and consult a professional, if necessary, before making investment decisions.