By Stuart McPhee
Australia 200 for Monday, March 2, 2015
Throughout last week the Australian 200 index reached a new six year high above 5900 before easing a little and consolidating around 5900, where it presently sits. In the last month or so the Australian 200 index has done very well and surged higher to move back above the key 5400 level. Over the last couple of weeks it has spent some time consolidating around the 5900 level, while the support from 5800 is not that far away. It recently retreated however found solid support at the current key level of 5800 which has propped it up and moved it to the new high. In the couple of weeks leading up to the new high, it spent a week or so battling with resistance at the key 5800 level which repeatedly fended off the index, resulting in it easing back a little. Several weeks ago saw the resistance at 5500 stand tall and fend off all advances, however this now been broken strongly through. The recent move higher from below 5300 to above the key level of 5400 is important as it desperately tries to hang on to this important trading range for the index above 5400. In the week prior, the Australia 200 Index eased back again under the 5400 level after making numerous attempts to clear it over the last month, which saw it drop to a three week low below 5250 before its recent surge higher.
The moderate support from around the 5300 level held it up well for a a couple weeks before the surge higher. The short-term resistance level at 5500 has returned and now resumes its role of placing selling pressure on the index. Throughout most of November and December, the Australia 200 Index fell steadily lower down towards support around 5150 and two month lows before rallying back above 5400 again. Over the last few weeks the Australia 200 index has struggled with resistance at 5400 which has forced it lower time and time again. The 5400 level has been a major player for the last 12 months and the index must get back above this level to encourage more buying and bullish sentiment. It enjoyed a solid resurgence throughout October after getting much needed support from the 5200 level, which has resulted in it moving back above the 5400 and 5500 levels, around a two month high.
Throughout most of September the Australia 200 Index declined strongly from its multi-year high after running into resistance around 5650 back to enter its previously established trading range between 5400 and 5500, before falling further below 5200 and to an eight month low around 5120 a few weeks ago. Several weeks ago it received solid support from the 5100 level which saw it rally well to close out a couple of weeks ago. Back in early September the 5400 level was called upon to offer support as the index desperately tried to stay in touch with its range, however it fell through there before rallying strongly back up to 5400. Up until recently, the 5400 level had done well and propped up price to keep it within the range. In its recent fall at the beginning of August it moved down to a three week low around 5375, however it received solid support at the 5400 level which has allowed to consolidate and rally higher.
The Reserve Bank of Australia's (NYSE:RBA) claim that the Australian dollar is overvalued is not only wrong, it's disingenuous, according to new research by National Australia Bank. "We're taking issue with the contention that the RBA continues to repeat that the Australian dollar remains fundamentally overvalued, in particular with relation to the weakness in commodity prices," Ray Attrill, co-head of FX Strategy at National Australia Bank (NAB), told CNBC. In the RBA's recent monthly policy statements, the central bank frequently stated that the currency "remains above estimates of its fundamental value, given the significant declines in key commodity prices," particularly Brent crude's 40 percent decline over the past six months and a decline in iron ore prices to a six-year low. Fair value, according to RBA governor Glenn Stevens, is 75 U.S. cents - a 4 percent decrease from current levels.
(Daily chart below)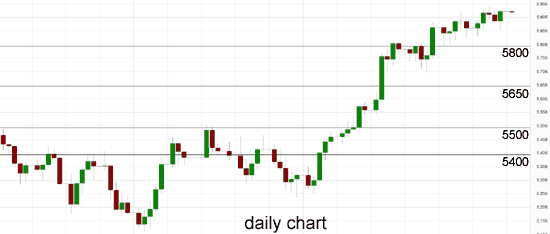 Australia 200 March 1 at 23:00 GMT 5913 H: 5933 L: 5913
Australia 200 Technical
| | | | | | |
| --- | --- | --- | --- | --- | --- |
| S3 | S2 | S1 | R1 | R2 | R3 |
| 5800 | 5400 | 5150 | 5900 | - | - |
During the hours of the Asian trading session on Monday, the Australia 200 Index is easing back towards 5900.
Further levels in both directions:
• Below: 5800, 5400 and 5150.
• Above: 5900.
Economic Releases
07:00 UK Nationwide House Prices (Feb)
09:00 EU Manufacturing PMI (Feb)
09:30 UK BoE - Mortgage Approvals (Jan)
09:30 UK BoE - Net Consumer Credit (Jan)
09:30 UK BoE - Secured Lending (Jan)
09:30 UK CIPS/Markit Manufacturing PMI (Feb)
09:30 UK M4 Money Supply (Jan)
10:00 EU Flash HICP (Feb)
10:00 EU Unemployment (Jan)
13:30 CA Current Account (Q4)
13:30 US Core PCE Price Index (Jan)
13:30 US Personal income & spending (Jan)
14:45 US Manufacturing PMI (Feb)
15:00 US Construction Spending (Jan)
15:00 US ISM Manufacturing (Feb)
* All release times are GMT