On Saturday, the People's Bank of China cut its benchmark interest rates by 0.25 percentage points (25 basis points). Yet, as of the open of Asian trading, the Australian dollar (NYSE:FXA) failed to respond as usual with a trigger rally. When China cut rates on November 21, 2014, the Australian dollar received a quick boost higher. Of course, the pop did not last long, and the Australian dollar preceded to descend along its the next big leg lower. The market may have taken a lesson from that experience - this time there is no such pop in the Australian dollar (so far).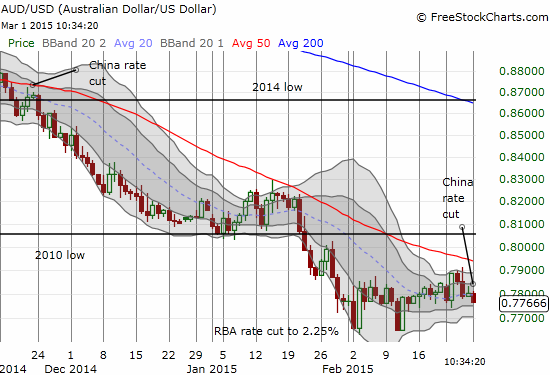 The Australian dollar responds to the last rate cut in China by sliding toward the bottom of the recent range
Source: FreeStockCharts.com
Unlike late November, the market has an imminent monetary policy meeting from the Reserve Bank of Australia (RBA) to worry about. With expectations for another quarter point rate cut, perhaps it is not surprising that currency traders are not in the mood this time to respond favorably to China's rate cut.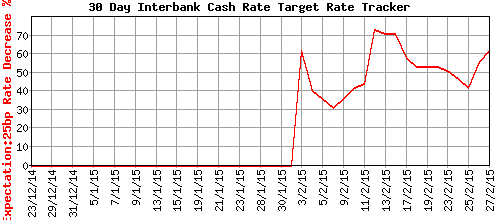 Market expectations for another RBA rate cut have crept back toward highs
Source: ASX RBA Rate Indicator
After February's rate cut, the Australian dollar plunged as the move appeared to catch enough traders by surprise. However, the Australian dollar has yet to trade lower. In fact, the currency soared the very next day to produce a four (trading) day high. Given this inability to trade lower ever since, I am not nearly as confident as last time around that an RBA cut will send the Australian dollar to new lows.
The short-term risk is likely more to the upside than the downside. Now that the ASX 30 Day interbank cash rate futures implied yield curve anticipates a rate as low as 1.75% by September, 2015, the reaction function for the Australian dollar likely depends a lot more on what the RBA has to say about the prospects for future rate cuts.
An acknowledgement of the market's repricing for lower yields should edge the currency closer to the RBA's presumed "target" around 0.75 against the U.S. dollar. Without that, the market can be free to contemplate scenarios where the RBA calls a surprise end to rate cuts for this cycle.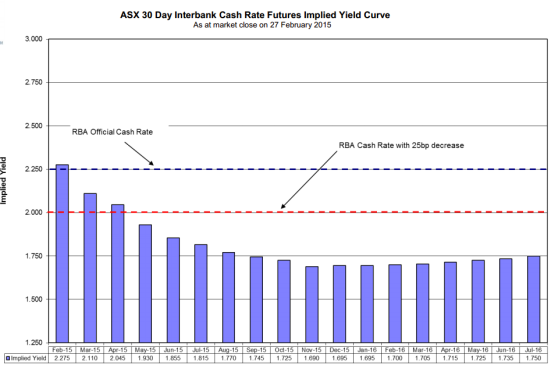 Current markets are expecting ever lower rate from the RBA this year
Source: ASX RBA Rate Indicator
Be careful out there!
Disclosure: The author has no positions in any stocks mentioned, and no plans to initiate any positions within the next 72 hours.
The author wrote this article themselves, and it expresses their own opinions. The author is not receiving compensation for it (other than from Seeking Alpha). The author has no business relationship with any company whose stock is mentioned in this article.
Additional disclosure: In forex, I am net short the Australian dollar