As investors and economic analysts contemplate whether America will fall into a recession, it is important to prepare your portfolio to minimize losses. On the one hand, automobile stocks are expected to suffer during recessions because consumers are unable to purchase big ticket items such as new vehicles. On the other hand, automobiles are becoming more of a necessity as opposed to a luxury item.
Under this assumption, consumers may still need to purchase new cars during a recession. However, the question is whether or not sales will be able to keep the stock afloat during economic weakness?
Instead of listing every car available to consumers, I will simply outline the United States' best selling cars of 2010. Of the top 20 selling cars in 2010, Ford (NYSE:F) claimed four spots with the Focus, Escape, Fusion, and F-Series truck. General Motors (NYSE:GM) also claimed four with the Chevy Malibu, Chevy Impala, Chevy Silverado, and the Chevy Equinox. Toyota (NYSE:TM) claimed four spots as well with the Prius, RAV-4, Corolla, and Camry. Honda (NYSE:HMC) claimed three spots with the CR-V, Civic, and Accord. And Hyundai (OTCPK:HYMTF) claimed two of the top 20 spots with the Sonata and Elantra.
As you can see, of the top 20 cars sold in America, 17 are from these five companies. Keep in mind General Motors consists of Chevrolet, Buick, GMC, and Cadillac; Toyota receives sales from Lexus and Scion; Honda is partnered with Acura; Ford is partnered with Lincoln; and Hyundai owns roughly 39% of Kia.
Next, it is important for investors to keep in mind the percent of market share in America each company controlled in 2010 and year to date in 2011. General Motors leads the way with 18.8% in 2010 and 20% so far in 2011. Ford is second with 16.5% in 2010 and 16.8% in 2011. Hyundai is currently bringing up the rear with 4.6% in 2010, and 5.2% thus far in 2011.
With regards to Toyota and Honda, investors should remember that the March earthquake and tsunami in Japan has put a serious hindrance on production. Toyota also suffers from recalls over the past few years. Nevertheless, Toyota saw American market share of 15% in 2010 and 12.7% in 2011. Lastly, Honda had 10.5% of the American market in 2010 and 9.1% in 2011.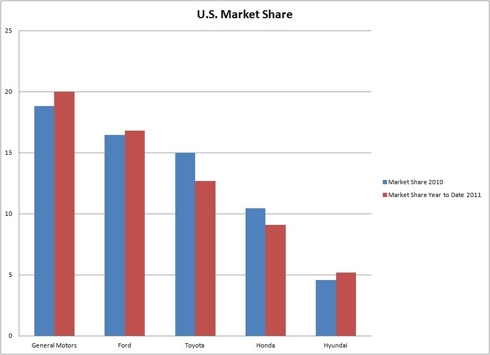 (United States market share.)
Market share is important because it shows which auto companies are bringing in the most revenue with the highest customer base and innovation. However, since General Motors is comprised of the most companies, it should be no surprise the company has the greatest market share. However, operating expenses weigh down overall earnings per share.
Another important note to make is American auto sales data tends to show a strong bias towards American car companies, just as Japanese and Germany auto sales reports show complete dominance by the car companies located in those respective countries. With that said, worldwide auto sales can draw a bigger picture of the strength of the company. However, it is important to keep in mind Asian car companies make very small and affordable cars that are not sold in America. Therefore, the numbers can look skewed because these cheaper and more dangerous cars are bought at much higher rates on the Asian continent.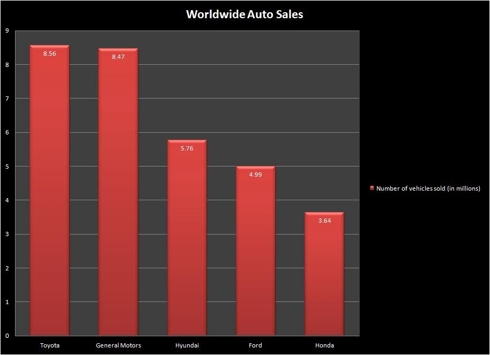 (Worldwide auto sales)
While worldwide auto sales data can give a glimpse of how much revenue a particular company brings in, it is important to view the financial statements to determine how well the company is using the income. This will allow us to gauge the performance of each company prior to, during, and after the Great Recession. Therefore, we can gain a better understanding as to how each stock may perform if the economy slips into another recession in the coming months. Please note this assumes share price correlates to the actual earnings.
Ford Motor Company
Ford's financial documents show the company is well behind pre Great Recession levels. With that said, It must be noted the company has continued to grow revenue over 2009 and 2010, but the company is still 23.7% below 2007 revenue. On the other hand, Ford recently reported the company's highest net income and diluted earnings per share since at least 2003. As I will detail later, this is due to cost cutting measures. Another positive for Ford is the company has increased American market share to 16.8%.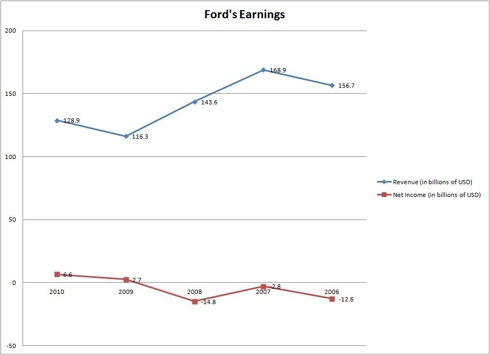 (Ford yearly revenue and net income since 2006)
As you can see, Ford struggled throughout the previous recession. While Ford's market share increased 1.1 percentage points within the recession, revenue slumped 31% and net income increased due to the phasing out of Mercury and the eventual discontinuation in 2010. With Lincoln in the history books, Ford is a completely different company and might be successful during the next recession because Mercury is no longer draining profits.
This is a very bullish view because revenue dropped 19% in the middle of the previous recession and this trend should occur in the next recession, whether another recession is a few weeks away or several years. However, keep in mind Ford's spending cuts and discontinuation of Mercury may give the company a fighting chance during a recession. Therefore, the stock may perform relatively better than we saw in the previous recession.
Next, it is important to view Ford's chart during the previous recession to see where the stock may end up after another recession. As with most companies, Ford's share price follows the earnings very closely. As revenue slowly decreased from a high in 2003 and 2004, the stock slid about 50% prior to the Great Recession. As expected, the worst year for the stock coincides with the worst year in earnings. Throughout 2008 and the first quarter of 2009, the share price struggled to break above the 2 range.
This bottom was during the heart of the previous recession which has a direct correlation with the 31% drop in revenue. Therefore, Ford's stock does not look good during another recession because earnings and the chart show the stock is very weak during economic hardships.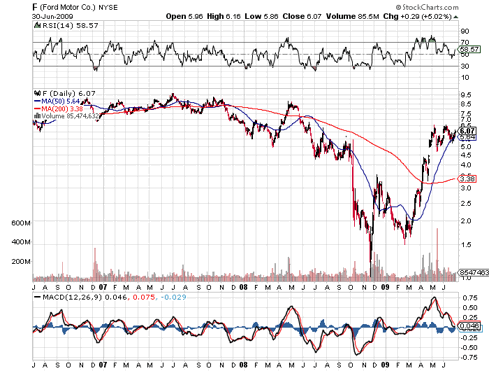 (Ford's chart from June 2007 through June 2009.)
As mentioned above, Ford's stock will not help minimize losses for a long term portfolio because the stock crumbled during the previous recession. While the stock did make up about half of what was lost since 1999, it is better for long term investors to collect profits and not simply ride out a storm that never returns to initial levels.
Nevertheless, part of this sell off may have to do with the problems surrounding General Motors. Investors may have felt Ford will need a "bailout" as well. Fortunately, this did not happen and Ford prevailed to continue to be one of the Consumer Goods bellwethers. However, I am expecting Ford's stock to take another beating during the next recession despite the casting away of Mercury. Keep in mind I am not suggesting a recession is near, but rather this note is meant to inform investors when a recession officially begins, Ford's stock may be one to avoid and pick up again around the 2.50-3 level.
General Motors
As most would expect, General Motors is in a different category than Ford. While Ford was able to survive without a government bailout, General Motors went bankrupt and was saved by the U.S. government. In fact, the stock was delisted from the New York Stock Exchange after the June 1, 2009 session. Many reasons were behind the delisting but the most prominent was the fact that General Motors provided a net loss of about $71 billion during the fiscal years of 2006, 2007, and 2008. Therefore, since General Motors was unable to receive positive income attributable to shareholders prior to the Great Recession, the company was delisted during the recession as losses continue to mount.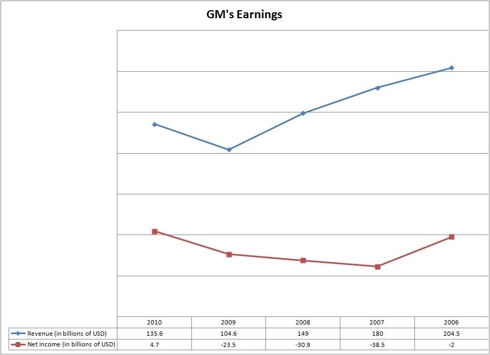 (General Motors yearly revenue and net income.)
One glimmer of hope for General Motors is the company reported positive net income for the fiscal year 2010. This can be attributed to cutting costs and streamlining the company's strong vehicles while scrapping the weak sellers. Regardless of how General Motors did this, the company reported a net gain of $4.7 billion. This makes the current fiscal year ending in 2011 very important. If General Motors can provide a year over year increase, investors may put speculative money into the stock after the government sells off the final stake in the company.
With the hypotheticals set up, let us take a look at General Motors' first half of fiscal 2011. After the first half of the year, the company is on pace to more than double last year's net income. General Motors has reported net income attributed to shareholders of $5.4 billion. Similarly, the company has reported over $75 billion in revenue which puts yearly revenue on pace to beat 2008 as well. Both of these numbers will be great for General Motors. Unfortunately, investors may not react as well because the company is still being looked at as a government controlled entity.
Another reason investors may not react well is because the recent history of the company is shrouded in failure. While the stock had been performing relatively well since the late 1970s, after the 2000 peak it has been all downhill which ultimately led to the complete failure of the company. On the other hand, if General Motors continues to bring in revenue and net income highs, investors will be unable to deny the company has potential and the stock may be a winner. It will be an interesting paradox for long term investors.
General Motors' stock is a speculative buy during a strong economy. In fact, the chart is showing almost no resistance at any level as the stock continues to fall. As we have recently seen, the stock was showing resistance at the 22 level, but this has been broken. I am speculating a small pop in share price after the next earnings report for several reasons.
First, the U.S. government may sell the remaining shares sometime in the third or fourth quarter. This indicates the government, who is a majority shareholder, is expecting strong earnings and they may want to get every penny back to avoid another uproar when announcing how much taxpayer dollars were lost in the bailout. Secondly, the third quarter was strong for car sales despite a declining stock market and disappointing economic data. Therefore, we may see the stock climb back up to the 23-24 level after earnings, perhaps even the 30 level during a rally.
Please note this is assuming the economy does not fall into a recession prior to the company's third quarter earnings. If this does happen the stock may plummet, but the earnings may give the stock a little boost and resistance level. In fact, General Motors is currently out-producing Ford over the first half of the year with regards to net income. While Ford has reported over $4.8 billion in net income to shareholders, General Motors has reported $5.4 billion.
Investing long term in a company should not be based upon one data point, but contrary to popular belief, General Motors is showing signs of a bright future. It may be difficult for investors to forget the company filed for bankruptcy two years ago, but CEO Daniel Akerson is moving the company in the right direction. Therefore, as I mentioned above, a contrarian play may be to buy General Motor's stock since it may outperform the market if a recession hits in 2012.
Toyota Motor Corporation
Now that we have discussed the two major American car companies, it is important to discuss how the major Japanese companies performed in the previous recession. Toyota has been recently hit with some very unlucky circumstances. While recent recalls could have been avoided with more careful manufacturing, the devastating earthquake and tsunami could not have been prevented. Because of this, Toyota's sales should suffer. Signs of this have already been seen as the quarter ending March 31, 2011 saw revenue remain flat and net income slide over 72% sequentially. The quarter ending June 30th saw revenue continually slide 25% while net income dipped another 95% sequentially.
While these numbers are disheartening, investors are not abandoning ship because the tsunami is not the company's fault. However, with regards to a recession, Toyota's stock should struggle. Prior to the Great Recession, Toyota brought in worldwide revenue of 23.9 trillion yen (roughly $310 billion) in fiscal year ending in 2007 followed by an even stronger fiscal year ending in 2008 of 26.3 trillion yen (roughly $341 billion). This shows the company was still in growth mode prior to the recession and in this long term pattern should continue. Unfortunately, since the middle of 2008, Toyota has been faced with macroeconomic issues, recalls, and natural disasters that have crippled revenue and net income.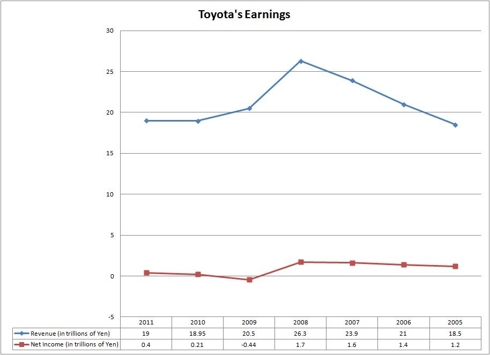 (Toyota's yearly revenue and net income)
As you can see, in the heart of the recession, revenue decreased about 22% to 20.5 trillion yen (roughly $266 billion) for fiscal year ending in 2009. One positive is revenue increased about 0.23% from fiscal year ending in 2010 to 2011. However, it is important to note Toyota's revenue has not seen the bottom just yet. While the fiscal year ending in 2010 may have looked like the bottom for revenue, with the recent events, revenue should continue to decrease.
Toyota reported about 3.4 trillion yen in revenue after the first quarter of fiscal year ending in 2012; which is about 27% less than the mean of the four previous quarters. Moving forward we should see quarterly revenue increase as shipments have began to reach full capacity; but it will be impossible to make up for lost revenue in the first fiscal quarter of 2012.
Net income saw the same peak in the fiscal year ending in 2008 followed by a bottom in 2009. However, as you can see, due to increased cost cutting measures Toyota's net income has grown sequentially since the recessionary 2009 earnings. Unfortunately, just as with revenue, net income will miss the mark by a large amount because the company only reported 1.16 billion yen in the first quarter. Therefore under another recession we may see Toyota surge back from current lows as the quarterly earnings may look like the company had a blowout quarter in the coming years.
This opens up the opportunity for a long term position in Toyota. If another recession begins, Toyota's stock may not be hammered as hard as the American car companies. The current share price has held up reasonably well because long term investors understand the natural disaster does not mean the company will be ruined in the future. With that said, investors and traders are weary that if Toyota does not provide similar earnings as we saw prior to the earthquake, we may see a sell off.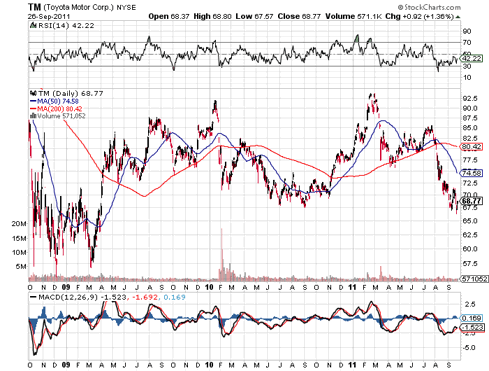 (Toyota's chart over the past three years)
Therefore, prior to a recession, Toyota's stock may be one of the better automotive stocks to buy. Toyota's stock may not be the best long term stock to buy because the company saw decreased U.S. market share in 2010. This may be due to recalls and less faith in Toyota cars by consumers. The one shining point Toyota has is efficiency. While many companies are catching up, the truth is Toyota has a head start on efficient and reliable cars. Even with the efficiency slogan, other companies such as Hyundai are continuing to close the gap with regards to market share.
Hyundai
I will not detail Honda because the results are similar to Toyota. Keep in mind Honda's earnings are sharply lower than Toyota, but the same patterns exist.
On the other hand, one company to watch out for in the automobile sector is Hyundai. Hyundai is a Korean company that has more direct exposure to China and India compared to Japan. As these two quickly developing countries expand, we may see Hyundai's worldwide sales increase substantially. Also, Hyundai's U.S. market share has increased sequentially every year since 1998 which is a feat only Kia can claim as well. Another important note is Hyundai's U.S. market share has increased about 53% since 2008.
We may see Hyundai double that 3% market share in 2008 by mid 2012. Currently, Hyundai has moved up to about 5.2% of all American car sales through August of 2011. By the end of 2011, I am expecting this value to rise up to the 5.4-5.6% range as sales are continuing to add up. Also, it is important to note that Hyundai is already outselling Ford on the global stage. Because Hyundai is able to outpace Ford with three times less U.S. market share, the stock, which currently is only available over the counter [OTC] in the U.S. markets, could turn into one of the better long term securities on the public market.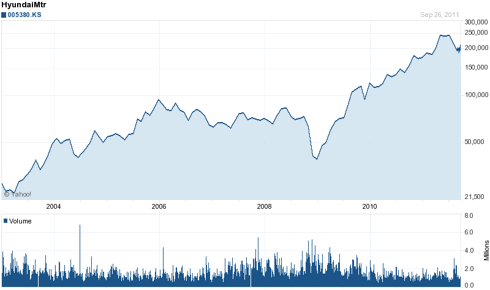 (Hyundai's lifetime chart)
As you can see, the increase in sales and popularity has driven Hyundai's stock price up since 2003. Even during the Great Recession the stock performed relatively well. Within the recession the stock only slid about 58% which is much stronger than most automobile stocks. This trend should continue for several reasons. First, as previously mentioned, Korea's exposure to China and India can give Hyundai long term sales growth. Secondly, as Hyundai's cars become more popular in America, we should see a 0.8-1.0 percentage point gain in market share per year through 2015.
Most importantly, prior to a recession, Hyundai's stock may be one of the better holdings for a portfolio. In fact, based upon the previous recession, Hyundai is the only stock of the five listed that finished the recession above where it started. I expect this trend to continue as the company is even more powerful now than it was three years ago.
Investing in any stock can be stressful when economic news is grim. But if one is compelled to leave money in the stock market during weakness, it is important to have a list of stocks that might be safehavens. As I discussed, Hyundai would be the best automobile stock because the share price finished the recession higher than it began in December 2007.
Honda was the next best performing stock throughout the previous recession and may be a good option right now because the stock is severely depressed from the March earthquake. In fact, the share price may have already priced in a recession. If this has happened, Honda's stock would be a terrific placement for investors' money during a recession.
Disclosure: I have no positions in any stocks mentioned, and no plans to initiate any positions within the next 72 hours.