Pandora Media, Inc (NYSE:P) just released its updated website. The new website design is sleek and very pleasant. In addition to the new look, the company has also removed the 40 hour listening limit, increased artist information, improved listener controls, added to listener profile capabilities and increased website loading times. Just as importantly, the company also improved its revenue potential by including larger video advertisements on the site. These are nice steps in the company's evolution, but they do little to improve the attractiveness of the stock and to reduce competitive risks.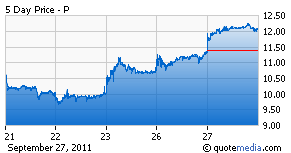 Despite the changes, the company's stock is still extremely pricey even after dropping more than 60% from its 52-week high. The company has a price/sales of 8.34 and no near term expectations for profits. In the two year period ending in January 31, 2011, the company's sales jumped from $19.33 million to $137.76 million. This growth is highly desirable during our current subdued economic growth environment and this may explain the company's valuations, but still, the rich multiples leave investors with little margin for safety from the company's many competitive risks.
For example, not long ago, Pandora was the biggest player in internet music business, but Spotify's jump across the Atlantic has changed the competitive landscape. Spotify also offers a similar online music service, but they have several major advantages over Pandora, with a larger song catalog, a better platform and better integration with social media.
In addition to Spotify, Pandora continues to face some competitive risks from Sirius XM Radio (NASDAQ:SIRI). While satellite radio is a very different business model because they require a hardware investment and mandatory subscription fees, there is some overlap because of the general genre of music content distribution, but also because of the limited control over the play lists. Still, unlike Pandora and Spotify, SIRI offers proprietary content and it has full control over its distribution capacity through its satellite infrastructure. In contrast, internet music providers have double dependencies. They face music acquisition costs and bandwidth costs that both scale with use.
GOING FORWARD
Pandora is the classic case of a nice company and a bad stock. Many market watchers cannot understand how a good company can have a unattractive stock, but the truth is that every stock has its price. At an undervalued price, the stock is attractive and at an overvalued price, the stock is unattractive. Assuming Pandora's stock valuations remain elevated, the company needs fundamental improvements to enhance the desirability of Pandora's stock.
These fundamental improvements may include a genuine shift towards social media, a growth in subscription services or a change in technology that more fully integrates Pandora with users' other mainstays. Until then, investors should not view the new website and other improvements as meaningful changes to the Pandora stock investment thesis.
Disclosure: I have no positions in any stocks mentioned, but may initiate a long position in SIRI over the next 72 hours.