Many of us start each day with a cup of coffee -- I know I do. Legend has it that a goat herder in Ethiopia named Kaldi discovered coffee during the ninth century. According to the story, Kaldi noticed that when his goats ate bright red berries from one of the bushes in his field they became highly energetic. He tried the berries himself, as he chewed them be felt energy surge through his body. He took the berries to a local monastery and the imam, disapproving of Kaldi's exhilaration, threw the berries into a fire. When the berries burned, they emitted a fragrant odor. Kaldi raked the roasted berries from the embers, ground them up, dissolved them in hot water, and created the world's first cup of java. Whether or not this actually happened is not important, however, since that time coffee has become a staple around the world. Coffee is not only a staple drink -- it is a social drink. Sharing a cup of coffee with friends, business counterparts or others is a way of life.
The history of Starbucks (NASDAQ:SBUX) dates back to 1971 when the first store opened in Seattle. Starbucks combined the advent of new coffee concoctions with a social setting. Today, the company has over 17,000 stores in 55 countries around the world. Each Starbucks is a coffee bar that encourages the experience of enjoying coffee in a social oasis. As coffee is the product that the company sells, the price of coffee beans represents a healthy portion of their cost of goods sold. While Starbucks enjoys a healthy profit margin on their products, coffee is a very volatile commodity. The price of coffee beans has a direct impact on the earnings of the ever-growing company.
Coffee prices have been falling
These days Brazil is the number one producer of Arabica coffee beans in the world growing almost one-third of annual supplies of the commodity. As an agricultural commodity, weather in growing regions affects annual production. Over the past four plus decades, the price of Arabica coffee beans traded on the ICE futures exchange traded from a low of 41.5 cents per pound in October 2001 to a high of $3.3750 way back in 1977. The last time coffee futures traded above $3 per pound was in 2011. Last year a drought in Brazil affected the coffee crop and prices soared. On November 4, 2013 the price of active month coffee futures on the Intercontinental Exchange (ICE) stood at $1.0095 per pound. By March 20, 2014, just five months later, the price of coffee more than doubled to $2.0755 per pound. Until recently active month coffee futures traded in a range between around $1.60 and $2.31 per pound. However, lately prices have been falling.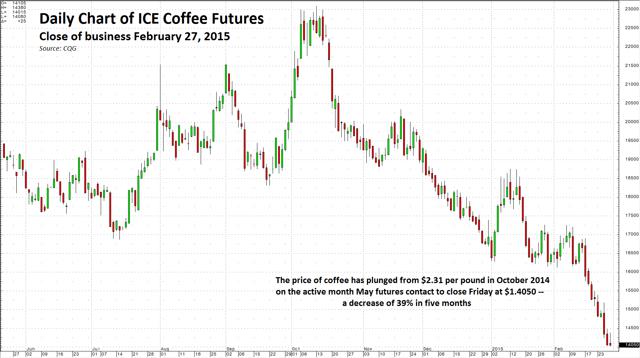 As the chart illustrates, over the past five months the price of active month coffee futures is down 39%. Coffee can be one of the most volatile commodities that trades. A five percent daily range in coffee futures is typical. Current daily historical volatility is coffee is 27.66%, down from almost 50% last October. However, quarterly volatility in this wild commodity is currently just over 46%.
Starbucks has been rallying
The price of Starbucks stock has been on a tear. After trading at almost $70 per share in October 2014, the stock has moved steadily higher closing at $93.49 on Friday, February 27. SBUX currently has a market cap of just over $70 billion; it pays a dividend of 1.4%. The stock closed February at all-time highs.
A great correlation trade
While coffee has become cheaper over recent months, the price of Starbucks stock has gone higher. This should come as no surprise -- prices for Starbucks products have remained stable, so lower coffee prices means higher profit margins for the growing company.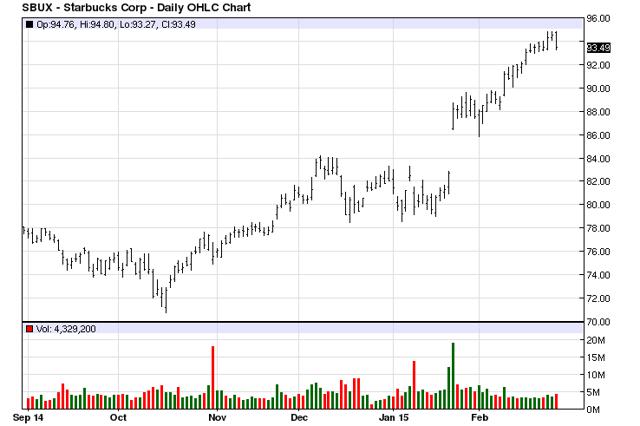 As the chart illustrates, when coffee futures were above $2.20 per pound in October 2014, the price of Starbucks stock traded at just above $70 per share. Since then as the price of coffee fell, shares in SBUX have traded higher in lockstep with the decline in coffee prices. Coffee dropped 39% and SBUX rallied 32%. Recently, there has been a great correlation between the price of coffee and the share price of SBUX. Dunkin Brands Group, Inc. (NASDAQ:DNKN) is another equity with exposure to the price of coffee. Falling coffee prices have had less of an impact on DNKN shares. Dunkin Donuts brand coffee is Starbucks' biggest competitor in the coffee bar market, however, it is difficult to compare the two. DNKN licenses and franchises its brand while SBUX is a roaster, marketer and retailer.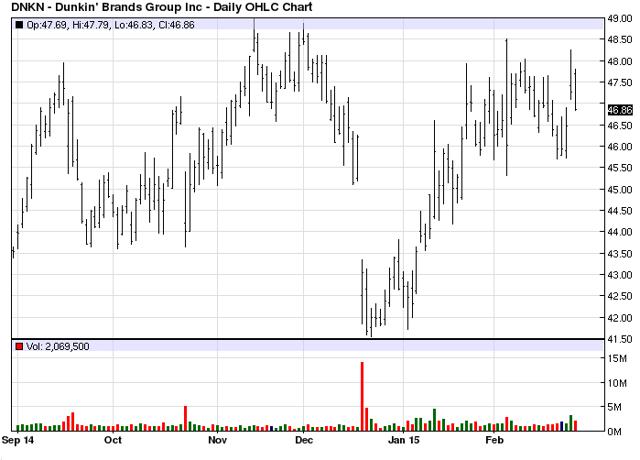 Dunkin' Brands stock has only moved from $44 to $47 per share an increase of 6.8% during the same period. Clearly, of the two companies, SBUX has reflected the recent move in coffee prices while DNKN has not.
Starbucks generally pays a premium to futures market prices for select beans. When the price becomes attractive, they tend to buy more beans. Given the recent dip in coffee prices, particularly after they doubled last year, it is likely that Starbucks has been on a coffee buying spree.
Coffee is a wild ride -- do not get used to cheap prices
The recent tight correlation between the price of coffee and Starbucks stock has been interesting to say the least. The company clearly focuses on one major product, coffee. The volatility of coffee prices is so high on a historic basis that Starbucks stock should reflect that volatility. Therefore, one would think that if there were suddenly a crop problem in terms of coffee production, higher coffee prices could cause SBUX to fall. There is a historical basis for that assumption. During the period from November 2013 through April 2014 when coffee futures more than doubled in price, SBUX stock dropped from over $81 to below $68. As it is hard to plan or hedge too far out into the future because coffee is an agricultural commodity, holders of Starbucks stock should be wary. With coffee futures prices moving lower these days, it is possible we will see even higher highs in SBUX but that can all end in tears if leaf rust or weather decreases the coffee crop this year. New all-time highs have provided a jolt to Starbucks shares but it could be a great time to take profits on SBUX. This stock could be as fickle as the weather in coffee growing regions in the future.
Disclosure: The author has no positions in any stocks mentioned, and no plans to initiate any positions within the next 72 hours. The author wrote this article themselves, and it expresses their own opinions. The author is not receiving compensation for it (other than from Seeking Alpha). The author has no business relationship with any company whose stock is mentioned in this article.