Most of my research and pub­lish­ing tends to focus on com­pa­nies manip­u­lat­ing account­ing rules to make their reported earn­ings look bet­ter than the real eco­nomic cash flows of their business.
It is unfor­tu­nately rare that I find a com­pany whose eco­nomic earn­ings are out­pac­ing the reported account­ing results and whose stock is cheap.
One such com­pany is Lam Research (LRCX – very attrac­tive rat­ing). One of September's most attrac­tive stocks, LRCX offers investors hid­den value.
images
Fig­ure 1: Eco­nomic Earn­ings Growth Out­paces Account­ing Earnings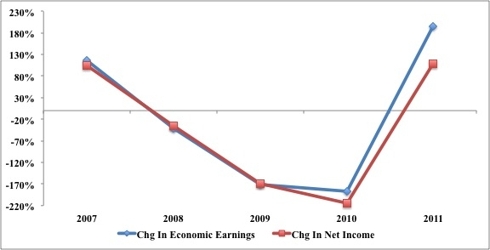 Sources: New Con­structs, LLC and com­pany filings
Per Fig­ure 1 above, LRCX's eco­nomic earn­ings are grow­ing at least as fast or faster than its GAAP earn­ings over each of the past five years. 2011shows a dis­tinct accel­er­a­tion in the improve­ment of eco­nomic earn­ings ver­sus reported net income.
The supe­rior growth in the eco­nom­ics of LRCX's busi­ness comes from grow­ing its after-tax cash flow (NOPAT) faster than its bal­ance sheet (invested cap­i­tal). This dri­ves accel­er­a­tion in the company's return on invested cap­i­tal (ROIC), which also exceeds it account­ing coun­ter­part, return on equity (ROE). See Fig­ure 2.
Fig­ure 2: ROIC Exceeds ROE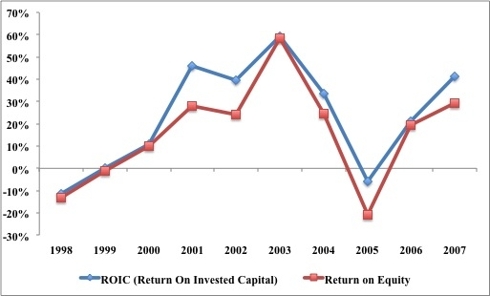 Sources: New Con­structs, LLC and com­pany filings
The dif­fer­ences between the eco­nom­ics of LRCX's busi­ness and its account­ing are not per­cep­ti­ble to the naked eye. After comb­ing through the company's finan­cial foot­notes, we removed about $11.5 mil­lion in non-operating charges buried in oper­at­ing income and under­state GAAP earn­ings. Our largest adjust­ment to the reported account­ing results comes from deduct­ing nearly $2 bil­lion in excess cash from the reported assets of the busi­ness. Excess cash is removed from the denom­i­na­tor of our ROIC cal­cu­la­tion because it rep­re­sents the past prof­its of the busi­ness and is not part of the share­hold­ers' orig­i­nal invest­ment. Excess cash still belongs to share­hold­ers. How­ever, remov­ing it from invested cap­i­tal allows truer analy­sis of the eco­nom­ics of the busi­ness and offers a bet­ter proxy for the company's mar­ginal return on investment.
The bot­tom line is that Lam Research is not only a very prof­itable busi­ness but it is also more prof­itable than the account­ing results sug­gest. It's ROIC ranks in the top quin­tile of all com­pa­nies in the Rus­sell 3000 and its eco­nomic earn­ings are grow­ing faster than its account­ing earnings.
Accel­er­at­ing prof­its alone should never drive an invest­ment deci­sion. Mak­ing money pick­ing stocks comes from buy­ing stocks with future cash flow expec­ta­tions that are too low (or too high if you like to short).
LRCX's stock def­i­nitely reflects low expec­ta­tions for future cash flows. The cur­rent stock price of ~ $38 implies the company's NOPAT will per­ma­nently decline by nearly 50%. In other words, the stock has upside if future prof­its do any bet­ter than decline by 50%. Put another way, if LRCX's prof­its are flat, no growth and no decline, the stock is worth well over $70 per share.
That is what I call hid­den value. Prof­its are accel­er­at­ing and the val­u­a­tion is depressed. Buy LRCX.
For more details on our LRCX model, click here.
I also rec­om­mend the fol­low­ing ETFs because of their "attrac­tive" rat­ing and expo­sure to LRCX.
ProShares Ultra Semi­con­duc­tors (

USD

)
First Trust NASDAQ-100-Technology Sec­tor Index Fund (

QTEC

)
Disclosure: I am long LRCX.