The first book I read about investing was Benjamin Graham's seminal work, "The Intelligent Investor." It was after that I became interested in screening for stocks that would make money over time. I found his approach simple and replicable. When one is investing on their own, they must study what the masters have done, and would do today (assuming they were still alive).
After reading Graham, I read books by Peter Lynch, Harry Domash, Joel Greenblatt, and Ken Fisher. Eventually, John Reese of Validea, published his work, "The Guru Investor: How to Beat the Market Using History's Best Investment Strategies," which outlined multiple screening and stock selection methodologies that included Warren Buffet, John Neff, and Jim O'Shaughnessy, along with some of the other "gurus" mentioned above. It is an excellent work, and one that should have a place on everyone's shelf.
It is the Ken Fisher Model that I find fascinating, especially since I have had recent conversations with representatives from Fisher Investments. Most of the conversations regarded why Fisher Investments does not exactly follow the advice from Fisher's book, "Super Stocks." I especially found their sales pitch confusing, because when I look at their literature, the average price-to-sales ratio (P/S) in their proposed portfolio was the same as the market's average of 1.5. This is ironic given it was Fisher who created the concept of using P/S to ensure that one does not overpay for a company's revenues per share. It was from him that value investors use the P/S metric as a tool to find cheap stocks undervalued stocks.
Regardless, it is necessary to find out whether it is a method that still works. John Reese contends that it does. On his website, he claims that his Fisher Model has yielded an approximate 10.5% annual return (v. 6.6% for the S&P 500) since 2003. I ran the Fisher screen on portfolio123.com to see how it would have performed since 1999. These were the screening factors used:
P/S < 0.75
Debt to Equity < 0.4
Five-Year Earnings Growth > 15%
Positive Free Cash Flow
Five-Year Net Profit Margin Average > 5%
Adequate Trading Volume
These are the current stocks the screen found:
| | |
| --- | --- |
| Ticker | Name |
| | AGCO Corp |
| | Ennis Inc |
| | Express Inc |
| | Finish Line Inc (The) |
| | Liquidity Services Inc |
| | Renewable Energy Group Inc |
How does this screen perform? It was backtested for the 16 years with an annual rebalance, and the results are impressive. This chart shows how it would have performed as it grew 26.87% (±30.71%) annually with a beta of 0.7. If one compares this with the S&P 500's average of 3.40% (±19.91%), these returns are almost unbelievable.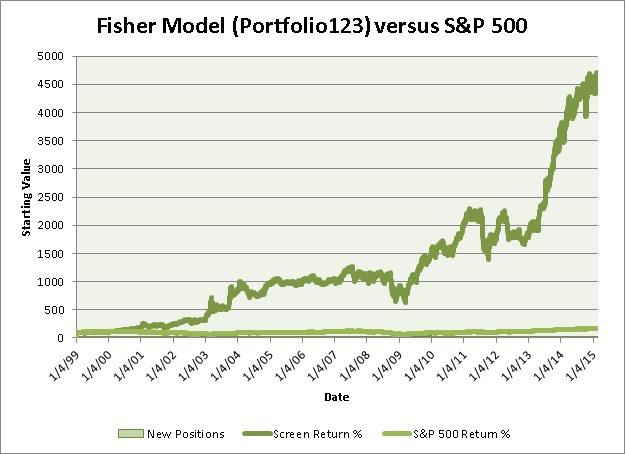 When this model was backtested (with a different program) for a period beginning in January 2002, it too showed that it would have beaten the market by a substantial amount (9.59% v. 6.81%).
How does this screen compare with Validea's? Using the free access that Validea provides, there is little duplication, with only one stock appearing in both screens. These are the "Strong Interest" stocks for Validea's Price/Sales Model, which is based on Ken Fisher's methodology:
| | |
| --- | --- |
| Ticker | Name |
| ACAT | Arctic Cat Inc |
| CRC | California Resources Corp |
| OTCQB:OTCPK:CMCI | China Modern Agricultural Information Inc |
| LQDT | Liquidity Services Inc |
| NTL | Nortel Inversora SA (ADR) |
| SAFM | Sanderson Farms, Inc |
| OTCQB:OTCQX:SIAF | Sino Agro Food Inc |
| TESO | Tesco Corporation (USE) |
| TGA | Transglobal Energy Corporation (NYSE:USA) |
| WGO | Winnebago Industries, Inc. |
The P/S ratio is critical for the success of this approach. In just screening for stocks with low P/S, that factor alone more than triples the return of the market at 11.21%. The other criteria are also important, however. The following table shows how each of the Fisher Model criteria performed individually compared to the market.
| | | |
| --- | --- | --- |
| Criteria | Return | Deviation |
| P/S < 0.75 | 11.21% | 22.37% |
| Debt to Equity < 0.4 | 7.17% | 22.43% |
| Five-Year Earnings Growth > 15% | 11.07% | 20.45% |
| Positive Free Cash Flow | 11.73% | 20.20% |
| Five-Year Net Profit Margin > 5% | 10.56% | 19.52% |
| All Criteria | 26.87% | 30.71% |
| S&P 500 | 3.40% | 19.91% |
What is important to remember about this screen is that one is first looking for quality by finding companies that can grow earnings with decent margins without running up the charge card. Once that has been accomplished, narrowing down the selection to companies that have made their way to the discount aisle is the key to maximizing the returns.
The results of this study are pretty clear. Value investing is still a profitable way to invest. The self-made screen shows that the Fisher Model works over time, and John Reese has also used the philosophy for the benefit of his clients. Ultimately, it is a great way to beat the market.
Happy Investing!
Disclosure: The author is long WGO, SAFM.
The author wrote this article themselves, and it expresses their own opinions. The author is not receiving compensation for it (other than from Seeking Alpha). The author has no business relationship with any company whose stock is mentioned in this article.
Editor's Note: This article covers one or more stocks trading at less than $1 per share and/or with less than a $100 million market cap. Please be aware of the risks associated with these stocks.