It's hard to be serious about Sirius (NASDAQ:SIRI). Over the last few years it has gone from a high of almost $70 in March of 2000 to a low of $.05 in February of 2009.
(Click charts to expand)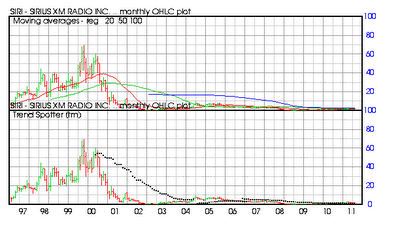 Recent activity has been a little better as this Barchart hourly trading chart over the last month shows: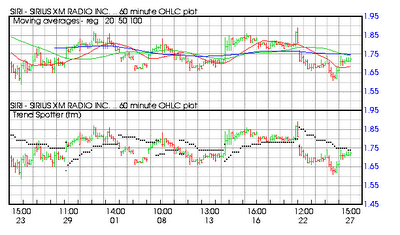 Sirius XM Radio Inc. provides satellite radio services in the United States and Canada. It broadcasts a programming lineup of approximately 135 channels of commercial-free music, sports, news and information, talk and entertainment, traffic, and weather on subscription fee basis through two satellite radio systems in the United States; and holds an interest in the satellite radio services offered in Canada. The company also simulcasts music and selected non-music channels over the Internet; and offers applications to allow consumers to access its Internet services on mobile devices. As of December 31, 2010, it had 20,190,964 subscribers.
In addition, the company designs, establishes specifications, sources or specifies parts and components, and manages various aspects of the logistics and production of satellite radios; licenses its technology to various electronics manufacturers to develop, manufacture, and distribute radios under various brands; and imports radios distributed through its Websites. The company's satellite radios are primarily distributed through automakers, retailers, and its Websites.
Further, it provides music services for commercial establishments; a satellite television service to offer music channels as part of certain programming packages on the DISH Network satellite television service; music and comedy channels to mobile phone users through mobile phone carriers; Backseat TV, a service offering television content designed primarily for children in the backseat of vehicles; Travel Link, a suite of data services that include graphical weather, fuel prices, sports schedules and scores, and movie listings; and real-time traffic and weather services. The company was formerly known as Sirius Satellite Radio Inc. and changed its name to Sirius XM Radio Inc. in August 2008. Sirius XM Radio Inc. was founded in 1990 and has its headquarters in New York, New York. (Yahoo Finance profile)
Factors to consider
Barchart technical indicators:
72% Barchart technical sell signal is weakening
Trend Spotter sell signal is weakening also
The stock has been trading below its 20-, 50- and 100-day moving averages
Although the stock is 29.10% off its 1 year high it is up 49.14% over the last 12 months
Relative Strength Index is 46.44% and rising
Barchart computes a technical support level at 1.67
The stock recently traded at 1.72 which is below its 50 day moving average of 1.80
Fundamental factors
Wall Street brokerage analysts still like this stock even though it holds a penny stock status
Analysts project sales to increase by 6.20% this year and an additional 11.30% next year
Earnings are expected to increase by 600.00% this year, another 14.30% next year and continue to increase for the next 5 years at an annual rate of 30.00%
These widely fluctuating forecasts have resulted in 2 strong buy, 5 buy, 3 hold and no negative recommendations
General investor interest
In spite of this stock's fall from grace there are 5,306 readers of Motley Fool that continue to express and opinion on this stock
82% of the readers vote that the stock will beat the market
The more savvy and experienced All Stars only vote 71% for the same result
Fool notes that of the 11 columnists writing about the stock 10 have been positive but Jim Cramer is the lone no vote.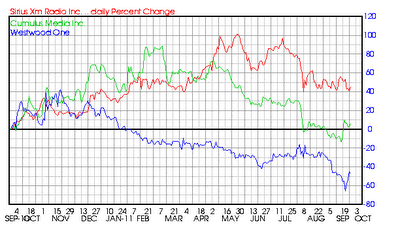 Other radio station owners are Saga Communications (NYSEMKT:SGA) up 47%, Radio One (ROIA) up 11% and Groupo Radio Centro(RC) also up about 11% in the past year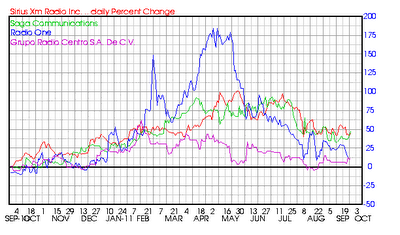 Summary
Sirius XM Radio is a former and faded rising star. There are so many great stocks that have solid projections of double digit increases in sales and earnings that I'm surprised that so many analysts and investors are still paying attention to it. If you have money to lose and want to have speculation to brag about then buy a little. If you think at $1.72 it can't go any lower remember that a couple of years ago it fell as low as 5 cents and it can again. This stock is for you craps shooters only.
Disclosure: I have no positions in any stocks mentioned, and no plans to initiate any positions within the next 72 hours.