While lifestyle apparel retailer American Eagle (NYSE:AEO) offers a nice dividend yield of 3.65%, the stock still offers more risk than upside. Analysts currently rate the stock a "hold" and are expecting EPS to decline by 15.7% to $0.86 next year and then to increase by 15.1% and 15.2% in the following two years.
American Eagle flies in only the United States and Canada with more than 1K stores, thus missing out in physical emerging markets exposure that other competitors benefit from. With that said, American Eagle does have an eCommerce store, ae.com, and offers products via AEO Direct to over 76 countries. Although this provides for some exposure while not fully compromising brand uniqueness, overall, not having a retailing foothold in Asia is more of a liability than anything else.
The retailer also recently missed expectations, albeit at a modest amount. Recent back-to-school sales performance makes me weary of future earnings projections, as the company failed to limit costs. Q2 comps were unexpectedly sideways in both the women's and men's segments, making future forecasts unpredictable and limited. During the second half of 2010, management was successful in containing inventory, but now inventory is becoming excessive weighing down on gross margins. Below is my estimate of the volatile free cash flow management.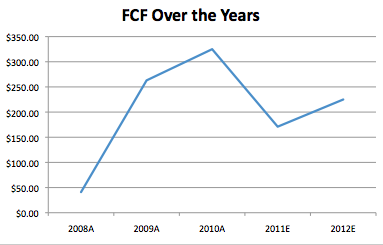 *Note: For simplification purposes, FCF between the years has been made into a connecting line.
Additionally, ROE is expected to decline by around 300 basis points from 2010 to around 11% in 2013. Management at the same time has been committed to cutting SG&A costs recently, which will help for later expansion. Headwinds and limited international exposure mitigate upside, while macro concerns about decreased consumer expenditures increase downside.
I forecast revenue growing by 4.1% to $3.1B next year and then by 2% in the following year. With a PE and forward PE multiple of 14.2 and 12.2, respectively, I find that the company is fairly valued.
To read my analysis on competitor Abercrombie, which I believe will also face challenges, click here.
Disclosure: I have no positions in any stocks mentioned, and no plans to initiate any positions within the next 72 hours.