Cushing, OK, population 8,000, is home to more commercial oil tanks and oil storage than any other place in the United States. More importantly, several major pipelines intersect in Cushing.
Cushing to provide less cush as Tanks Fill
Storage capacity totals a little over 76 million barrels with 7 companies in control of more than 95% (figures in parenthesis = millions of barrels):
(20.5) Enbridge
(20.0) Plains All-American
(12.0) Magellan Midstream Partners
(7.0) Rose Rock Midstream
(6.6) Blueknight Energy Partners
(4.1) NGL Energy Partners
(3.1) Enterprise Product Partners
(3.0) Others
Starting in late September, when Cushing was only 25% full (appx. 19 million barrels), every month has seen an addition to the amount of crude being stored in Cushing. At the beginning of the year, Cushing was 42% full (32 million barrels). The pace of additions has quickened since the beginning of the year, adding 2.235 million barrels a week on average. As of February 20, utilization at Cushing reached 64% (48 million barrels). At the present rate, Cushing will fill in 3 months.
Why Storage at Cushing Matters and Does Not Matter
In 2012, as capacity filled, the spread between the worldwide price (Brent) and the United States price (WTI) widened dramatically. WTI prices fell. A bottleneck had developed as crude oil in Cushing had nowhere to go.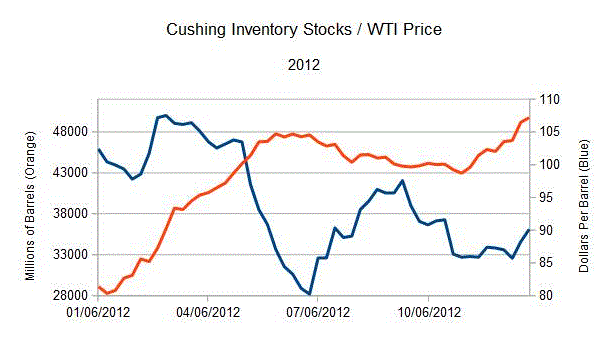 By late 2012, it became apparent that Cushing would not fill to capacity. New pipelines were soon to be made available to the South taking some of the excessive inventory out of Cushing. At its peak in early 2013, Cushing stored 51.6 million barrels, about 67% of capacity.
2015 is different. Since 2013, substantial capacity allowing crude oil to flow south from Cushing has been developed (1.15 million barrels per day). Additional capacity has been developed to allow crude oil to bypass Cushing (0.83 million barrels).
At present there is no shortage of capacity in Texas, nor does a shortage appear likely to develop. My article discusses this topic in more detail. (If you read the article, I suggest reading the comments as well - SA commentators provide additional useful information).
Some pundits, including some on SA, have been trumpeting a lack of storage facilities in the United States. This is due to a mis-reading of numbers published by the EIA. This newsflash from the Texas Energy Report explains why the situation is not so dire:
Here's Why Rising U.S. Oil Supplies Aren't Overflowing Tanks

The Energy Information Administration pegged crude storage capacity at refineries and tank farms in the U.S. at 521 million barrels at the end of September. With inventories rising 8.4 million barrels last week to 434 million, it may appear at first glance as though supplies from the shale boom are on a collision course with tank tops. Not so, says the EIA. The weekly storage numbers include a few sources that aren't included in the capacity report, such as crude in pipelines and at well sites, that can add up to more than 100 million barrels. "We still have a way to go before we can consider ourselves to be full," Rob Merriam, the EIA's manager of petroleum supply statistics in Washington, said by phone. "Once you correct for line-fill and lease tanks, we're pushing about 60 percent capacity utilization."
Other commentators have not been comparing apples to apples. At this year's average rate of inventory build of 8 million barrels a week, it would take another 23 weeks to fill all of the currently available inventory known to EIA. EIA only requires reporting of inventory and storage capacity from tanks exceeding 50,000 barrels.
Driving season begins in 12 weeks.
Some oil analysts report substantially higher estimates of potential storage than does the EIA.
So why store in Cushing - Let's do the Contango (20% risk free return)
With space already owned or leased, the marginal cost of storing crude oil is next to zero for the companies listed above. Normally, the crude oil market is in a state of backwardation, a situation where the price of oil today is higher than the prices predicted by the futures market. As a result, there is an incentive not to store oil, but to sell it at the current 'high' price.
Contango is the opposite situation. Today, spot oil prices are around $50.00 a barrel. Companies can contract to sell oil in late October for near $60.00 a barrel, 20% higher than today. By storing oil today and contracting today to sell oil in October, these companies earn 20% over a period of 7 months. Not bad.
Filling To Have Minor Impact On Pricing
When Cushing fills, if productions levels are still high as I expect they will be, they would overwhelm the capacity of the pipelines to carry crude (via Cushing) to Texas (assuming no other avenues existed). When this happens, producers will have to find alternate routes to get some of their crude to Texas. While this will hurt wellhead prices as other forms of transit are more expensive than pipelines, the effect, in and of itself, on WTI should be minimal. That said, read the next section.
Headlines Rule And Present Opportunities
As the tanks in Cushing fill, there will be more and more headlines about how the US is running out of storage capacity. If these headlines are not balanced by other headlines saying how 2015 is different than 2012, all other things being equal, WTI (aka NYMEX) prices will fall.
I am on record as expecting oil prices to bottom (50% chance) within the next 3 weeks (25% chance it has already bottomed), but this filling of Cushing represents an exogenous event which could cause a secondary drop in prices. Should this occur, it would represent a buying opportunity.
The oil market puzzle is complex, subject to wild swings based on a comment here or there which can cause a downdrift in prices. See here for an example.
After the Bottom
For reasons I will explain in a future article, some of the price predictions of the recovery in oil prices seem a bit optimistic.
Disclosure: The author has no positions in any stocks mentioned, and no plans to initiate any positions within the next 72 hours.
The author wrote this article themselves, and it expresses their own opinions. The author is not receiving compensation for it (other than from Seeking Alpha). The author has no business relationship with any company whose stock is mentioned in this article.
Additional disclosure: Should prices fall into the mid-40s, author plan to establish a long position.