Then: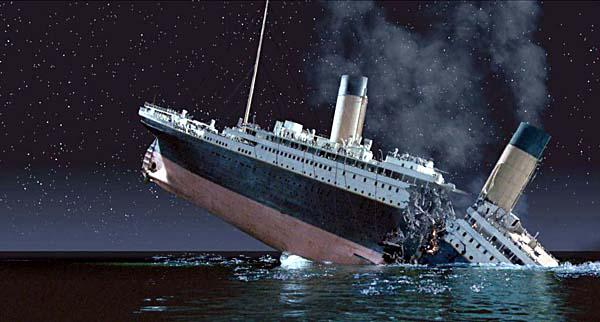 When World Wrestling Entertainment, Inc. (NYSE:WWE) set sail on February 24, 2014, the company made numerous nautical errors in rolling out the product with a 6 month lock in contract, lack of content on the website, losing and not replacing key management personnel and giving projections that had no bearing on the reality of this vessel. Those many missteps affected not only subscriber count, but fed the Wall Street perception that this company might be close to capsizing. Then after the network left shore, the churn rate was incredibly high and the roll out to the U.K/Ireland was torpedoed just prior to its launch. It was easy to understand why WWE sunk below its prior 52 week low to $9.82/share.
In the interim, the network got its sea legs by adding a substantial amount of historical wrestling footage and new live content, a successful free November offer to new subs and bringing on board key commodores.
Now: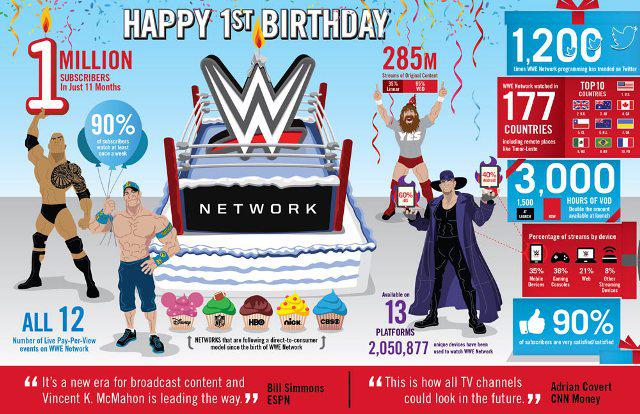 On December 3 of last year, I wrote an article entitled "Why the WWE Network Will Most Likely Succeed." In that article I provided worst-, expected-, and best-case scenarios for projected paid subscription counts at the end of 2014. My best case scenario was 818,720. WWE Network came in at 816,000 as a result of a free November to new subscribers. I have revised my original expectations higher at the end of the 1st Q 15 and projected expected sub count for the 2nd Q 15. I'm not showing any attrition in the 1st Q projections as the number of subs as of January 27th of just over 1 million will be consistent through the quarter with drop off after WrestleMania. As WrestleMania is the biggest event of the year I assume event additions ranging from 100,000 to 200,000.
George Barrios, CFO, stated on the Q4 conference call that there were 240,000 new subs from the free November promotion of which 70% were still paid subs through January. Although the 70% conversion rate was lower than the 90% Netflix has had in free month offers, it still worked for WWE. Now the offer was for a free February. Vince McMahon explained the company does not expect the February free sub number to be as high as the November one. In my projection for the February free subs I assumed 40%, 60% and 80% count (of the November number) will remain paid subs through March.
For the projection in the 2nd Q there will be non-renewals from the free February and Wrestlemania. Additionally, there will be a very minimal amount of the old 6 month contract non-renewals from October 2014. After October the company changed to a month-to-month subscription model. I used 30-50% attrition rate of those totals in projecting scenarios. The growth driver for the second quarter will most likely be a free May and possible additional foreign expansion. What ever the sub count is at the end of March, it will most likely be lower at the end of the 2nd Q. However, with all that being said, the count at the end of the 2nd Q will most likely be a base sub count to judge how the Network is performing for the remainder of the year. What you need to keep in mind is that all the growth this year will be strictly from expanding global reach, giving a free month to new subs and adding new content from the WWE extensive library of wrestling history along with special live programming. Whether that formula of keeping subs based on content will work on an ongoing basis will be known by the end of the 2nd Q.
Estimated Sub Numbers and OIBDA
Subs
Beginning count as of 1/1/2015
 
816,000
Additions as of 1/27/2015 and Royal Rumble
184,648
Additions from free February
 
67,200
Additions from WrestleMania
 
100,000
Worst case scenario of sub count as of 3/31/2015
1,167,848
 
 
 
 
 
Beginning count as of 1/1/2015
 
816,000
Additions as of 1/27/2015 and Royal Rumble
184,648
Additions from free February
 
100,800
Additions from WrestleMania
 
150,000
Expected case scenario of sub count as of 3/31/2015
1,251,448
 
 
 
 
 
Beginning count as of 1/1/2015
 
816,000
Additions as of 1/27/2015 and Royal Rumble
184,648
Additions from free February
 
134,400
Additions from WrestleMania
 
200,000
Best case scenario of sub count as of 3/31/2015
1,335,048
 
 
 
 
 
Worst case count as of 3/31/2015
1,167,848
Attrition from free February and Wrestlemania (50%)
-83,600
Net 4% growth of base (Including free May)
46,714
Worst case scenario of sub count as of 6/30/2015
1,130,962
 
 
 
 
 
Expected case count as of 3/31/2015
1,251,448
Attrition from free February and WrestleMania (40%)
-100,320
Net 8% growth of base (including free May)
100,116
Expected case scenario of sub count as of 6/30/2015
1,251,244
 
 
 
 
 
Best case count as of 3/31/2015
1,335,048
Attrition from free February and Wrestlemania (30%)
-100,320
Net 12% growth of base (Including free May)
160,206
Best case scenario of sub count as of 6/30/2015
1,394,934
 
 
 
 
 
The OIBDA range per quarter for both the 1st and 2nd quarter is from $10-13 million. If the network after Q2 can maintain a minimal sub count of 1.2 million until the end of 2015, that will mean the subscription count grew 32% year over year. Also factor in that with each new sub added, the fixed unit cost to add that sub decreases and other revenues generators kick in. This will be explained further later on.
It's difficult for most investors, other than those named Warren Buffett, to hold good stocks for long periods of time. Even Rev. Emmanuel Lemelson, an extremely talented hedge fund manager who shorted the stock near the top and then went long near the bottom, recently sold his stock for a substantial profit. All of his stock moves occurred within 1 year. His thinking was as follows:
We didn't sell because we think the WWE franchise doesn't have tremendous value. We continue to stand by our position since the original short thesis back in March 2014, that what's needed is either a change in leadership or sell the company. This is a legacy company with a legacy culture and legacy DNA. You can't take an industry like professional wrestling and live events and simply transpose on top of it, as if it were a technology company in Silicon Valley that is going to lead the way in content distribution in a new paradigm.
However, as good an investor as Rev Lemelson is, and you're never wrong to take a profit, I have a different view of the Network. In a Variety article by Marc Graser, dated February 25th, Michelle Wilson, WWE Chief Revenue and Marketing Officer stated, "36% of WWE users access the network on tablets and smartphones." The article goes on to explain that the Network launched on around a dozen other platforms including Samsung and Sony smart TVs, Microsoft's Xbox videogame consoles, Sony's PlayStation gaming devices, Amazon Fire TV, Apple TV, and Roku boxes.
In other words, WWE Network is not a technology company looking to transform itself into a new paradigm, but a company looking to take advantage of the technology created in Silicon Valley as the consumer shifts to evolving technologies to view content. While adopting new technologies to view the WWE product, the old fashion way of viewing the product, cable, is still the main driver of the company's revenue. The analogy I use is much akin from the evolution of communication from the radio to black and white television to color television to ad infinitum.
The proof is in the pudding as revenue in the 4Q of 2014 for the Network was $23.3 million versus the 4 Q of 2013 PPV of $15.7 million. At an average of 1 million paid subs over 2015, revenue from the Network will be $120 million versus last full year of PPV in 2013 of $87.5 million (37% increase). Additionally, WWE has $105 million more in cable contracts through 2018. Even in the worst case instance where the Network peaks and stays at 1 million subs, the cable contracts alone will bring the company into profitability.
So now the $64,000 question: What are the future prospects of the network?
Forever: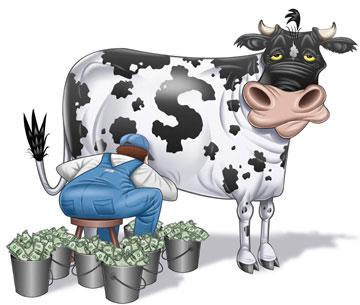 The drivers of future growth for the network are numerous. There are impulse merchandise sales brought about only because after viewing content the store is on the network site. Ad revenue, although minimal at this time, will grow based on management's assessment of how to be as nonintrusive as possible, but still be able to create an additional revenue stream. In using the Netflix model, WWE can create new network series that draw particular segments of the WWE Universe to the network on a weekly basis. All us fans have an idea as to what would be great. A monthly podcast with Stone Cold. I like a series involving Sting and Undertaker where these Superstars use their dark powers to save the Universe. George Barrios stated that "there is about a hundred that we're thinking about." That is what having control over content brings...ideas. With that control the company has expanded its global reach over 3 times. There are over 3 billion individual users online versus just over 900 million of cable viewers. It's the improvement in streaming technology that even made the Network possible. As an ever evolving technology streaming quality will only improve.
Going forward, it's the drill down capability specific to countries where the Network becomes popular that looms as the greatest potential driver to adding to the Network sub count. As the numbers play out WWE management should best be able to decide where to spend additional capital. Whether it's the U.K., India, Mexico, Japan or where ever, adding broadcasters who speak in native languages, starting developmental NXT leagues and/or using existing wrestling infrastructure to add content specific to that country on the Network (an icon linked to that country) are just a few ways to go. With expansion of the Network sub count, other aspects of the WWE business generate more revenue including live events, merchandising and movies. It goes from the point now where WWE is just picking the low laying fruit to climbing the tree to pick up the sweetest of fruit. This will involve a larger capital expenditure by WWE.
The WWE is a generational product that depends on its basic staples of RAW and Smackdown to promote the Network. From the Variety article and per Michelle Wilson:
Direct-to-consumer should not come at the expense of other models. We are very keen on making sure our content that goes (to NBCU's USA Network and Syfy, for example) delivers a certain value. We enjoy our partnership with NBCU. We nurture that partnership very delicately.
To that end, the cycle continues where eventually the network is transformational and becomes a cash cow that keeps on giving.
Disclosure: The author is long WWE.
The author wrote this article themselves, and it expresses their own opinions. The author is not receiving compensation for it (other than from Seeking Alpha). The author has no business relationship with any company whose stock is mentioned in this article.