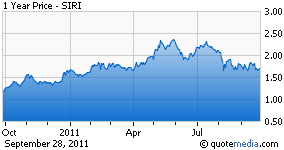 I often hear the mantra that "Content is King" when it comes to audio entertainment. Many investors and consumers assign that tag to Sirius XM Satellite Radio (NASDAQ:SIRI), and in many ways this mantra has been true. However, over the past two years there have been shifts in the marketplace that have made Sirius XM content less exclusive, and despite this, the company is still adding paying subscribers at a decent pace. So how is it that the company is still growing like it is even if content is becoming less and less Exclusive?
The answer is in the ease of use. Sirius XM is simply there, in the dashboard, with all of the content anyone could want in one place, while the rest of the audio entertainment world is still fragmented. Thus Content is no longer king, instead it is easily accessible content that is king.
I can already see some readers thinking that I am insane by stating that Sirius XM's content is getting less exclusive. For those readers I offer the following:
Music (in some cases commercial free) is available on many platforms including terrestrial radio, HD radio, Internet radio, and iTunes. The same songs are available in a myriad of ways, but getting to them in one place is where the advantage is.
Many news channels on Sirius XM have their own apps for smart phones. CNBC, Fox News, CNN, MSNBC, and virtually any news station is available through other sources or a dedicated app on virtually any

smart phone. A few years ago CNBC was a satellite radio exclusive in audio entertainment. That is no longer the case. What still keeps people subscribing to Sirius XM is the fact that it is easy to get to on the service.

Sports are also something that is becoming less exclusive. Most fans tend to live in the same geographic area where their favorite team is located. This means that many fans can listen to the games for free on a local basis through terrestrial radio. In addition to this many teams also have apps that

smart phone users can access their favorite games on. With the NFL Verizon has an interesting deal that not only allows users to listen, but in many cases stream the video of the game. Once again however, the advantage Sirius XM has is not exclusiveness with the content, but rather an easy place, or one-stop-shop, for consumers.

Sirius XM works in the dashboard seamlessly along with terrestrial radio. In the automobile Sirius XM and terrestrial dominate. This dynamic is changing with

smart phone integration, but true integration in enough cars to make a material difference is years away. For the foreseeable future Sirius XM can still thrive in the dashboard. It is the ease of use that is key.
Certainly, with the advent of more and more interesting audio entertainment options, the uniqueness of Sirius XM is not what it used to be, but the ease of use is one dynamic that Sirius XM has that will not disappear any time soon.
Some will argue that Sirius XM should not be compared to other audio entertainment options. Typically those with such a stance rest their argument on "content" or the fact that Sirius XM is in the dashboard and most of these others are not. That stance currently has validity, but is eroding as other services become integrated into cars themselves. This is the exact reason why it is so important to monitor these other services now.
I take a lot of heat from passionate Sirius XM fans and investors because I somehow have the "gaul" to speak about other services in the same breath as Sirius XM. Having been invested in this equity for many years I can remember a time when terrestrial radio had the same attitude about satellite. Because I have followed this equity for so long, and remember those days, I will always treat an "up-and-coming" competitor with a healthy amount of respect. Having seen what Sirius XM has accomplished, and having seen how it almost ceased to exist, I will always watch the audio entertainment landscape closely.
The simple fact that I can appreciate the great job Slacker has made does not mean I think any less of Sirius XM. When Spotify announces 2 million subscribers it is not an indictment on satellite radio, and Pandora (NYSE:P) launching their updated website does not means churn at Sirius XM will suddenly rise. These are simply events that need to be considered in perspective.
Sirius XM is a solid company that has established a good track record over the past couple of years. With their current debt structure and lack of capital expenditures the company is poised to impress the street. The key is knowing where the advantages are. Satellite delivery, ease of use, and the advent of Satellite Radio 2.0 are advantages investors can bet on.
Disclosure: I am long SIRI.