The market is focusing on geopolitics this morning as Iran has worked its way back to the front pages of newspapers. Iran claims that it could have a deal to announce with the West in the very near future and this has put pressure upon Brent Crude prices. With sanctions lifted, Iran would be able to sell oil on the open market rather than selling through back channels, which is what it has been doing since the West hit it with the latest sanctions.
While the Chinese rate cut does signal to markets that the economy in China is weaker than it should be, the good news is that the Chinese appear serious about providing the necessary environment for economic growth to ramp up. Long term, this should be good news for commodities such as copper, iron ore and oil.
We hope that those who purchased the SPDR Gold Trust ETF (NYSEARCA:GLD) and other gold ETFs are booking some profits because it appears that we are going to once again test the $1,200/ounce level.
Chart of the Day:
While the energy sector as a whole remains under pressure, PDC Energy (NASDAQ:PDCE) is once again showing strength in a very weak market. It is one of the few green arrows on our screen at this point.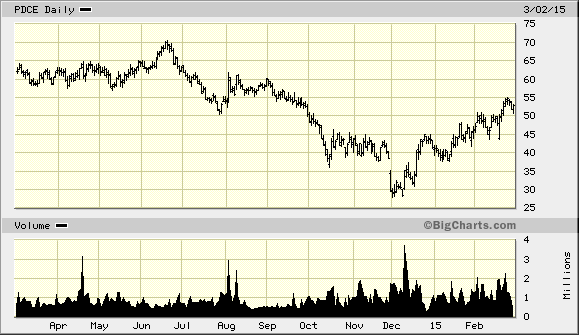 Source: BigCharts
Commodity prices are as follows (at time of submission):
Gold: $1,208.40/ounce, down by $4.70/ounce
Silver: $16.525/ounce, down by $0.033/ounce
Oil: $50.36/barrel, up by $0.60/barrel
RBOB Gas: $1.9224/gallon, down by $0.0555/gallon
Natural Gas: $2.749/MMbtu, up by $0.015/MMbtu
Copper: $2.703/pound, up by $0.0115/pound
Platinum: $1,189.70/ounce, up by $4.10/ounce
Shale E&P Announces Secondary
Goodrich Petroleum (NYSEMKT:GDP) announced that the company would have a secondary offering consisting of 12,000,000 common shares. The proceeds from the sale will be used by the company to pay down credit facilities and continue drilling efforts. We suspect that this offering is just the tip of the iceberg for offerings in the industry, as there are a number of E&Ps which we believe would be able to boost market confidence simply by issuing new equity to shore up the balance sheet.
While it seems counterintuitive that issuing new equity would have the effect of boosting equity values down the road, that is precisely our argument based on the idea that some of these names might not be able to survive if prices head lower again or remain at current levels for an extended period of time. It is better to own a smaller share of a company that survives than your current ownership of an entity that fails.
As we look at the industry, those who have already performed secondaries in recent years, including EV Energy Partners, LP (NASDAQ:EVEP-OLD), we think will fare better than those simply trying to survive off of cash flow from operations and lines of credit. EV Energy Partners was lucky to have sold equity when they did, and when we look back at Goodrich Petroleum in a year or two, we suspect that we will be able to say the same thing.
Railroad Announces Successor
Norfolk Southern (NYSE:NSC) announced that the company's President, James Squires, will take over for current CEO Charles Moorman. Mr. Squires will assume the CEO role on June 1, 2015, but Mr. Moorman will retain his Executive Chairman position on Norfolk Southern's board of directors.
Mr. Squires is just the latest CEO hire in Corporate America to have come through the ranks via the legal department. He has been the company's President since 2013. Mr. Moorman has served as the company's CEO for roughly 9 years.
Disclosure: The author is long EVEP, PDCE.
The author wrote this article themselves, and it expresses their own opinions. The author is not receiving compensation for it (other than from Seeking Alpha). The author has no business relationship with any company whose stock is mentioned in this article.
Additional disclosure: Both EVEP and PDCE have previously been recommended.