"Accounting for Value"
(2011), by Columbia Business School professor Stephen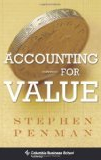 Penman, is a delightful, must-read for value investors and will surely prove to be a book that investors keep within reach. Professor Penman has essentially written a manifesto on the importance of using proper accounting to properly account for value, that is, to use common sense, avoid speculation, and adhere to the creed of distinguishing value from price. Similar to Graham & Dodd, and Martin Whitman, Penman adds to the repertoire of value investors.
The historical, practical, and case study-like presentation of material allows investors to see the accounting behind Penman's valuations of companies like General Electric (NYSE:GE), Cisco Systems (NASDAQ:CSCO), and Starbucks (NASDAQ:SBUX). No need to be concerned with FCF discounting and elaborate models -- happily, since I have never been a fan of guesstimating and finessing numbers. Penman says don't take your model literally; challenge the stock price (i.e. others' valuations). And he has a fitting quote from Benjamin Graham in
The Intelligent Investor
, in short, "... the combination of precise formulas with highly imprecise assumptions can be used to establish, or rather justify, practically any value one wishes, however high, for a really outstanding issue."
Readers will come to appreciate Penman's mantra of understanding what you know and separating it from speculation.
While the book (excluding notes and the index) is just over 200 pages long, it is so rich with insight and recent real examples that readers will not want to race through it, and may find themselves looking to read it again at least once more (and probably referencing some sections thereafter). I certainly am. Hopefully
Accounting for Value
will be widely read among accountants (especially in standards setting) in the U.S. and overseas. For instance, for those who may think fair value accounting offers a solution to the market's problems, you will probably change your mind after reading Penman's take. Also, readers won't be surprised or disappointed to find a lot of apt references to Graham (who taught at Columbia) and at Penman's attempts at humor while talking accounting. Penman: "Our valuations have heeded Benjamin Graham's warning --
beware of valuation models.
It goes without saying that I recommend
"Accounting for Value
." However, as much as I am intrigued by the book, I find myself still embracing more Whitman's approach of considering potential resource conversion activities and being more concerned with balance sheet quality and values than the income statement -- this is somewhat similar to Penman's no-growth scenario. Obviously such an approach has merit in select cases. In addition, I spend a lot of time going through proxy statements, which in terms of management quality and compensation Whitman has far more to say; this is really out of the scope of Penman's book. (See
my reviews of Whitman.
)
Nevertheless, allow me to reiterate my high regard for "
Accounting for Value
."
Disclosure: I am long GE.