Is Now The Time To Pounce On The Pot Business?
Summary
Medical marijuana is a promising investment opportunity in the cannabis market, but faces the challenge of legalization in the U.S.
Mores states are legalizing the use of cannabis which brings it closer to federal legalization. D.C. is the latest state to do so. This could trigger interest from big pharma companies.
The legal process is opening up new opportunities for companies in the licensing and planning consultancy services market.
Some analysts predict that medical marijuana market could be worth more than $12.5 billion in revenues by the year 2020, with the overall cannabis market estimated at $35 billion.
Introduction
The U.S. District of Columbia joined a handful of other states that have legalized controlled usage of marijuana, "cannabis" or "pot". Oregon is expected to join the list in July this year, and several other states are tipped to show interest by the end of the year. Nonetheless, the product still faces a huge challenge toward national legalization in the country.
The year 2013-2014 was marked with a flurry of activity in the medical marijuana industry. Several investors expressed optimism in medical marijuana stocks in the process driving their prices to record highs, which analysts now identify as overvalued, particularly due to low revenue levels.
However, the industry seems to have taken a step back this year as many stocks continue to lose significant amount of the gains garnered last year.
Nonetheless, recent developments suggest that the legalization process in the cannabis market could be about to speed up, which then opens doors for investors, companies and consumers to drive growth. By the rule of thumb, increased legalization is likely to trigger interest from other states, thereby increasing the chances of federal legalization.
Current Industry Status
Currently, the cannabis market attracts different types of businesses. The most talked about form of investment in the cannabis industry is medical marijuana, which as pointed earlier, triggered a flurry of investment activity in the last two years.
Companies like GW Pharmaceuticals (GWPH) were among the beneficiaries of that boom, as the price per share rallied from $9.00 per share to $103 per share between July 2013 and June 2014.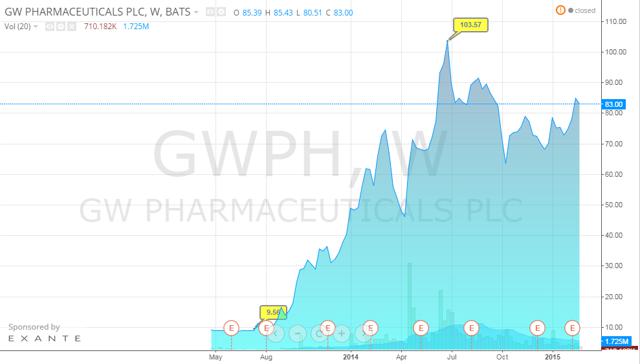 GW Pharmaceuticals has been one of the top medical marijuana stocks over the last few years, with its flagship cannabis drug Sativex. The drug is made from a mixture of CBD and THC, which are found in marijuana, and has been approved or been recommended for approval in 24 countries to treat spasticity in patients with multiple sclerosis and cancer.
The company has also developed another CBD-based drug candidate Epdiolex that is currently helping pediatric epilepsy patients as a last option method of treatment. This is primarily because with cannabinoids, the risks are high but in cases where the patient has no option (risk death without medication) then such drugs as Sativex and Epdiolex become useful.
Currently, apart from legal challenges, cannabinoid drugs have found it hard to generate meaningful revenues, primarily due to the risks associated with their use. For instance, Sativex managed to generate just about $5.5 million in revenues on the first nine months of 2014.
Additionally, there is the challenge of funding for drug development. Most medical marijuana industry companies are small and lack the financial muscle to develop several drugs for clinical trials. Others are already carrying a huge debt on their balance sheets.
Take an example of Cannabis Science (OTCPK:CBIS), which already has a debt of $2 million against $11k worth of annual revenue, and Medical Marijuana Inc. (OTCPK:MJNA), which has a debt of $10 million against $14 million worth of annual revenue. This just shows the level of leverage for these companies, a fact that could prove to be the Achilles heel when it comes to product development and funding for clinical trials.
In fairness, GW Pharmaceuticals appears financially stable with a cash flow of $241 million and a debt of $2.9 million. The company is generating decent revenues too, at $47 million, but generally, GWPH, which has a market value of $1.64 billion cannot be compared with the likes of Medical Marijuana and Cannabis Science.
What are the Current Prospects?
The cannabis industry may have taken a step back over the last few months, but based on retail revenue projections for both medical and adult use, the industry appears to be primed for growth over the next five years.
According to a research study done by Green Wave Advisors, the overall marijuana retail market could eclipse $35 billion in revenue by the year 2020. The medical marijuana market is projected to eclipse $12.5 billion in retail revenues in the next five years.
Currently, the revenue generation from medical marijuana products is still paltry on a company-to-company basis, while adult consumption continues to thrive in the black market.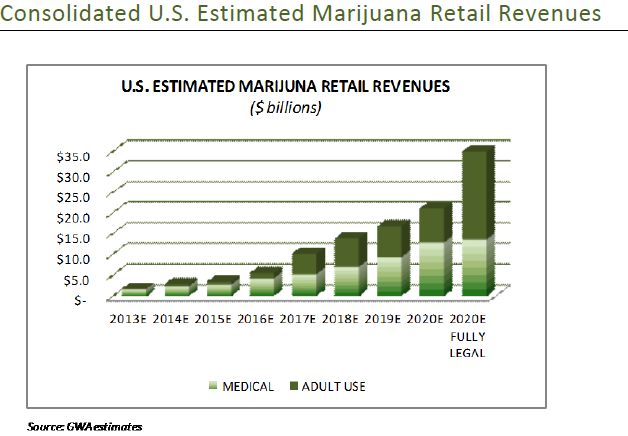 The estimates by Green Wave Advisors consider a federal legalization which covers the 50 states and DC. Currently, 23 states have legalized marijuana as a plant, but in terms of consumption and other uses, the legal process is still grey. It is currently being done on state by state basis.
Some states have identified various diseases that marijuana could be used for treatment, including HIV/AIDS, Glaucoma, PTSD, Cancer, Chronic pain and Cachexia, among others. Some of these are chronic diseases, which require prolonged treatments, and hence could be very viable candidates for medical marijuana drugs.
Should Big Pharma Companies Join the Market?
GW Pharmaceuticals is currently the largest medical marijuana company in the market. However, as the legislation process continues to ease for companies to come in, large pharmaceutical players could show interest in the coming years.
The challenge has been the issue of legalization, and because these big pharma companies are publicly traded and have several projects for which to direct their investments, the idea of investing in medical marijuana has not been forthcoming to them. The revenue levels are low and cannot justify the opportunity cost of leaving out another product that is likely to receive approval by the FDA.
Therefore, companies like Bristol-Myers Squibb (BMY), which in my opinion have a lineage towards cannabinoid drugs, could join the medical marijuana industry upon federal legalization. The company's cancer drug Taxol was discovered in the Pacific yew tree, which makes it a plant product. On the other hand, various opiate painkillers such as morphine and codeine are extracted from opium poppy.
AbbVie (ABBV) also has a drug that carries some elements similar to those found in medical cannabis. Its drug Marinol contains synthetic THC, and is FDA approved. It is used by patients with HIV/AIDS to boost appetite. Reports also show that the drug is used off-label for cancer patients.
Therefore, medical marijuana has several precedents that could be used by drug developers to come up with innovative ways of making drugs from cannabis.
Legalization Process Creates More Investment Opportunities
With the legalization of cannabis hitting top gear in the U.S., another form of business opportunity is created. Just like we have witnessed with D.C. and other states where cannabis is legalized, there are certain limitations and requirements that need to be observed.
This creates a business opportunity in the legal framework and consultation market segments in the cannabis industry. Therefore, a company like American Cannabis Company (OTCQB:AMMJ), which specializes in business planning and market assessment services, as well as state licensing procurement and creation of business infrastructure and operational best practices, could be one of the under-the-radar beneficiaries.
Several companies both existing and new start-ups would be looking to establish a foothold in this new and developing business space within the borders of U.S., and hence, they are bound to seek the services of business planning, marketing and licensing experts. American Cannabis Company fits the bill in that respect, thereby giving it an ideal opportunity to ramp up revenues in the next few years.
Conclusion
The cannabis industry faces two major obstacles, which include legal framework and monetization of medical marijuana. These have contributed to the slowness in revenue generation over the last few years.
However, companies are beginning to introduce new methods of drug manufacturing, which could play in the hands of medical marijuana. This is also crucial in keeping drug development costs under control, while at the same time increasing the chances of approval by various drug approval bodies around the world.
Legalization in the U.S. seems to be gaining momentum, with more states expected to show interest in the coming months, thereby paving way for legalization in the next few years.
Based on federal legalization, revenue projections are compelling which means it could be a huge opportunity to invest in the pot business at its lowest level now. Nonetheless, from the point of view of the investor, a majority of the companies participating in this market still remain highly speculative. The big pharma players could, however, join in the event of full legalization in the U.S.
The bottom line is that if the industry can overcome these two challenges, then now could be a good time to invest in the pot business.
Editor's Note: This article covers one or more microcap stocks. Please be aware of the risks associated with these stocks.
This article was written by
I am a financial analyst and private investor with a primary focus on high-growth stocks. My portfolio is mainly made up of small caps, but there are also a few blue-chip picks. When I am not investing or writing about investments, I probably have a good time with my family. NB: Investment opinions are just opinions. I am not a registered financial advisor.
Analyst's Disclosure: The author has no positions in any stocks mentioned, and no plans to initiate any positions within the next 72 hours. The author wrote this article themselves, and it expresses their own opinions. The author is not receiving compensation for it (other than from Seeking Alpha). The author has no business relationship with any company whose stock is mentioned in this article.
Seeking Alpha's Disclosure: Past performance is no guarantee of future results. No recommendation or advice is being given as to whether any investment is suitable for a particular investor. Any views or opinions expressed above may not reflect those of Seeking Alpha as a whole. Seeking Alpha is not a licensed securities dealer, broker or US investment adviser or investment bank. Our analysts are third party authors that include both professional investors and individual investors who may not be licensed or certified by any institute or regulatory body.