BP plc (NYSE:BP) just cannot recover like the rest of the industry. It is down almost 43% from its five-year high and is still off its one year high by 23.29%. The 5.93% one year loss hasn't been pretty either:
Click to enlarge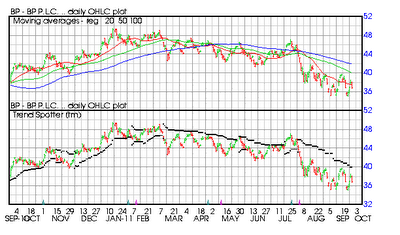 BP provides fuel for transportation, energy for heat and light, retail services, and petrochemicals products.
Its Exploration and Production segment engages in the oil and natural gas exploration, field development and production; midstream transportation, and storage and processing; and marketing and trading of natural gas, including liquefied natural gas (LNG), and power and natural gas liquids (NYSE:NGL). This segment has exploration and production activities in Angola, Azerbaijan, Canada, Egypt, Norway, Russia, Trinidad and Tobago, the United Kingdom, and the United States, as well as in Asia, Australasia, South America, North Africa, and the Middle East. This segment also owns and manages crude oil and natural gas pipelines; processing facilities and export terminals; and LNG processing and transportation, as well as NGL extraction facilities. BP has interests in the Trans-Alaska pipeline system, the Forties pipeline system, the Central Area transmission system pipeline, the South Caucasus Pipeline, and Baku-Tbilisi-Ceyhan pipeline, as well as in LNG plants located in Trinidad, Indonesia and Australia.
The company's Refining and Marketing segment is involved in the supply and trading, refining, manufacturing, marketing and transportation of crude oil, petroleum and petrochemicals products and related services to wholesale and retail customers primarily under the BP, Castrol, ARCO, and Aral brands.
Its Other Businesses and Corporate segment produces and markets rolled aluminum products, as well as generates energy through wind, solar, biofuels, hydrogen and carbon capture and storage sources; and engages in shipping activities. The company was founded in 1889 and is headquartered in London, the United Kingdom. (Yahoo Finance profile)
Factors To Consider
Barchart technical indicators:
72% Barchart technical sell signal
Trend Spotter sell signal
Trading below its 20, 50 and 100 day moving averages
23.29% off its one year high and 42.83% off its five-year high
Relative Strength Index is 43.83 and just barely increasing
Barchart computes a technical support level at 35.42
Recently traded at 36.88 which is below its 50 day moving average of 39.87
Fundamental factors:
Wall Street brokerage analysts project revenues to increase by 16.20% this year and another 4.00% next year.
Earnings consensuses aren't notable with only a 3.50% increase forecast for this year, 2.90% next year and a 3.85% annual increase for the next five years.
Despite these lackluster projections analysts have still published four strong buy, seven buy, four hold and no negative recommendations for their brokers to push to clients.
Production is still down by 10% from the pre-Gulf fiasco.
The bright spot for value investors is that stock has a P/E ratio of only 5.19 and a 4.55% dividend rate.
The P/E ratio is half both the market and BP's own median ratio and the dividend is only 25% of projected earnings.
General investor interest:
This has been a widely followed stock with the readers of Motley Fool with over 5,252 readers expressing an a opinion on this stock.
Also, 94% of the readers think the stock will beat the market and the more experienced All Stars voted 96% for the same result.
It is interesting to note the results of the only 94 short sellers on the site. The site rates which picks made the most money on this stock and the top 10 readers were all short sellers of the stock.
Competitors and sector leaders:
BP's loss of 5.93% in the last year does not compare to competitor gains, such as Chevron (NYSE:CVX) up 16%, Exxon Mobil (NYSE:XOM) up 18% and Royal Dutch (RDS) up 18%.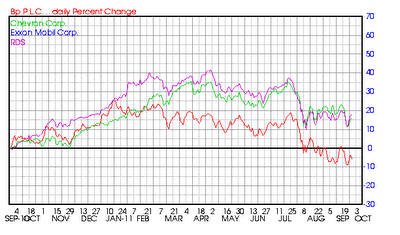 BP is a member of the SIC 2911 Petroleum Refiners sector and some in this sector are up significantly. Namely, CVR Energy (NYSE:CVI) up 192%, Western Refining (NYSE:WNR) up 173%, Holly Frontier (NYSE:HFC) up 97% and Teso Petroleum (TSO) up 57% according to this chart provided by Barchart:
Click to enlarge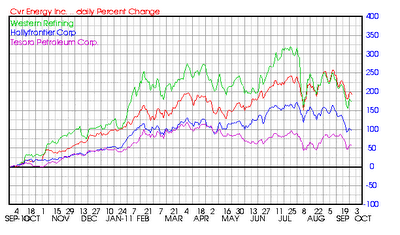 Summary - BP just can't get any respect. Although brokerage analysts still have positive recommendations on this stock, it's based more on price recovery to a former P/E ratio and less on sales and earnings increase forecasts. With production down and Gulf lawsuits still not fully settled you might want to look at the four other sector leaders mentioned above if you want to put a bet in this sector.
Disclosure: I have no positions in any stocks mentioned, and no plans to initiate any positions within the next 72 hours.