European banks are the latest casualties of the EU Sovereign debt crisis, reflecting fears that these institutions have too much exposure to sovereign bonds issued by the fiscally weak PIIGS (Portugal, Italy, Ireland, Greece and Spain). Investors worry that a sovereign default could overwhelm these banks' capital reserves, necessitating another government bailout.
Click to enlarge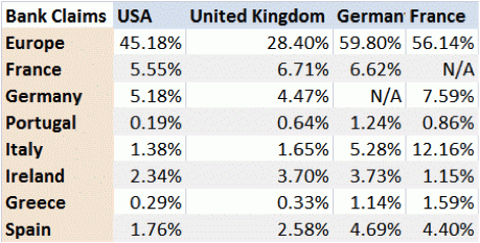 Source: Bank of International Settlements

This table breaks down of foreign claims of banks from the U.S., U.K., Germany and France. These claims include direct exposure to sovereign bonds and debt issued by European corporations.

U.S. banks have total foreign claims of almost $3.1 trillion, roughly 45 percent of which are from Europe. The majority of this exposure is to core EU economies such as Germany and France. As you can see, U.S. banks' direct exposure to the PIIGS is modest.

German and French banks, however, have far more direct exposure to the PIIGS. Note that this data is from March 31, 2011, and doesn't reflect any moves financial institutions may have made to reduce their exposure to these fiscally challenged nations. Based on this data, it's easy to understand why shares of prominent EU banks have sold off precipitously over the past few months.

Let's consider the worst-case scenario. If Greece fails to secure its next tranche of aid, the country would be forced to default on its debt. Not only would this default ratchet up the pressure on the other fiscally weak nations in the eurozone, but banks would also be forced to raise significant amounts of capital after taking a haircut on these sovereign bonds. Some of these financial institutions would likely require a government bailout. This theme has been one of the reasons why InvestingDaily.com analyst, Jim Fink has been bullish on the U.S. dollar in relation to the euro since May 2011.

Although U.S. banks have less direct exposure to the PIIGS, questions about the stability of Europe's major financial institutions would heighten concerns about counter-party risks and push up borrowing costs in the interbank lending market.

Fortunately, this worst-case scenario likely won't come to pass. EU leaders understand the potentially severe repercussions of a disorderly Greek default and will continue to address the problem. Although unpopular austerity measures have deepened Greece's three-year recession, Prime Minister George Papandreou recently announced another round of budget cuts that will enable the country to meet the deficit reduction goals required by international lenders.

Moreover, the EU has already agreed to enhance the powers of the European Financial Stabilization Fund (EFSF), enabling the bailout fund administrators to reduce these nations' borrowing costs by buying their sovereign bonds in the secondary market. Now, individual parliaments must approve the measure.

Moreover, the European Central Bank (ECB) has already started Italian and Spanish government debt on the secondary market in an effort to reduce the embattled nations' borrowing costs.
Click to enlarge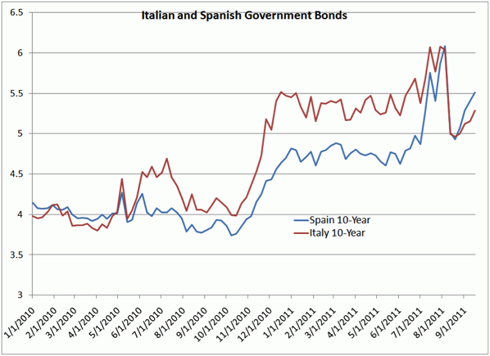 Source: Bloomberg

The ECB's efforts have paid off. When the yield on 10-year sovereign bonds issued by Italy and Spain topped 6%, the central bank entered the market and has lowered these yields to sustainable levels. Until European parliaments authorize the enhancements to the EFSF, the ECB has the wherewithal to combat pressures in these critical bond markets.

Although the EU and European banks would be able to weather a Greek or Portuguese default, the potential effects of Italy and Spain defaulting would prove too much to bear. Expect the ECB and EFSF to do what it takes to prevent the credit contagion from endangering Europe's core economies and financial system. The approval of an expanded EFSF would be a welcome upside catalyst for European equities and would likely alleviate fears of a global credit crunch.

Bottom line: The potential fallout from a European sovereign default is frightful to ponder, but credit markets outside Europe haven't ceased to function yet.

Disclosure: I have no positions in any stocks mentioned, and no plans to initiate any positions within the next 72 hours.