As of the last update, the $10,000 portfolio that I am looking to double by the end of the year owns just one position - cash, valued at $17,502. That's a 75% gain in just over a month. Not too shabby.
Prior to the my most recent profitable Apple (NASDAQ:AAPL) trade - good for a gain of $645 - here's how I delivered the 75% run:
Click to enlarge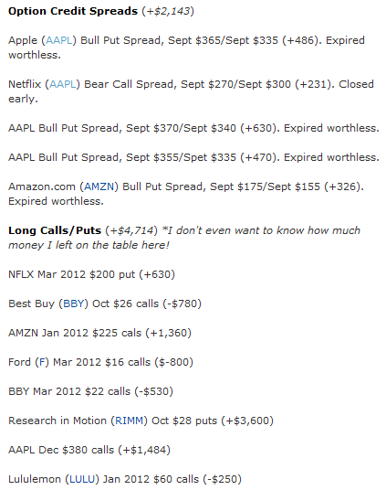 The majority of the gains resulted from strength in AAPL and AMZN and weakness in NFLX and RIMM. BBY and F represent the worst calls I made.
As I look to double this thing, I've found myself torn between using more options spreads and doing something not only completely different, but somewhat out of my comfort zone (e.g., going with stocks I don't follow much or shorting via stock, not options).
I've decided to go with the latter and step out of my comfort zone. While I could just ride my success predicting moves in AAPL, AMZN, RIMM and NFLX the rest of the way, that's too easy. I might just risk the double in the process, but that doesn't really matter much to me. I think the success thus far, via a mix of strategies, speaks for itself.
The first move I'll make is to go long FedEx (NYSE:FDX). The stock has been decimated this year, but I think, particularly with the holidays coming, it's poised for a considerable rebound. While I look at RIMM and NFLX as value traps, I consider FDX a true value play.
Chart courtesy of FreeStockCharts.com
Because of FDX's price relative to the $10,000 portfolio's cash balance, I'll use options to get long. Using Wednesday's closing price, I'll buy five FDX April 2012 $67.50 calls for $8.90 each. That's a debit of $4,450, bringing the $10,000 portfolio's cash balance to $13,052. For the record, I am not using a hard stop here, rather a mental one at roughly $7.00.
I've been kicking myself a lot lately. I called the two shorts of 2011 - RIMM and NFLX - yet I did not profit from either. Shortly after Sirius/XM (NASDAQ:
SIRI
) hit its 52-week high of $2.44, SIRI began to deteriorate. When it failed to hold in the $2.30s in mid-July, it was clear the downward trend was intact. I closed my long positions, but did not short the stock. Looking back, that was a bad move, given that SIRI closed trading on Wednesday at $1.66.

Normally, I would just leave a situation like this one alone. Often, when you fail to pull the trigger in the first place, it does not pay to chase a play. In this case, however, the trend remains decidedly bearish with SIRI set to breach $1.50. As such, I am shorting 5,000 shares from $1.66 in the $10,000 portfolio.
I have an initial target of $0.20 and, while I will not use a hard stop, I'll think about covering if the stock hits $1.80 and finds support there. Sirius XM reports earnings on or around October 31st. I'll likely cover the position prior to that report, as to not get caught up in any type of run. That said, I might take my chances, as I expect a pull back post-earnings, regardless of how the stock reacts to the report. It will all depend on how the trade - and the overall portfolio - looks come the end of the month.
We'll say the trade costs $8,300 instead of messing with margin. As a result, let's call the new cash balance in the $10,000 portfolio $4,752.
I think a breach by SIRI of $1.50 sits on the horizon. There's more going on here than a stock trading down with the market. If you compare SIRI's performance to that of the DOW, the S&P 500 (NYSEARCA:
SPY
) and the NASDAQ 100 (NASDAQ:
QQQ
) it's quite clear that it has woefully underperformed each index, particularly the Qs, which it recently became a part of.
Here's graphic proof, courtesy of Yahoo! Finance:
After the success I have seen with AAPL, AMZN, RIMM and NFLX, I have had people messaging me with kudos, thanks and even offers for free beers. While I appreciate the sentiment, I always intend these portfolios for educational purposes, as a starting point for further research and as a way to trigger investing ideas. I mean that now more than ever.
First, I am stepping out of my comfort zone. When I was calling moves in AAPL, AMZN, RIMM and NFLX, I was pretty certain I would come out smelling like a rose. All runs, however, must come to an end. And, even though I feel strongly about going long FDX and short SIRI, I am (A) moving away from what has been working and (B) making relatively risky plays to spice up the action. Consider that as you continue to follow along with this, thus far, successful experiment.
Disclosure: I have no positions in any stocks mentioned, and no plans to initiate any positions within the next 72 hours.