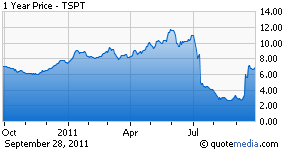 After the market closed on Tuesday, Transcept Pharmaceuticals (TSPT) announced that the company has resubmitted the New Drug Application for Intermezzo® to the U.S. Food and Drug Administration.
The resubmission follows a meeting between Transcept and the FDA on September 14, 2011 to discuss issues raised by the FDA in the July 2011Complete Response Letter. The stock reacted well to that news following the news.
Transcept is developing Intermezzo® as a prescription sleep aid for use as needed when a middle of the night awakening is followed by difficulty returning to sleep. Transcept and Purdue Pharmaceutical Products L.P. have entered into a collaboration agreement for the development and commercialization of Intermezzo® in the United States.
The BioMedReports FDA Calendar shows that the company had announced this milestone earlier as part of a news release in which officials said that "based on discussion with the FDA, Transcept does not plan to conduct additional studies prior to the resubmission of the Intermezzo NDA and expects to resubmit the Intermezzo NDA by the end of September 2011." There is another upcoming (2012) milestone for the company involving phase II study results for Setrodon as indicated for Obsessive-Compulsive Disorder.
Today's resubmission of the Intermezzo NDA resulted from a meeting with the FDA during which the FDA generally agreed with a Transcept proposal to reduce the recommended Intermezzo dose for women from 3.5 mg to 1.75 mg, and to keep the recommended Intermezzo dose for men at 3.5 mg. The Transcept proposal also included new instructions stating that Intermezzo should only be taken if patients have at least 4 hours of bedtime remaining, and that patients should refrain from driving for at least 1 hour after arising and until 5 hours after dosing Intermezzo.
Transcept Pharmaceuticals, Inc. is a specialty pharmaceutical company focused on the development and commercialization of proprietary products that address important therapeutic needs in the field of neuroscience.
The company was founded by Nikhilesh Singh, who also developed and patented formulations for Vicks® Formula 44® and Nyquil® and was involved in the clinical development and FDA approvals of prescription drugs such as Flagyl® ER, Covera-HS®, Low-Ogestrel®, Celebrex®, and Watson's generic nicotine chewing gum. Dr. Singh is a winner of several P&G company awards for personal and team excellence and has over 30 publications in the field of formulations and clinical pharmacology. Dr. Singh holds a PhD in Pharmaceutical Sciences from the University of Alberta, Canada.
Of the 20 MIL outstanding shares, there are currently 353,300 shares short in the stock which must cover.
About 36.78% of the company's outstanding shares are owned by insiders and 28.70% are owned by institutions.
TSPT shares have been trading well under their recent volume average recently and they've been so at discounted levels; approximately -44% from their 52 week high of $11.88.
In addition, there have been quite a few insider buys in TSPT stock recently: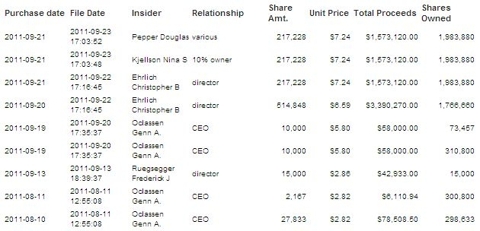 Disclosure: I have no positions in any stocks mentioned, and no plans to initiate any positions within the next 72 hours.