Buy Interoil Corp. (NYSE:IOC)
: IOC is an Australian energy company engaged in the refining, liquefaction, marketing and distribution of oil and natural gas in Papua New Guinea (PNG). Its shares were down 9.0% yesterday after PNG's Energy & Petroleum Minister William Duma stated that the project being built by IOC and its partners was different from the one it approved. He went on to add that the project is far from being a world class project of international scale and quality, and is instead a small-scale, fragmented LNG project using a combination of different production methods. Indeed, the source of the disagreement appears to be the size of the project, which IOC is planning at 2 million tons per annum (mtpa) and expandable to 8 mtpa, whereas the PNG government appears to be eyeing production of 7.6-10.6 mtpa.
At issue is that a larger project would require more capital expenditures, which would require more cash resources than IOC can currently muster. In that case, the worst- case scenario is that IOC cannot go ahead with the project, and in that situation it will have no ability to transport the gas to market. This would be a huge hit to IOC's future revenue and profitability, and
Seeking Alpha Contributor James Emerson
has estimated that in that situation IOC's mid-stream and down-stream businesses would generate roughly $1 per share annually, which would value the company in the teens. However, it is unlikely that this will happen.
There is speculation that Royal Dutch Shell (RDSA) is trying to get a toe-hold into this PNG project, and is orchestrating this whole drama in an effort to wedge its way into the project by influencing the PNG government to ultimately require that IOC sign on a larger world-class major integrated oil partner (such as Shell). Furthermore, on the bullish side, there is speculation that the underlying gas resource in PNG is higher than what is currently being factored into the stock price, and that revenue can easily be two to four times what is currently projected. Analysts are generally bullish on the company, with a mean target of $104, well above current prices in the low-$40s; and of the six analysts who currently cover the company, five rate it at buy and one at hold.
Buy Molycorp Inc. (MCP): MCP is engaged in the mining and processing of rare earth ores at the mountain pass facility near the CA/NV border. The rare earths are critical inputs in existing and emerging applications, including: clean energy technologies, such as hybrid and electric vehicles and wind power turbines; multiple high-tech uses, including fiber optics, lasers and hard disk drives; numerous defense applications, such as guidance and control systems and global positioning systems; and advanced water treatment technology for use in industrial, military and outdoor recreation applications.
MCP shares lost 8.7% yesterday, and have been on a roller-coaster ride recently after the stock fell sharply by 33% last week, triggered by a downgrade from JPMorgan (NYSE:
JPM
) analyst Michael Gambardella. Mr. Gambardella expressed the opinion that rare earth metal prices would weaken, and hence he cut his 2011 earnings estimate from $2.44 to $1.75 per share, and also reduced his price target to $66 from $105. We do not share Mr. Gambardella's pessimism on rare earth prices, and while the bubble will burst at some point when new mines outside China come online and the worldwide supply finally catches up with demand, we may still be years away from that. China currently produces 97% of the world's rare earth metals, and holds a stranglehold on prices.
Just the day before yesterday, the Chinese Ministry of Land Resources ordered even tighter controls on rare-earth sales under the guise of sustainable and healthy development. And anyone familiar with Chinese industrial development will be quick to realize that the real motivation here may be to milk the worldwide demand for higher prices while they still can, and as Tuesday's announcement indicates that strategy is not about to end anytime soon. As long as the Chinese government can set the prices for rare earths by virtue of its domination of the worldwide supply, we will probably remain in bull mode on rare-earth prices, albeit with some hiccups based on news flow.
We believe that MCP is a steal at current prices. In the most recent quarter, MCP earned 52cents, trouncing analyst estimates of 39cents, on the back of a 212% year-over-year increase in production volume at its Mountain Pass facility, a 314% year-over-year increase in rare-earth alloy prices, and the inclusion of two new subsidiaries that MCP acquired last quarter. Its shares trade at a very cheap 10 forward P/E, while profits are projected to explode from a 54cents loss in 2010 to $1.78 earnings in 2011 to $3.48 in 2012. Furthermore, it is important to note that many other analysts also do not share Mr.Gambardella's pessimism on rare earth prices. Of the seven analysts currently covering the company, five rate it at buy and two at hold, and their mean target is $85.60, well above yesterday's $35.28 closing price.
Besides MCP, investors with an appetite for the risk inherent in rare earth securities may also want to consider Rarer Element Resources (NYSEMKT:REE), a Canadian company engaged in the acquisition and exploration of gold and rare-earth elements in North America, and Avalon Rare Metals Inc. (NYSEMKT:AVL), also a Canadian miner engaged in the exploration and development of rare metals and minerals.
Sell Optimer Pharmaceuticals (NASDAQ:OPTR)
: OPTR focuses on discovery, development and commercialization of hospital specialty products such as products that treat gastrointestinal infections and related diseases. Its commercialized product portfolio includes only DIFICID that was launched in July for the treatment of Clostridium difficile-associated diarrhea (CDAD) in patients 18 years of age and older, and its lead product candidate includes Pruvel for the treatment of infectious diarrhea that is currently in phase 3 trials. DIFICID is the first approved drug in almost 25 years that targets CDAD, and it is the only drug that has demonstrated superiority to Vancocin, the long-standing treatment for CDAD that was approved by the FDA in 1958. CDAD afflicts more than 700,000 U.S. patients annually and is sometimes fatal.
OPTR shares were down 7.1% yesterday, now down 20% below the recent $17.95 high that the company set last Friday after a rally early August that saw share prices rise 164% in six weeks. The rally was driven by the
launch of DIFICID on July 19, the report that initial sales of DIFICID between July 19, and September 2, were $3.9 million, and the subsequent raising of the projection for DIF
ICID revenue for 2011 to $14.8 million from $9.8 million by an analyst at JMP Securities. We believe that at its peak last week at $840 million market-cap, OPTR shares have now captured most of the short-term potential from the DIFICID launch and early sales numbers. We believe that share prices will most likely remain range-bound in the interim, between $12 and $16, until the company can report two or more quarters of robust sales numbers that exceed current analyst estimates by a wide margin. Hence, we would be sellers here and look for opportunities elsewhere.
Camelot Info Systems (NYSE:CIS): CIS is a Chinese provider of customer relationship management and supply chain management software for enterprises. Its shares fell sharply by 17.9% yesterday after the
company guided down revenue and earnings
for the September and December quarters. Specifically, CIS guided September revenue down to $57 million (versus $61.6 million) and adjusted net income to $3.1 million (versus $9.5 million), and it also guided down fiscal year 2011 revenue to $237 million (versus $242.2 million) and adjusted net income to $23 million (versus $34 million).
CIS shares, as well as those of its Chinese IT services peers Vanceinfo Technologies (NYSE:
VIT
) and Isoftstone Holdings (NYSE:
ISS
) have been in a down draft and have fallen off steeply since April of this year. At a projected, say 50cents in earnings for 2011, CIS shares trade at 6-7 forward P/E; comparatively peers VIT and ISS trade at forward 8-9 P/E and forward 15 P/E respectively. However, both of its peers VIT and ISS have strong growth profiles going forward, whereas earnings at CIS are projected to fall year-over-year in 2011. Furthermore, an
article by Seeking Alpha contributor Ben Axler
last month advised caution on CIS given his findings on material weaknesses in the financial reporting. Hence, we would steer clear of this company here and instead look for better opportunities.
Other equities that experienced sharp declines in yesterday's trading included:
Ener1 Inc. (NASDAQ:HEV),
a manufacturer of rechargeable lithium-ion batteries and battery systems for energy storage, saw its shares dropping 23.5% yesterday after the company announced
changes to its senior leadership team
.
Home Inns & Hotels (NASDAQ:HMIN)
, a Chinese hotel manager operating over 800 hotels with over 90,000 rooms, and with 90 hotels under development, saw its shares fall 12.9%, on no company-specific news. However, please keep in mind that the shares of this Chinese small cap are volatile, and it operates and is exposed to the bubbly real estate market in China.
Biodel Inc. (BIOD),
is a biotech developer of treatments based on approved therapeutics indicated for endocrine disorders, including osteoporosis and diabetes. Its shares fell 16.7% after the company reported on Tuesday that top-line results from a phase 1 clinical trial did not meet company's target product profile, and hence the products would not be advanced into phase 2 clinical testing.
(CLick chart to enlarge)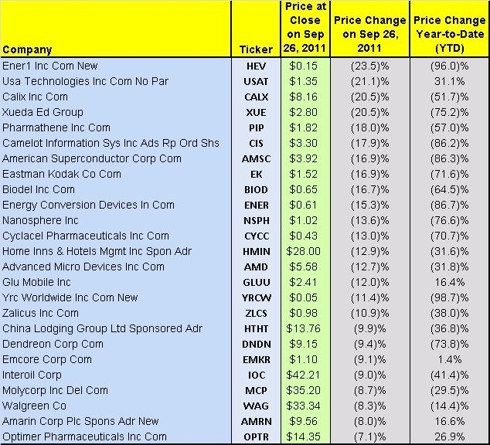 Credit: Historical fundamentals including operating metrics and stock ownership information were derived using SEC filings data, I-Metrix® by Edgar Online®, Zacks Investment Research, Thomson Reuters and Briefing.com. The information and data is believed to be accurate, but no guarantees or representations are made.
Disclosure:
I have no positions in any stocks mentioned, and no plans to initiate any positions within the next 72 hours.
Disclaimer: Material presented here is for informational purposes only. Nothing in this article should be taken as a solicitation to purchase or sell securities. Before buying or selling any stock you should do your own research and reach your own conclusion. Further, these are our 'opinions' and we may be wrong. We may have positions in securities mentioned in this article. You should take this into consideration before acting on any advice given in this article. If this makes you uncomfortable, then do not listen to our thoughts and opinions. The contents of this article do not take into consideration your individual investment objectives so consult with your own financial adviser before making an investment decision. Investing includes certain risks including loss of principal.