With a name like Yahoo (YHOO) you would expect to see great things but lately the stock has failed to live up to its reputation. Problems with upper management and sales management have not yet been solved and the new cadre has yet to perform. Recently the market has become forward looking and predicts the problems will be resolved and fall to the bottom line as this Barchart hourly trading chart reveals:
Click to enlarge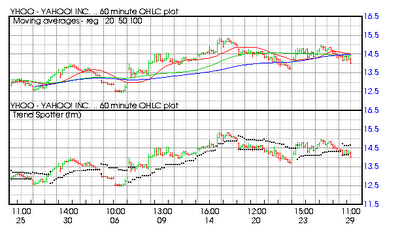 Yahoo, together with its consolidated subsidiaries, operates as a digital media company that delivers personalized digital content and experiences, across devices and worldwide. The company's communications and communities offerings provide a range of communication and social services to users and small businesses across various devices and through its broadband Internet access partners. Its search and marketplaces offerings provide answers to users' information needs by delivering meaningful search, local and listings experiences on the search results page and across Yahoo. Yahoo's marketplaces offerings and services enable users to research specific topics, products, services or areas of interest by reviewing and exchanging information, obtaining contact details or considering offers from providers of goods, services, or parties with similar interests.
Its media properties and services engage users with relevant online content and services on the Web. The company also offers advertisers targeted solutions, insights about their customer base, and tools that leverage those insights for optimized program performance; marketing services to advertisers across a majority of Yahoo Properties and Affiliate sites; display advertising, search advertising, listing-based services, and commerce-based transactions; and customized and relevant advertising.
In addition, it provides software and platform offerings for third-party developers, advertisers and publishers. Further, the company offers the display of graphical advertisements, text-based links to advertisers' Web sites, and other sources. Additionally, it enables users to publish their content on any topic and distributes that content through its Web site and content partners. The company has strategic alliances with Samsung (OTC:SSNLF) and Nokia (NYSE:NOK). Yahoo Inc. was founded in 1994 and is headquartered in Sunnyvale, California.
Factors To Consider
Barchart technical indicators:
60% Barchart short term technical buy signal
Trend Spotter buy signal
The stock is presently above its 20 and 50 day moving average but still slightly below its 100 day moving average
Although the stock is 24.42% off its one-year high in the last 30 days the stock had six new highs and is up 4.09% in a market that is down 7.74% over the last 30 days
The Relative Strength Index is 52.13%
Barchart computes a technical support level at 14.07
Recently traded at 14.20 which is above its 50 day moving average of 13.51
Fundamental factors:
There has been a problem in the revenue area with analysts projecting a 3.50% decrease this year and a mild 4.50 increase next year.
Earnings estimates also aren't that impressive with a forecast of 17.80% decrease this year followed by a 12.20% increase next year and an annual increase of 12.84% annually for the next five years.
In spite of these weak projections Wall Street brokerage analysts have five strong buy, seven buy, 18 hold and no negative recommendations published.
General investor interest:
As measured by the readers following this stock on Motley Fool interest is high with 4,952 readers expressing an opinion on this stock.
80% of the readers think the stock will beat the market.
79% of the more experienced and savvy All Stars vote for the same result.
In that past I found that you should look for at least an 85% score from the Fool readers.
Fool tracks the voters effectiveness and reveal that the top 10 voters on this stock were all short sellers.
Competitors and sector leaders:
It has not been a good year for Yahoo and its competitors. In the past year Yahoo (YHOO) is down 3.47% and is AOL (NYSE:
AOL
) down 49.90% and Google (NASDAQ:
GOOG
) down a mere .12%.
Click to enlarge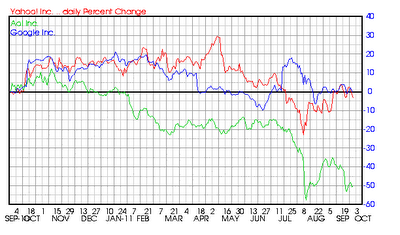 Yahoo is a member of the SIC 7373 - Services - computer Integrated System Design sectors and some other members have had significant returns this past year - Merge Healthcare (BATS:MRGR) up 133%, Datalink (NASDAQ:DTLK) up 123%, Cimatron (NASDAQ:CIMT) up 97% and Simulation Plus (NASDAQ:SLP) up 16%.
Click to enlarge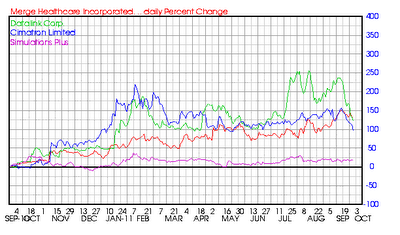 Summary: At the present time Yahoo is wading through a makeover and the jury is out on the verdict. Recent market action show there are investors who are buying even in this weak market. I'll watch from the sidelines at this point and not press the buy button at this time.
Disclosure: I have no positions in any stocks mentioned, and no plans to initiate any positions within the next 72 hours.