While global markets have been roiled by uncertainty and volatility, exchange traded funds that track mortgage-backed securities have provided a steady income stream, along with some level of safety.
This might be counter-intuitive since the role of exotic mortgage securities in the credit crisis is still fresh in investors' minds. Yet mortgage-backed securities ETFs have maintained their gains, writes Juliette Fairley for Reuters. As investors continue to run to U.S. Treasury-related securities, MBS have continued to perform, even with the recent S&P downgrade on U.S. debt.
The MBS ETF market was roughly $3.5 billion as of Sept. 21, with a majority of assets under management in the iShares Barclays MBS Bond Fund (NYSEARCA:MBB), according to the report.
"Investors prefer mortgage-backed securities due to the fact that the U.S. government stands fully behind them which still give them a high degree of safety considering the recent S&P downgrade," Maurice Wilson, a financial adviser at Wilson Wealth Management Group, commented.
"Mortgage backed ETF's act like a Treasury bond so for an investor considering their portfolio's bond allocation, their purpose is steady income," according to Morningstar ETF analyst Timothy Strauts. "An MBS ETF can be positioned as a piece of a client's income pie," John F. Harrison, a certified financial planner with Aspire Financial Advisors, remarked.
Harrison, along with many other advisors, likes MBS ETFs because they seem relatively safer compared to mutual funds since the securities in mutual funds don't all have the full backing of the government. Harrison also cautions against overweighting investments as the portfolio holdings in MBS ETFs may also overlap with other bond ETFs.
MBS ETFs include:
Vanguard Mortgage Backed Securities ETF (NASDAQ:VMBS) is up 5.08% year-to-date. The fund has a 12-month yield of 2.17%.
SPDR Barclays Capital Mortgage Backed Bond ETF (NYSEARCA:MBG) is up 6.45% year-to-date. The fund has a 12-month yield of 1.75%.
iShares Barclays MBS Bond Fund (MBB) is up 5.00% year-to-date. The fund has a 12-month yield of 3.32%.
For more information on real estate investment trusts, visit our REITs category.
iShares Barclays MBS Bond Fund
Click to enlarge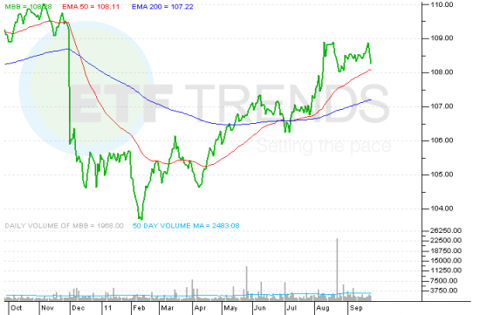 Max Chen contributed to this article.