An article published by MarketWatch added an interesting angle to the dividend story that is being broadcasted all over the place, and David Ader with CRT Capital Group highlighted the fact that everyone is singing the same song.
"If it were only that easy. We certainly are attracted to those same dividends that beat [10-year yields] by a couple of hundred basis points or more, but when EVERYONE talks about it as if they have some unique insight we worry. It gets back to a contrarian approach."
Then some quick statistics are added, and the math will follow.
Here's a look at the numbers: Since July 21, its highest close of the last three months, the Dow DJIA has lost about 9%. Its dividend yield has risen to 2.8% from 2.4% over that same period, or less than half a percentage point.
For the record, the 9% loss relates to September 16, and the Dow Jones Industrials is down 12.3% as of September 29.
But doing the math with the numbers in the article, if one had $1,000 on July 21, now the investment is worth $910, and a dividend yield of 2.4% will deliver $24 a year, or 3-3/4 years to get back to even. The new 2.8% yield only applies to those that bought the Dow Jones after the drop.
A big part of the reasoning is that the market will eventually rise and one will recover while collecting the dividends. That is always a big "IF," especially in the midst of such unique economic conditions. Considering that the 10-year treasury yields 1.95% as of yesterday and the principal is guaranteed at redemption – and that is as safe as it gets – what is the risk premium for equities at this stage? It cannot be a lousy 85 basis points based on the more recent yield of 2.8% mentioned above.
Yet another story by MarketWatch has the headline "Follow this billionaire, and other insiders," and the top picks are Atlas Pipeline Partners (APL) and Linn Energy (LINE).
Last month [August], Cooperman told CNBC viewers that he was extremely bullish on the stock market. He said more than half of the stocks in the S&P 500 index have higher dividend yields than 10-year bonds.
The reason given is that when Leon Cooperman "talks, smart people tend to take note," and his "favorite picks were master limited partnerships (MLPs) that have fat dividend yields." Atlas yields 6.18% and Linn yields 7.65%, which in my book is closer to an acceptable risk premium, although Linn has lost about 10% since May, and Atlas is down about 20%.
To bring perspective to the topic, Atlas traded as high as $56.88 in 2007 and then fell to a low of $2.36 in 2009, and Line had its respective high of $40.21 and low of $10.81. Why do I bring this up, especially since both stocks have recovered? Experience tells me that the majority of investors cannot stomach the losses along the way, even with the dividend gravy train in full motion, and will exit closer to a low point.
In addition, and as similar as these two stocks may look, Linn Energy's dividends have been steady as shown by Nasdaq data, while Atlas' dividend has been decreasing over the years and has a spotty record, with regular quarterly dividends in 2008, dropping to 2 dividend payments in 2009, then 1 in 2010, and 3 quarterly dividends this year so far.
But following the billionaire may not be all that is cracked up to be, and a quick check on Mr. Cooperman's hedge fund – Omega Advisors -- via tickerspy.com on September 29 showed a different story that wasn't covered in the article, and the fund has virtually tracked and underperformed the S&P 500.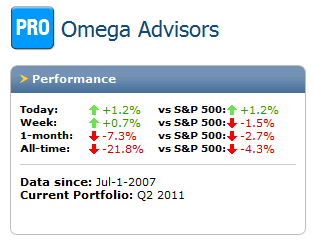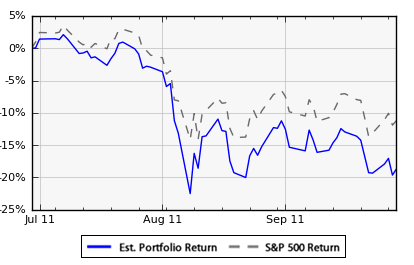 Although I am not error free and at times one does miss data, I'll quit the business before deliberately massaging any information to fit my agenda. But the continued market uncertainty is the "soup-du-jour" and with volatility stubbornly in the upper range – VIX still at 38 even with healthy market bounces -- chasing yield as a replacement for lost revenue is a risk that I am not willing to take, and while some dividends look appealing on the surface, that old saying keeps popping into my mind: If it's too good to be true …
But one will say that dividends are needed because rates are low and there's no other income. I understand the pain, but sometimes the world is cruel, and Japanese retirees know all about it.
Disclosure: I have no positions in any stocks mentioned, and no plans to initiate any positions within the next 72 hours.