The appearance of Intel (NASDAQ:INTC) CEO Brian Krzanich at Mobile World Congress seemed to be about making a statement that Intel is a "player" in mobile. Krzanich revealed nothing unexpected from Intel, other than perhaps an accelerated timetable for its mobile offerings. The reason for the acceleration might be the announcement by Samsung (OTC:SSNLF) that the Galaxy S6 smartphone will use Samsung's own 64-bit processor, built using Samsung's own 14 nm FinFET process.
Two Generations Behind
The day that some Intel bulls claimed would never come has arrived more or less when I expected about this time last year. ARM foundries are no longer just talking about 14 nm, or producing pre-production samples, but are actually in full production. Since Samsung will release the S6 on April 10, Samsung has probably been in full production since the beginning of the year.
Given that Intel's best hope for smartphones is SoFIA, which will be fabricated on a 28 nm TSMC process, according to Anandtech, this puts Intel a full 2 generations behind the leading edge in process technology for smartphone SOCs. This really calls into question the Intel strategy for mobile.
Intel was supposed to capture the process high ground in mobile SOCs, and use it to defeat competitors, as it has with PC processors. Once again, we're seeing that the analogy with PCs that has guided the thinking of many in the electronics industry, simply hasn't panned out.
It hasn't panned out, because the magnitude of the wealth that has been created in the mobile device economy is so great it completely dwarfs Intel's own capital resources, and overwhelms whatever intellectual property advantage Intel might have had. In a very capital intensive endeavor such as IC fabrication, size matters. Companies such as Apple (NASDAQ:AAPL) and Samsung can deploy staggering capital resources in the pursuit of non-Intel Inside.
It is the wealth creation provided by smartphones that has primarily fueled the paradigm shift away from generic commodity processors and manufacturers such as Intel to integrated device makers such as Apple and Samsung, who design their own processors for their own mobile devices. In the new paradigm, processor design IP has become the commodity, provided by such companies as ARM Holdings (NASDAQ:ARMH) and Imagination Technologies.
Good Acting, or Cluelessness?
If there was any realization on the part of Krzanich of the depth of the hole Intel is digging for itself in mobile, it was artfully concealed. During his presentation, Krzanich even bragged once again about shipping 46 million tablet processors in 2014. I'm beginning to entertain the scary thought that maybe he really is proud of this, despite the $4.2 billion loss in 2014 of the Mobile and Communications Group (MCG) which shipped those 46 million processors. And notice that Intel never uses the word "sell," since that wouldn't actually describe what Intel did with the 46 million tablet processors.
During a brief Q&A after the prepared speech, Krzanich was asked why Intel doesn't pursue contra-revenue for phone processors. Krzanich mumbled some excuses about Intel's phone processors being more appropriate for the market and Intel having already established a presence, but the fundamental reason is that Intel couldn't possibly afford the additional losses.
In mid-February, Samsung had announced its line of 64-bit Exynos processors built on the 14 nm node, and rumors were flying that it would be present in the S6. So, Intel had sufficient warning to try to deploy countermeasures at MWC. That was Krzanich's mission. There wasn't much real news, other than what appear to be some speeding up of processor roll outs.
For instance, Cherry Trail, Intel's 14 nm successor to the 22 nm Bay Trail series (of 46 million tablet processor fame) was not expected until year's end. This was implied in presentations at last November's Investors' Meeting.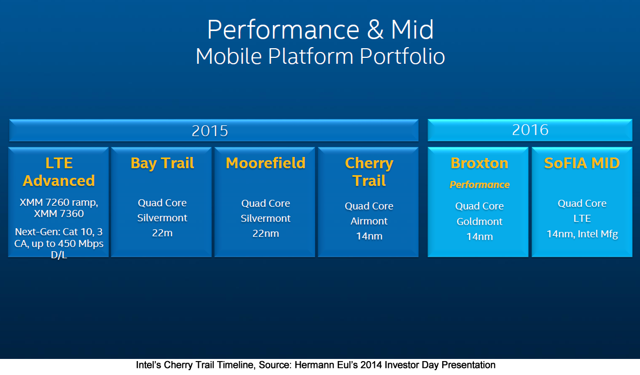 I say implied, because Intel's guidance on product timetables is deliberately vague. I don't blame them for this, as there are a lot of unknowns in getting new processes and products into production.
As of the MWC presentation, Intel is now saying that Cherry Trail will be out in H1. Intel would probably have preferred to wait. At the 2014 Q4 conference call, Intel acknowledged that gross margin would fall as a result of higher production costs associated with 14 nm.
At the conference call, the focus was all on SoFIA, the impact of which CFO Stacy Smith stated would be "back-end loaded", indicating that SoFIA 3G would be available in H2, with SoFIA LTE coming later in the year. That timetable also appears to have accelerated somewhat, with SoFIA 3G available in H1 and LTE available in H2.
I believe Intel had to accelerate Cherry Trail to have a flagship mobile device processor that Intel could claim is superior to all competitors, even Samsung's 14 nm chips. And Intel will claim this, on the basis of design improvements it made to its FinFET devices compared to the first generation at 22 nm. Whether those improvements really amount to a performance advantage compared to Samsung SOCs at 14 nm remains to be seen.
The interesting question is whether Intel will continue contra-revenue subsidies on Cherry Trail. Given that 14 nm production costs were expected to be higher (and thus the lower gross margin guidance), that could get very expensive for Intel.
The Battle for Mobile Device Leadership
Intel's posturing aside, Samsung's MWC roll out of the S6, made it very clear that the battle for mobile device leadership is between Samsung and Apple. If you don't have a SOC in a flagship phone, you're not a player. Krzanich stated that Intel sold "a few million" smartphone processors, a ludicrously small fraction of the 1.3 billion smartphones sold last year, according to IDC. And the phones with Intel inside were hardly flagship phones.
With the announcement of the S6, Samsung made it clear that it's through trying to compete on the low end. The S6 is a direct assault on the success of Apple's iPhone 6. The S6 has a lot to offer: an attractive, plastic-free case, an octa-core 64-bit processor fabricated on 14 nm, a 16 Mpix camera, the latest Android OS.
Most importantly, Samsung asserted the dominance of the new paradigm. It would be the mobile device heavyweights who would go toe to toe. The torch has passed. The commodity IC makers such as Intel can only watch from the sidelines, aspiring to be "players" but not leaders.
What to Watch for in the Q1 Report
By the time Intel reports earnings for Q1, it will have completed its consolidation of MCG and the PC Client Group, making discerning what's going on at Intel even more difficult. If the combined group operating income notches down by about the amount of the MCG quarterly losses (about $1 billion), then we'll know that contra-revenue continues unabated.
Given its positioning at the very lowest end of the smartphone market, I don't expect SoFIA to be a big profit center, so SoFIA's beneficial impact will be negligible in offsetting contra-revenue losses.
As for the $800 million that Intel claimed would be saved through the consolidation, I doubt any of that will be immediately apparent in Q1. Whatever savings are realized will be offset by restructuring charges, that will of course be excluded from a non-GAAP operating profit for the combined group.
The struggles that Intel is going through could have been easily avoided by simply producing SOCs compatible with the ARM instruction set. Intel management seem to have become possessed of a peculiar bias for x86 that supersedes all other considerations. This is ironic since SoFIA uses graphics processor designs licensed from none other than ARM.
I hate to see a company succumb to the terminal stupidity of its management, but that is precisely what is happening at Intel. I would avoid Intel like the plague until regime change occurs. I give the Krzanich regime another year at most.
Disclosure: The author is long AAPL.
The author wrote this article themselves, and it expresses their own opinions. The author is not receiving compensation for it (other than from Seeking Alpha). The author has no business relationship with any company whose stock is mentioned in this article.
Editor's Note: This article discusses one or more securities that do not trade on a major U.S. exchange. Please be aware of the risks associated with these stocks.