Caterpillar (NYSE:CAT), the maker of construction and mining equipment, has fallen precipitously from its 52-week high of $116.55. This loss in value comes in disregard to the strong fundamentals of the company, which has received an overall bullish report from Wall Street analysts. The stock offers a dividend yield of 2.44% while trading at 12.5x and 8.5x past and forward earnings, respectively -- far below industry peers.
And while, in terms of risks, investors should be weary about the manufacturer's supplier relations and margin constraints arising from challenges in non-residential construction, investors stand to benefit from increased spending in construction and mining. The risk/reward for Caterpillar is tremendously favorable - a multiple of 7.9 for 2012 EV/EBITDA, using consensus analyst figures, puts the company's current price at a discount of ~34% to intrinsic value. Consensus estimates for EPS are that it will grow by 37.6% to $6.65 in 2011, and then by 25.2% and 14.4% in the following two years. The stock trades at a PEG of 0.6.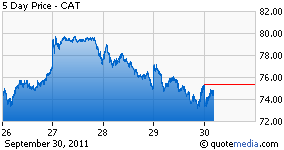 Caterpillar will also benefit from improvements in internal capacity as it increases scale. Retail sales for machines were roughly flat--having a growth rate of 35% in July (year/year) to 34% in August. EAME and Latin America were also down in growth rates by 500 basis points and 900 basis points, respectively. North America and Asia Pacific, on the other hand, accelerated growth from 27% to 30%, and 20% to 24%, respectively, in July versus August. The purchase of Bucyrus, a producer of mining machines, was also advantageous in further exposing the company beyond North America. I do not find that this acquisition's accretive value has been fairly factored into the current price.
Retail sales fell mainly due to a sharp decline in the Electrical Power end market for engines, where growth rates decelerated from 12% to 1% between the July and August period. However, Caterpillar sales improved in Marine and Petroleum by 700 basis points and 200 basis points, respectively.
Overall, I expect that the company's end markets will experience further demand, particularly abroad, that will drive increased sales. While I anticipate moderate retail sales in the next part of the year, I believe that the manufacturer's fundamentals are strong in the long-term and have been unduly hammered by the market since its 52- week high. I forecast revenue growing by 26.6% to $54.3B, factoring in the recent purchase, and then by 13.9% and 9.4% in the following year.
Caterpillar is also likely to experience increased revenue due to the rise of the natural gas industry, which I am particularly bullish about. Natural gas producers, like Chesapeake (NYSE:CHK), require heavy amounts of capital and will need to be increasingly fueled by manufacturers, like Caterpillar. Accordingly, I expect that Caterpillar will earn nice returns positively correlated to those in energy. At the same time, should energy fail to perform, the industrials company is well diversified in other segments to still experience strong growth.

Disclosure: I have no positions in any stocks mentioned, and no plans to initiate any positions within the next 72 hours.