Jarden Corporation (NYSE:JAH) is a leading global consumer goods company that analysts currently rate near a "strong buy." I find that CPG stagnation will be far offset by improvements to margins, potential SG&A reductions, product introduction, and a plethora of possible value-creating acquisitions.
The stock is currently inexpensive at 11.8x and 7.7x past and earnings, respectively, with a 1.2% dividend yield. Consensus estimates for EPS are that it will grow by 16.2% to $3.37 in 2011, and then by 11.3% and 1.6% in the following years.
The consumer goods firm operates in a few key segments--the emergence into household products being the only one I am concerned with. Household products will result in more sales volatility than what many investors might have hoped for. Branded Consumables is predicted to experience strong double digit growth in the next two years, while Consumer Solutions (the firm's largest segment) will only grow by around 3.3% during the same time period. Management is currently looking for acquisitions with enterprise values priced around 7x EBITDA in an effort to spread out costs and increase margins.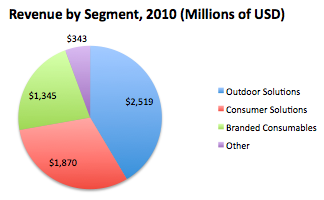 Over the years, I foresee operating margins increasing by around 900 basis points from 2009 to 10.5% in 2012, mainly driven from acquisitions and input price reductions. Jarden is rightfully attempting to exploit current instability in the input markets by buying depressed production factors. Management also has implemented a three-year $500M share repurchase program in order to grow value. With net debt slightly higher than market cap, Jarden should also focus on deleveraging its balance sheet. Cuts in, or at least curtailing, unneccessary overhead would further benefit shareholder value. At the current rate, SG&A is ikely to rise by 500 basis points from 2009 to around 18.6% of revenue in 2012.
Driven by market share gains, I anticipate revenue growing by 11.4% to $6.7B in 2011 and then by 3.7% the next year. Roughly 6% of this growth will come organically via increased scale and demand. In the short term, analysts are hopeful about winter sales and Hurricane Irene appears to have positively benefited revenue overall through emergency purchases.
On a negative note, slightly more than one fifth of revenue comes from Wal-Mart (NYSE:WMT), a retailer that I am conservative about in the future. The rise of other retailers, however, will likely supplant any loses from Wal-Mart and could possibly benefit Jarden in terms of better negotiating power.
Overall, given the company's fundamentals and opportunities, I believe that Jarden is well positioned to outperform the market. The stock is down by more than 22% from its 52-week low, making now an advantageous time to buy. Most of the company's revenue comes from the United States, and considering reservations over a double dip, investors can expect high risk-adjusted returns should Jarden take advantage of its many opportunities.

Disclosure: I have no positions in any stocks mentioned, and no plans to initiate any positions within the next 72 hours.