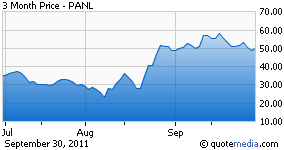 By Michael Cintolo
Universal Display (NASDAQ:PANL) is a small firm with a very long history of losses and little institutional support. But that's now changing, and it's all because of its leading position in OLEDs (organic light emitting diodes), which are looking more and more like they'll be adopted en masse for smart phones, TVs, tablet computers and more.
So how will this benefit Universal Display? It owns more than 1,000 patents, and it's aiming to be a licensing company; in fact, it's recently inked deals with Panasonic and Samsung, which sent the stock into orbit. Valuation is truly at nosebleed levels–the firm has no earnings and just $39 million in revenue, but the market cap is $2.3 billion!
That said, high valuations don't scare me, partially because I focus on the future. Revenues have been growing nicely, and if Universal's licensing business can lift next year and in 2013, profit margins will go through the roof and earnings will explode. Currently, a handful of analysts that have estimates see revenues up 63% this year, but rising another 104% next year. And earnings could go from about break-even this year to 86 cents per share in 2012.
I won't pretend to know all the ins of outs of these estimates, but my experience is that when a new technology gets adopted by the market, it's usually done so far faster than most expect, causing the bottom line of the firms who benefit to grow at lightening fast rates. I'm not predicting that will definitely happen with Universal Display, but I'm open to the possibility.
I'll look to the stock for clues. Shares did have a big run late last year and earlier this year, but then suffered a harrowing drop of more than 50%. But that's when the action started–a new licensing deal caused the stock to jump a jaw-dropping 85% during the last week of August on weekly volume that was both quadruple the average rate, and more than twice as large as any total in the stock's history.
And since then, PANL has held those gains, actually rallying all the way back to its old peak of $60 before backing off with the market's latest weakness. I would love to see this stock meander in the $45 to $55 range (it's a very volatile name) for a few more weeks, then blast off with the market.
Right now, a nibble in the upper $40s with a stop around $42 is OK if you're aggressive, but I would rather wait for a proper, tighter set-up. Watch for it.